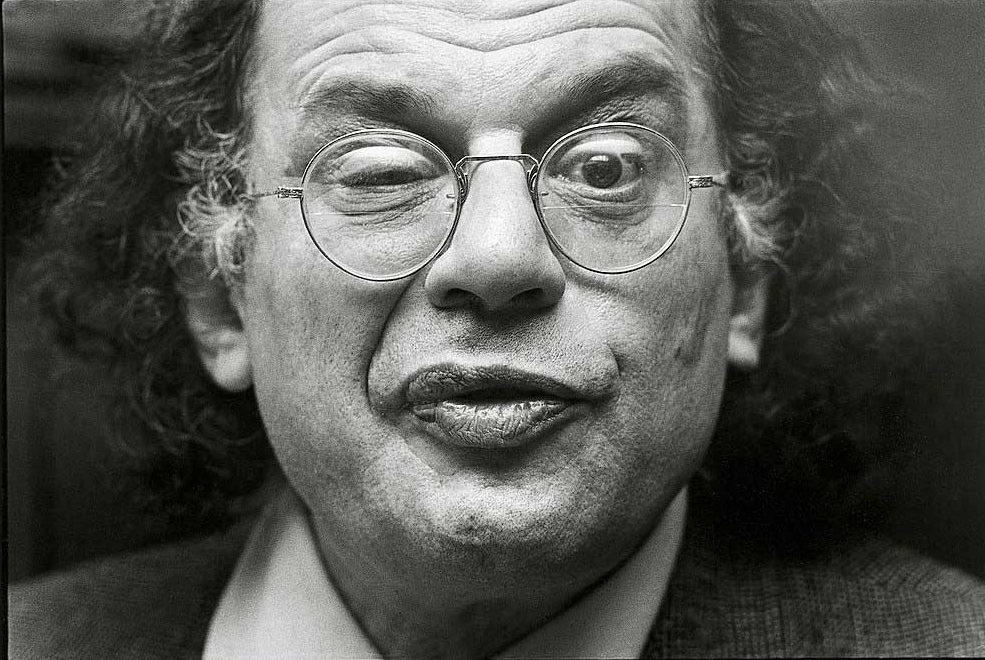 Poet, Writer & Political Campaigner
Irwin Allen Ginsberg (1926-1997) was an American poet, writer and campaigner who was closely associated with the Beat Poetry movement of the 1950s that became an influence upon the counterculture of the 1960s. Ginsberg's writing was notable for its outspoken opposition to materialism and war, and for its positive openness to the exploration of homosexuality, recreational drug use, and Eastern mysticism.
Once he had reached mature adulthood, Ginsberg considered himself homosexual, and most of his love affairs were with men, although he had experienced some romances with women in his early life. A practising Buddhist, he was also politically active, taking part in protests against the Vietnam War and against the criminalisation of personal drug usage, and campaigning openly for gay rights.
Allen was born in Newark, New Jersey, to well-educated Jewish parents, and grew up in the nearby city of Paterson. His mother, Naomi, was a Russian emigré of Marxist political persuasions who was active in the Communist Party and occasionally took both her sons along to its local meetings. She is reported to have suffered from paranoid delusions about government snooping on her home, perhaps an understandable fear held by communist sympathisers like herself in a political climate that regarded them with great suspicion. His father, Louis, was a teacher who also enjoyed writing poetry.
During his childhood, Allen's mother was repeatedly sectioned for lengthy periods on grounds of perceived mental illness, and is said to have attempted suicide by slitting her wrists at one stage.
In his teens, conscious of the atrocities committed against his own ancestral people by the Nazi regime in Germany, young Ginsberg became politically active and sent letters in to the New York Times to give voice to his views. During these years, he also tried his hand at poetry for the first time, and had some of his poems published in a local newspaper.
In later life, Ginsberg would take after his mother in expressing open sympathy with communism, and voiced his admiration for Fidel Castro among other influential 20th century Marxists, although he denied being a member of the Communist Party and avowed his opposition to the principle of violent revolution to install a communist government.
Having graduated from high school in 1943, Allen received a scholarship from a local Hebrew Association to attend Columbia University, further supporting the cost of his studies there by working part-time for the United States Merchant Marine. He was active in his literary endeavours at Columbia, contributing to its literary journal and separate humour magazine, and participating in its poetry society and debating society. He was even awarded a poetry prize. He also befriended fellow-undergraduate Lucien Carr (1925-2005), the social lynchpin around whom the Beat Generation would coalesce. Through Carr, Ginsberg would go on to meet Jack Kerouac and William S. Burroughs, two of the other leading Beat writers.
Shortly after the completion of his B.A. in 1948, Ginsberg got into trouble with the police over some stolen goods that an acquaintance of his whom he had taken in as a room-mate, fellow poet Herbert Huncke (1915-1996), who was a drug-using petty thief, had stored in Ginsberg's room. Afraid of a police raid, Ginsberg insisted on the stolen goods being moved elsewhere. A plan was hatched by the group to move them to the home of another acquaintance, known as Little Jack Melody. But while Melody was driving them, he was pulled over by police for driving the wrong way down a one-way street, and rather than risk his car being searched, he sped away and, with the police in hot pursuit, crashed the car, resulting in the discovery of the stolen goods.
While Huncke himself was sent to jail for theft, Ginsberg, who had been a passenger in the car, was also prosecuted for knowingly assisting an offender in handling stolen goods, but he pleaded not guilty, claiming insanity in his defence as part of a plea bargain with prosecutors, which was accepted by the court but led to his being incarcerated in the Psychiatric Institute of Columbia Presbyterian Hospital in Manhattan for several months starting in June 1949.
Ginsberg struck up a love affair with young beat poet Gregory Corso (1930-2001) and subsequently with another one, Elise Nada Cowen (1933-1962). Corso became a life-long friend even after their relationship ended.
In 1953, having moved to San Francisco, Ginsberg found employment in a marketing agency while continuing to write poetry, and moved in with a local woman called Sheila Boucher. In 1954, while continuing in his relationship with Boucher, Ginsberg had a part-time lover in his friend and fellow Beat poet Neal Cassady (1926-1968), leading to increasing arguments with Boucher. Matters came to a head that December when Ginsberg encountered a young man called Peter Orlovsky (1933-2010) working as a model for a painter called Robert LaVigne. Infatuated by Orlovsky, Ginsberg ended his relationship with Boucher to start a serious one with him instead, and they became long-term partners.
The only thing that can save the world is the reclaiming of the awareness of the world. That's what poetry does. By poetry I mean the imagining of what has been lost and what can be found—the imagining of who we are and the slow realization of it.
While in San Francisco, Allen met many local poets, after being introduced to the local group known as the San Francisco Renaissance via a letter of introduction sent on his behalf to its leader Kenneth Rexroth (1905-1982). In 1955, he was advised by a psychiatrist to drop out of his job, and thereafter became a full-time poet. The same year, he was invited by Californian artist Wally Hedrick (1928-2003) to organise a poetry recital at a gallery Hedrick had co-founded, Six Gallery. The event brought together Beat poets from the West and East coasts of the USA for the first time, and witnessed the first public reading by Ginsberg of what has since become his most famous poem, Howl, which addresses themes of mental illness and was later stated by its author to have been inspired by his mother.
The poem Howl has become famous partly on account of the notoriety that greeted it at the time. It was published in a print edition by a bookshop in San Francisco called City Lights Bookstore the following year, only to be swiftly banned by the local authorities, who felt that it was too disturbing to be suitable for public consumption. All unsold copies were promptly seized by the police; and the manager of City Lights, Shigeyoshi Murao (1926-1999), was arrested. This turn of events, felt by many in the city to be a scandalous attack on the civil liberties allowed for by the United States Constitution, resulted in an appeal court hearing at which the ban was overturned by a judge on the grounds that the poem was redeemed by its artistic value.
In 1957, Allen unexpectedly left the United States. After spending some time in Morocco, he moved to Paris with Orlovsky, where Corso helped them get cheap lodgings above a bar at 9 rue Gît-le-Coeur. Burroughs also moved out to join the expatriate group and was welcomed into their new rented home, which became popularly known as the Beat Hotel. Encouraged by Ginsberg to take up writing, Orlovsky became a poet in his own right during their time in Paris.
It was Kerouac who introduced Ginsberg to Buddhism in 1950. Over a decade later, in the early 1960s, Ginsberg and Orlovsky together toured India, where they spent considerable time in the company of fellow Beat poet Gary Snyder (born 1930), who had become a Buddhist in 1955. They mainly divided their time between the city then known as Calcutta and Benares, and befriended a number of Bengali poets, as well as the writer and activist Pupul Jayakar (1915-1997).
At one stage, Allen travelled to meet the Dalai Lama. He adopted  Tibetan Buddhist master Chögyam Trungpa (1939-1987) as his teacher. In the mid-1960s, he was also taken by the Hare Krishna movement, frequently singing its mantra, and donated money as well as lending his open public support to help its founder, A. C. Bhaktivedanta Swami Prabhupada (1896-1977), establish the first Krishna temple.
Ginsberg's public poetry recitals increasingly incorporated his chanting and playing of the harmonium as well as guitar.
In 1966, Ginsberg teamed up with Snyder, notable Soto Zen master Richard Baker (born 1936) and astrologer and spiritual teacher Donald Walters (1926-2013) to jointly purchase 160 acres of rural land in California, part of which was subsequently established by Walters as a World Brotherhood Colony in 1968.
In 1965, a  young American filmmaker called Barbara Rubin (1945-1980) organised a large poetry festival in London called the International Poetry Incarnation. Ginsberg, Corso and Burroughs were among many poets invited to read, and future Indian prime minister Indira Gandhi (1917-1984) was in the audience.
In later years, Ginsberg befriended American novelist Ken Kesey (1935-2001), singer / songwriter Bob Dylan (born 1941), and other leading influencers of the hippie culture of the times, forming a bridge between the Beat poetry movement and the hippie counterculture, which shared a significant degree of common purpose.
Ginsberg, a frequent smoker, was plagued by ill-health for many years, including high blood pressure, multiple minor strokes, and congestive heart failure. In 1997, he died aged 70 of liver cancer brought on by an earlier hepatitis infection believed to have been caused by an unsterilised needle used to treat him for a tropical illness in the early 1960s.