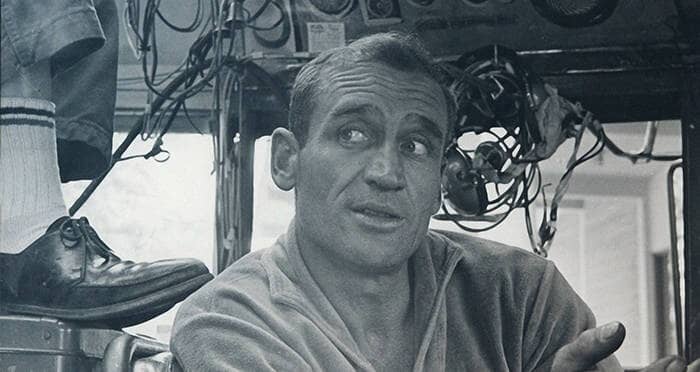 Neal Cassady (1926-1968) was an American socialite, railroad employee, some-time poet and writer, and serial convict, who was a close associate of prominent figures of the Beat Generation such as Jack Kerouac, Allen Ginsberg and Ken Kesey (q. v.) and is credited as a major inspiration for Kerouac's writing style.
Neal was born and initially raised by his parents, Neal Marshall Cassady and Maude Jean Cassady (née Scheuer), in Salt Lake City, Utah. He moved with his father to a poor part of Denver, Colorado following the death of his mother when he was only ten.
Neal Sr. drank heavily, which in combination with Maude's death perhaps influenced their son into becoming a petty thief by his early teens, leading to multiple arrests over the years to follow, and culminating in his sentencing to a year in prison on charges of handling stolen goods in 1944. He was released in October 1945 after serving eleven months of his sentence at Colorado State Reformatory in Buena Vista.
Young Neal's bright mind had nonetheless been recognised in the interim by teacher and lawyer Justin Brierly (1905-1985), who specialised in mentoring boys with academic potential and steering them towards suitable university courses. After making Neal's acquaintance in 1941, Brierly had helped him gain entry into East High School, where he became one of his teachers. Thanks to his brushes with the law, however, Neal ultimately dropped out of High School without graduating. But while in jail, he read widely from the Harvard Classics series that was stocked in the prison library.
My prose has no individual style as such, but is rather an unspoken and still unexpressed groping toward the personal. There is something there that wants to come out; something of my own that must be said. Yet, perhaps, words are not the way for me.
Brierly was gay at a time when homosexuality was not yet permitted in Colorado society. Suggestions have been made that he groomed a whole series of his charges into sexual relationships, including Cassady, who was well under the legal age for consent. However, during his high-school years, Cassady is reported to have had several sexual encounters with girls and women of different ages, and to have occasionally slept with other men in exchange for money, suggesting a possible mercenary motive for his agreement to Brierly's advances.
Of particular note among Neal's early flings is his relationship with a young woman called Maxine Beam, who worked as a secretary at a paper company in Denver at the time. In March 1945, aged 19, she gave birth to Cassady's son, born Michael David Cassidy following a clerical error in the spelling of his surname at the registry office. By this time, however, Neal was in jail, and his son was subsequently processed by the State Home for Dependent and Neglected Children and presented for adoption. Adopted that Autumn by a local firefighter called Robert William Hyatt, the boy was renamed Robert William Hyatt Jr.. He only learned who his real mother was in 1993, five years after she died, and finally obtained his birth certificate naming Cassady as his father in 2011.
In 1946, not long after his release from prison, Neal married a 16-year-old girl (some sources say 15) called Lu Anne Henderson just three weeks after meeting her.
In connection with his association with Brierly, Neal had met an older boy called Hal Chase (1923-2006), who had also been taken under Brierly's wing. Early in 1947, while Chase was studying at Columbia University in New York, Cassady stole a car belonging to Lu Anne's uncle, and drove with her towards New York with the intention of visiting Chase there. They crashed the car, but completed their journey on a Greyhound bus.
The young couple was subsequently introduced to Chase's acquaintances Jack Kerouac and Allen Ginsberg, who became lifelong friends of Neal's. Ginsberg is said to have fallen in love with Cassady and been involved in an occasional sexual relationship with him spanning 20 years. Kerouac, who is said to have admired Cassady's quick mind in spite of the latter's relatively limited level of education, subsequently agreed to coach him in the technique of writing fiction.
That same Spring, Neal became involved in an extra-marital affair with a slightly older woman, Carolyn Elizabeth Robinson (1923-2013), who had moved to Denver in 1946 to study for a master's in theatre arts at the University of Denver. They met while Ginsberg and Kerouac were both visiting Cassady in Denver. At first, the relationship between Neal and Carolyn was problematic, as Neal was still intimately involved with his wife Lu Anne; and seeing no future in their affair after catching him in bed with both Lu Anne and Ginsberg in August 1947, Carolyn left Denver to stay with her married elder sister in San Francisco.
However, Neal had soon followed her there, and around December 1947 Carolyn became pregnant by him. Two or three months later, perhaps understandably in the circumstances, Lu Anne left him, following which Neal successfully had their marriage annulled. Carolyn and Neal subsequently got married in April 1948; and their first child, Cathleen Joanne, was born that September.
Just three months after Cathleen was born, Neal bought a new car and unexpectedly set off on a road trip with Lu Anne and a friend of his called Al Hinkle to meet up with Kerouac in North Carolina. Feeling deserted, Carolyn believed her brief marriage was effectively over, and moved back to San Francisco again with their daughter. The road trip, which continued with Kerouac on board, became the primary inspiration of Kerouac's most famous novel 'On the Road', in which Neal was fictionalised as Dean Moriarty. While on the trip, Neal rekindled his love affair with his ex-wife Lu Anne.
However, in late January 1949, Neal visited San Francisco to drop Kerouac and Lu Anne off there, and took the opportunity to reconnect with Carolyn. She allowed him back into her life for a second time, but his promiscuous behaviour continued. He entered into an affair with a model called Diana Hansen, and married her bigamously in 1950. In 1951, Diana gave birth to Neal's son Curtis (1951-2014), who took on her surname. Perhaps in recognition of his own unfaithful behaviour, Neal tolerated an open affair that subsequently developed between Carolyn and Kerouac.
Neal and Carolyn had two further children, Jami (born 1949) and John Allen (born 1951), the latter of whom was named in honour of Kerouac (whose real name was Jean-Louis Kerouac) and Ginsberg.
For the first ten years of his marriage to Carolyn, he generally earned a satisfactory living for his wife and children by working for the Southern Pacific Railroad. However, his income stream was interrupted by a further spell in prison in 1958, this time for two years, after being sentenced to five years on charges of drug trafficking, after he was caught sharing cannabis cigarettes with undercover narcotics officers at a nightclub in San Francisco. During his jail time, Carolyn and the children had to depend on government welfare support to get by.
After his release on parole in 1960, Neal was sacked from his job, and his behaviour became steadily more erratic, with the result that Carolyn divorced him in 1963. Cassady then moved in with Ginsburg and fellow beat poet Charles Plymell (born 1935), sharing their apartment in San Francisco.
In the summer of 1962, Cassady had first met successful author Ken Kesey, whose entourage the Merry Pranksters lived as a community in California. For the final years of his life, Neal became integrally involved with the Pranksters, and participated in a succession of their road trips, notably serving as their tour bus driver on one of their journeys in 1964 from San Francisco to New York City in a bus named Furthur. This journey was subsequently the subject of a popular book by the journalist and author Tom Wolfe (1930-2018) called The Electric Kool-Aid Acid Test (1968), and a much later documentary film called Magic Trip (2011), which featured video footage of Cassady from the original drive.
Early in 1967, Cassady spent about four months in Mexico, staying with a group of friends that included another of the Merry Pranksters, George Walker.
Unfortunately, he indulged heavily in recreational drugs during the mid-1960s. In early February 1968, at the age of 41, he had been back in Mexico again, attending a wedding party in San Miguel de Allende. Under the influence of a combination of alcohol and the barbiturate secobarbital, which he had taken at the party, he went on a late-night walk with the ambitious intention of reaching the next town, but passed out alongside a railroad. Exposed to the freezing night-time temperatures, he did not regain consciousness. The following morning (February 4th), he was found comatose in the same spot and taken to hospital, but a few hours later was pronounced dead, just days before what would have been his 42nd birthday. His official cause of death was given as 'exposure'.
Cassady wrote in a stream-of-consciousness writing style, which is said to have inspired Kerouac's writing style adopted for On the Road (1957). As well as being represented as Dean Moriarty in Kerouac's most famous book, Cassady was fictionalised as Cody or Cody Pomeray in several of Kerouac's later works spanning 1958 to 1965, and as Leroy in 'The Subterraneans' (1958).
Early in his life, some of Cassady's poems were published as part of a joint anthology of his and Ginsberg's work, Pull My Daisy (1951).
Although Cassady otherwise left little published work during his lifetime and is better known as having been a muse to his prominent Beat friends than as a literary great in his own right, he wrote many lengthy letters to his friends that have survived and become a subject of recent historical interest thanks to the light they shed on the Beat Generation. Many of these have since been published in a series of three anthologies: The Collected Correspondence of Allen Ginsberg & Neal Cassady (1971), Grace Beats Karma: Letters from Prison (1993), and Neal Cassady: Collected Letters, 1944-1967 (2004).
His manuscript autobiographical novel The First Third was also published posthumously in 1971.
Three differently authored biographies of Cassady have appeared since 1981; and in 1990, Carolyn's memoir of her time with him was published as Off the Road: Twenty Years with Cassady, Kerouac, and Ginsberg.