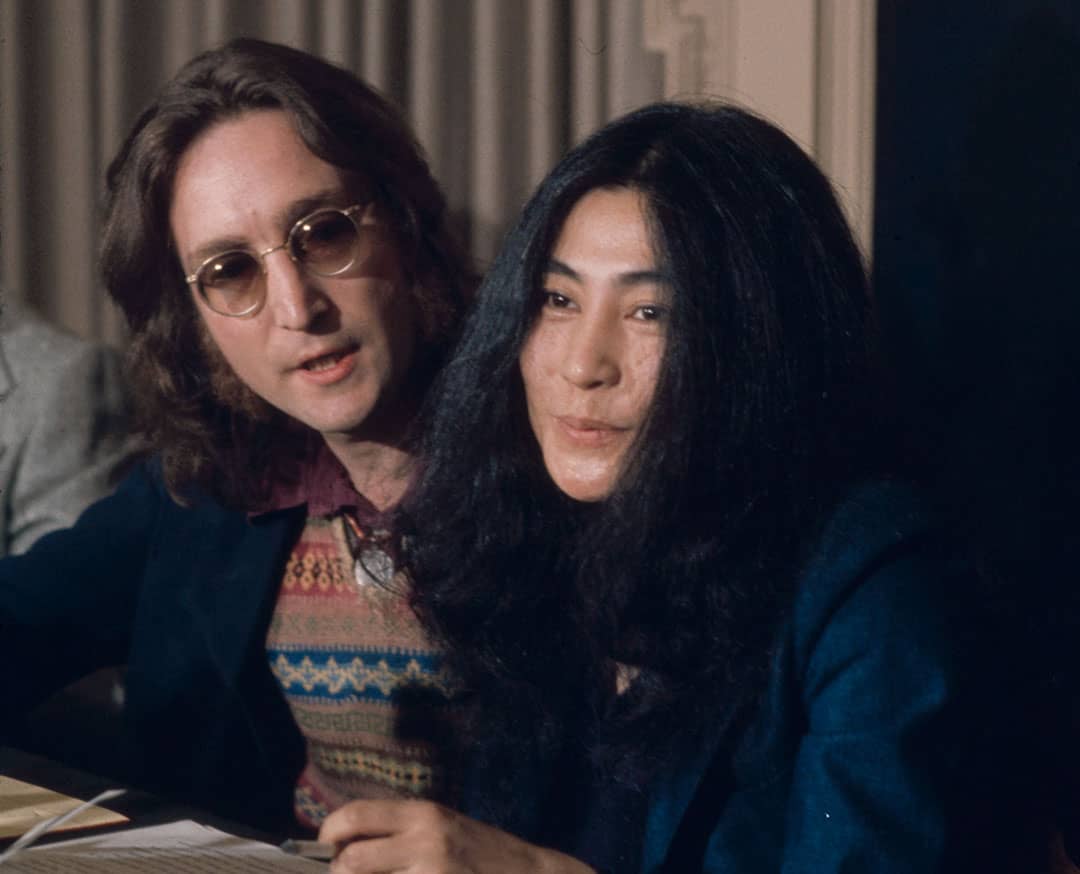 Yoko Ono Lennon, born Ono Yōko in Tokyo in 1933, is a Japanese conceptual and performance artist, singer, songwriter and filmmaker. She is best known for her marriage and musical collaboration with her late husband, John Lennon of the Beatles, but is also known for her promotion of world peace and feminism.
Her father was a pianist in his early life before becoming a banker prior to Yoko's birth. As a result of his job, she spent the first four years of her life in San Francisco. After returning to Japan for three years in 1937, she spent a year in New York from 1940 to 1941, again in connection with her father's work, before spending the rest of her childhood in Japan.
During World War II, Tokyo was badly damaged by a bombing campaign by the Western allies, and Ono and her family took refuge from the bombing in an underground bunker before leaving the city to retreat to a mountainous region that was not an obvious target. During this period, she and her family were among many Japanese who experienced food poverty and had to turn to begging. Her father was captured and held in a prisoner of war camp in Saigon, nowadays Ho Chi Minh City, the largest city in Vietnam.
After the end of World War II, Yoko's parents again moved to the USA, but she stayed on in Japan and completed her school studies at the exclusive Gakushūin in Tokyo. After the war, she degree in philosophy at the associated private university before dropping out after two semesters. She subsequently rejoined her family in New York in 1953.
In New York, Ono studied for three years at Sarah Lawrence College, which has a strong reputation in the performing arts. During these years, she began to cultivate contacts with musicians, composers, poets and artists, and became influenced by the avant-garde artists and composer John Cage in particular.
In 1956, Yoko returned to Tokyo, where she married the experimental composer Toshi Ichiyanagi. They spent six years together before separating in 1962.
During her marriage to Ichiyanagi, Ono had continued to spend some of her time in New York, where in 1960 she began to rent a downmarket attic at 112 Chambers Street for the purposes of holding performance events in which she herself starred and at which her innovative conceptual artwork was featured. These events were mostly jointly organised by Ono and the composer La Monte Young.
After Ono's separation from Ichiyanagi in 1962, she moved back in with her parents before briefly being admitted to a Japanese mental hospital with clinical depression.
John and I felt that we were like people in an H. G. Wells story. Two people who are walking so fast that nobody else can see them.
In 1963, Ono officially married her second husband, the American jazz musician Anthony Cox, whom she had been dating since the previous year, and by whom she had her first child, daughter Kyoko, who was born that August. Their marriage had begun to show signs of strain by 1966 when she first met John Lennon at an exhibition of her art held at the Indica Gallery in London that November, which he visited in person.
At the time of their first meeting, Lennon was married to his first wife Cynthia, by whom he had a three-year-old son, Julian. However, struck up a correspondence with Yoko and subsequently sponsored one of her art shows held in London in September 1967.
In May 1968, while Cynthia was away on holiday, Lennon covertly invited Ono to his home, where they collaborated on the first of three records they would eventually record together, and began an affair. Cynthia returned the following morning while Ono was still there, and had soon filed for divorce.
Following her own divorce from Cox, Ono married Lennon in Gibraltar in March 1969, and stayed with him for the next four years.
After the disbandment of The Beatles in 1970, the couple moved to New York after suffering from racist remarks aimed at Ono's ethnicity in the British gutter press.
Together, Lennon and Ono embarked on peace activism, with their involvements including the organisation of protests against the Vietnam War. Lennon's solo song Imagine, in the promotional video for which Ono was prominently featured, became an international hit and has since remained one of the most widely familiar of all anthems calling for world peace.
In 1971, Yoko lost custody of Kyoko to Cox over allegations of drug misuse. Cox subsequently raised their daughter secretly in a Christian cult called the Church of the Living Word, and she did not see her mother again until 1998.
Many of Ono and Lennon's early musical collaborations were released under the name The Plastic Ono Band, which was established in 1969 and continued until 1974. It featured a changing rota of prominent guest musicians, including Eric Clapton, Keith Moon, and even former Beatles George Harrison and Ringo Starr.
In July 1973, Ono and Lennon were separated, and he instead formed a relationship with music executive May Fung Lee Pang. However, John and Yoko got back together again in January 1975; and their son Sean was born that October.
Lennon's life was tragically cut short in December 1980 by a gunshot fired by an angry American Beatles fan called Mark Chapman, who intercepted him and Ono on their return to their apartment.
Following the traumatic loss of her husband to murder, Ono retreated from public life to some extent, but has remained active in music and art ever since, and has recorded several new solo albums between the early 1980s and the late 2000s.
She organised a memorial to her late husband in New York's Central Park and a museum dedicated to his life in Saitama, Japan, and attended the opening of another memorial to Lennon in Iceland in 2007.
Aside from her core musical and artistic careers, in 1964, Ono had published a conceptual art book called Grapefruit that gives the reader instructions to take various courses of action themselves constituting a work of performance art. This was followed in 49 years later in 2013 by a similar book called Acorn.
Between 1964 and 1972, Ono was also involved in experimental filmmaking, directing sixteen shorts during these years.
Ono has continued periodically to release new art exhibits, notably including Skylanding (2016), a permanent installation in Jackson Park, Chicago, that symbolises the quest for peace.