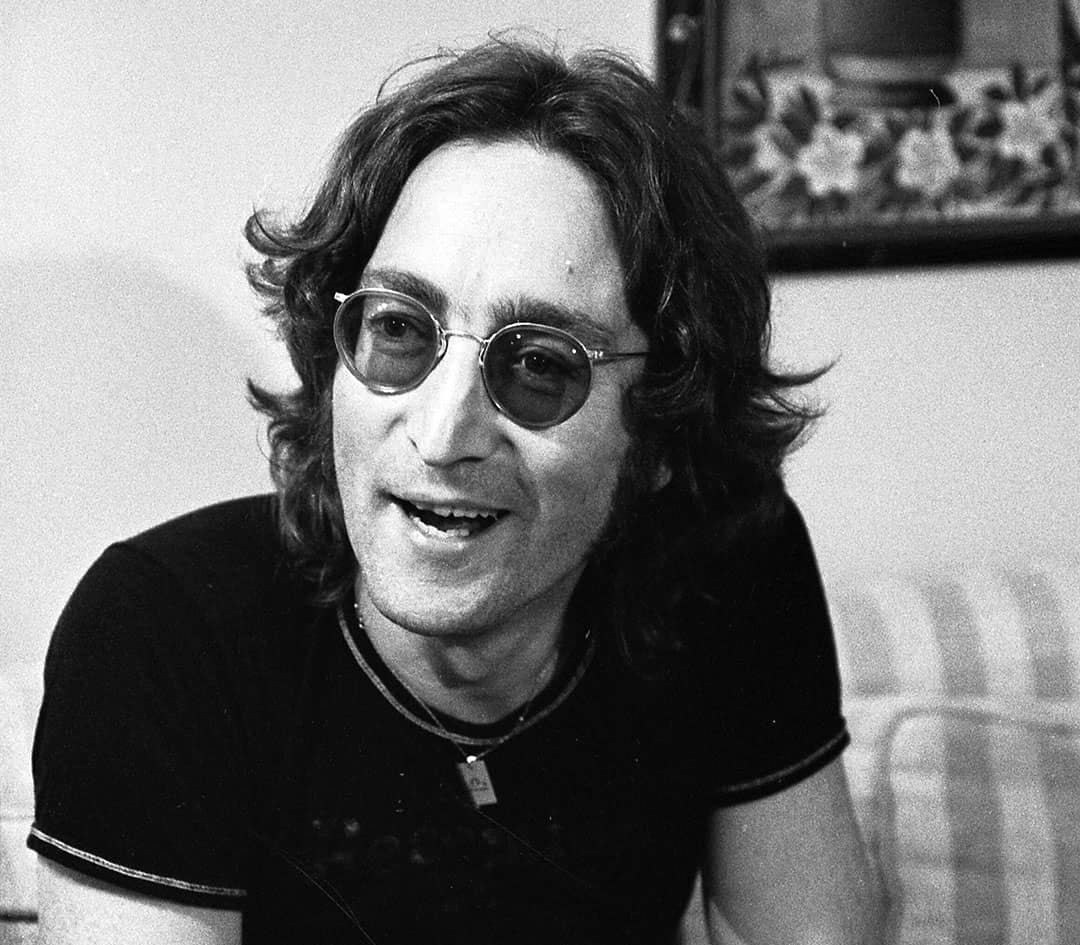 Musician, Peace campaigner & Co-founder of The Beatles
John Winston Lennon (1940-1980) was an English singer, songwriter, multi-instrumentalist musician and peace campaigner. He is best known for his prominent role in establishing and playing with the best-selling Merseybeat band The Beatles, and is also celebrated for his later solo success with the records (Just Like) Starting Over, Imagine and Woman, all three of which reached No. 1 in the UK singles chart.
Born and raised in Liverpool to a seafaring father of Irish ancestry and a musical mother who taught him banjo and ukulele, Lennon joined forces with his banjo-playing guitarist schoolfriend Eric Griffiths to form a skiffle band called The Quarrymen when Lennon was aged just 16 in November 1956. With Lennon taking up duties on rhythm guitar, they recruited fellow schoolmates Pete Shotton (washboard) and Bill Smith (tea chest bass) to complete the first line-up, but Smith was soon replaced by a succession of other musicians, culminating in Len Garry, who took his place early in 1957. The band had soon swollen to six members with the addition of banjo player Rod Davis and drummer Colin Hanton.
At their second concert the following July, Lennon met Paul McCartney for the first time, and impressed by some performances McCartney gave backstage, he invited him to join the band two weeks later. McCartney was otherwise engaged that summer, but accepted the invitation and started playing with the Quarrymen in October. This in turn led to McCartney's 14-year-old friend George Harrison, who came recommended by McCartney to the band, being admitted around his 15th birthday early in 1958.
The band underwent significant line-up changes in connection with its change of musical direction from skiffle to rock and roll starting in August 1957, with Shotton and Davis having left in protest, Griffiths having been sacked, and Garry having fallen sick with meningitis, leaving him incapacitated for so long that the band passed him by. This left only Hanton among the members who would not survive the transition of the band into The Beatles in 1960. He too departed in July 1958 after an argument with the other band members, leaving the Quarrymen without a drummer. That very same month, Lennon's mother was tragically killed in a car accident, and the band went on hiatus for the rest of the summer.
By 1957, Lennon was also a student at Liverpool College of Art, where he met and began dating his future first wife Cynthia Powell.
When the Quarrymen reformed in the Autumn of 1958, Paul McCartney's brother Mike briefly served as a temporary drummer. The following summer, an additional guitarist, Ken Brown, temporarily joined the band for just a few months.
Nothing really affected me until I heard Elvis. If there hadn't been an Elvis, there wouldn't have been the Beatles.
In January 1960, Stuart Sutcliffe, an art college friend of Lennon, had been added to the Quarrymen's line-up as a bass guitarist. He was instrumental in changing the band's name to The Beatles after successfully proposing Beatals as a name soon after he joined. After running with this new name for three months, the band changed it again to The Silver Beetles in April 1960. In July, it had further changed to The Silver Beatles, and in August to its definitive form of The Beatles.
That same August, the vacancy for a permanent drummer was filled for the first time in over two years with the recruitment of Pete Best, the son of Liverpool club proprietor Mona Best (1922-1988), who had herself known and worked with the Quarrymen for some time. Best would remain with the band for two years before Lennon, McCartney and Harrison joined forces to persuade their manager Brian Epstein to sack him from the band on August 16th, 1962. He was replaced by Ringo Starr, the drummer for whom the Beatles are best known to this day.
In August 1962, Lennon and Powell were married shortly after she became pregnant with his first son Julian, who would be born the following April.
The Beatles had been playing in clubs and touring under their new name for more than two years when their debut single Love Me Do was released in October 1962. It reached the Top 20, and proved a springboard to their then quick and sudden rise to commercial mass-success the following year.
Throughout his career with the Quarrymen and the Beatles, Lennon played a variety of different guitars, moving on from rhythm guitar to electric guitar, and put in occasional stints on harmonica. Later in his career, he sometimes put in performances on bass guitar, piano and Mellotron. While Paul McCartney was more normally the Beatles' lead vocalist, Lennon also took primary vocal duties on dozens of their songs, including some very well-known ones such as Please Please Me, Twist and Shout, I Want to Hold Your Hand, A Hard Day's Night, Eight Days a Week, I Feel Fine, Ticket to Ride, You've Got to Hide Your Love Away, Norwegian Wood, Nowhere Man, In My Life, Strawberry Fields Forever, Lucy in the Sky with Diamonds, Baby You're a Rich Man, All You Need Is Love, I Am the Walrus, Hey Bulldog, Revolution, and Come Together.
After several intense years on the road and having notched up eleven UK No. 1 hit singles in the space of just three years and four months, The Beatles decided to stop performing live in August 1966, but their hit records, including a further six No. 1s, kept on coming for another four years.
Lennon is also known for his dalliances with recreational drugs. He was first introduced to LSD when a dentist spiked his drink in 1965, and started taking it voluntarily after this, a habit he indulged for many years. His use of LSD is thought to have contributed to the psychedelic lyrics and sound of some of his later songwriting for the Beatles, including the song Strawberry Fields Forever (1967).
During this later period of their career as a band, in August 1967, The Beatles attended a seminar on Transcendental Meditation hosted by the Maharishi Mahesh Yogi (1918-2008) in Bangor, Wales. He subsequently invited them to his ashram in India, which they attended the following February. This connection is sometimes credited as bringing Indian musical influences and eastern spiritual references into Lennon's later songwriting.
When travelling to the TM seminar in Bangor with John, Cynthia was denied boarding of the train by a suspicious policeman who did not recognise her as a valid element in the Beatles' entourage. She later interpreted this event as a symbol of the death of their marriage, which had already been faltering over his increasingly heavy drug usage. Soon after, she caught Lennon together with his new girlfriend Yoko Ono at the home she shared with him, and walked out in shock. Within weeks, Lennon had filed for divorce from Cynthia. After protracted negotiations, the divorce settlement was finalised in November 1968, with Cynthia retaining custody of Julian.
In March 1970, Let It Be became the Beatles' final UK Top 5 hit within Lennon's lifetime, peaking at No. 2 in its first week of release. However, Lennon had left the band as recently as September 1969, almost thirteen years after co-founding it in its original form as The Quarrymen.
Tensions had arisen within The Beatles from 1968 as a result of Lennon bringing his new girlfriend and future wife Yoko Ono on tour with him. While he was still officially a member of The Beatles, Lennon had begun an experimental musical side-project with Ono, recording three albums with her in 1968 and 1969. In May 1969, two months after their marriage that March, they formally announced the formation of a new group called the Plastic Ono Band.
With these new projects taking centre-stage in Lennon's attention, it is perhaps unsurprising that he felt forced to disband The Beatles by the end of 1969. His life had changed, and Yoko Ono was now more important to him than the band he had led and nurtured for well over twelve years. Lennon and Ono recorded seven additional albums together between 1969 and 1973, some credited primarily to Ono, some primarily to Lennon, and some jointly to them both.
Lennon, under Ono's influence, began to campaign more prominently for peace from the moment of their marriage. In the immediate aftermath of their wedding, they had organised at two hotels events in protest against war called Bed-ins for Peace, at which they would lie in bed together and invite the press in each day to take pictures. The hotels were located in Amsterdam, the Netherlands and Montreal, Canada, respectively. The second event was originally intended to take place in New York, but Lennon was denied entry to the United States, supposedly as a result of a conviction for cannabis possession the previous year. However, this was a time when the Vietnam War was raging, and it is hard not to conceive that the decision to deny their entry to the country at this time might have been influenced or at least reinforced by the government of the day disapproving of their public opposition to its policies in Vietnam.
That July, the Plastic Ono Band scored its biggest chart hit single in Lennon's lifetime, Give Peace a Chance, which reached No. 2 in the UK for three weeks.
In August 1971, Lennon and Ono were nonetheless allowed to move together to New York, where their reputation for espousing pacifism was quickly cemented, especially thanks to the success of their single Happy Xmas (War Is Over) that December. Their continuing advocacy of peace and open opposition to the Vietnam War led to the Nixon government pushing for Lennon's deportation and the immigration authorities denying his application for permanent residency in the United States. It has been suggested that Nixon saw Lennon's involvement in an anti-war concert scheduled to be held to coincide with a Republican Party election rally as a threat to his re-election as President for a second term.
Also in 1971, Lennon recorded his album Imagine, from which the title track was released as a single in the United States (although not, at the time, in the UK), where it reached No. 3 in the US Hot 100. This anthem for world peace, driven almost entirely by Lennon's piano and vocals, remains to this day his most enduringly widely recognised musical contribution to the cause of pacifism. It finally got its first UK release four years later in 1975, when it reached No. 6.
In the summer of 1973, Lennon and Ono separated for a year and a half after she had encouraged him to move in with May Peng, a woman who had been working for them jointly as a personal assistant for three years. During their time apart, he managed to record another album, Walls and Bridges (released in October 1974).
The following January, the couple was reunited, leading to the birth of their son Sean in October 1975, whereupon Lennon decided to retire from music to take on childcare duties at home, a relatively unusual choice for a man still at the time. However, five years later he again collaborated with Ono for a final album with her, Double Fantasy, which was credited simply to John Lennon and Yoko Ono, and released in November 1980.
The new album included the song (Just Like) Starting Over, which was released before it in October, and after slowly climbing the singles chart, initially peaked at No. 8 in the UK on 29th November. It had begun to fall again and was just outside the Top 20 when Lennon was murdered in New York on 8th December, leading to the single dramatically rebounding to No. 1, a moment he sadly did not live to witness. It was also propelled to No. 1 in the USA.
Following this success in the wake of his death, several further singles were released in his name, of which the first two, being a re-issue of Imagine and the new song (included on the album Double Fantasy) Woman, both also topped the UK chart and reached the Top 3 in the USA.
Lennon's murderer, Mark Chapman, had shot Lennon four times in the back while he was on the way home to his apartment in New York. A former fan of The Beatles, Chapman is said to have planned the murder months in advance after becoming disgusted with Lennon's lyrics and comments over the previous several years. Chapman stayed at the scene of the crime and did not resist arrest. After pleading guilty to murder the following year, he was sentenced to 20 years to life in prison. Following eleven unsuccessful appeals for parole, as of September 2021, he remains incarcerated.