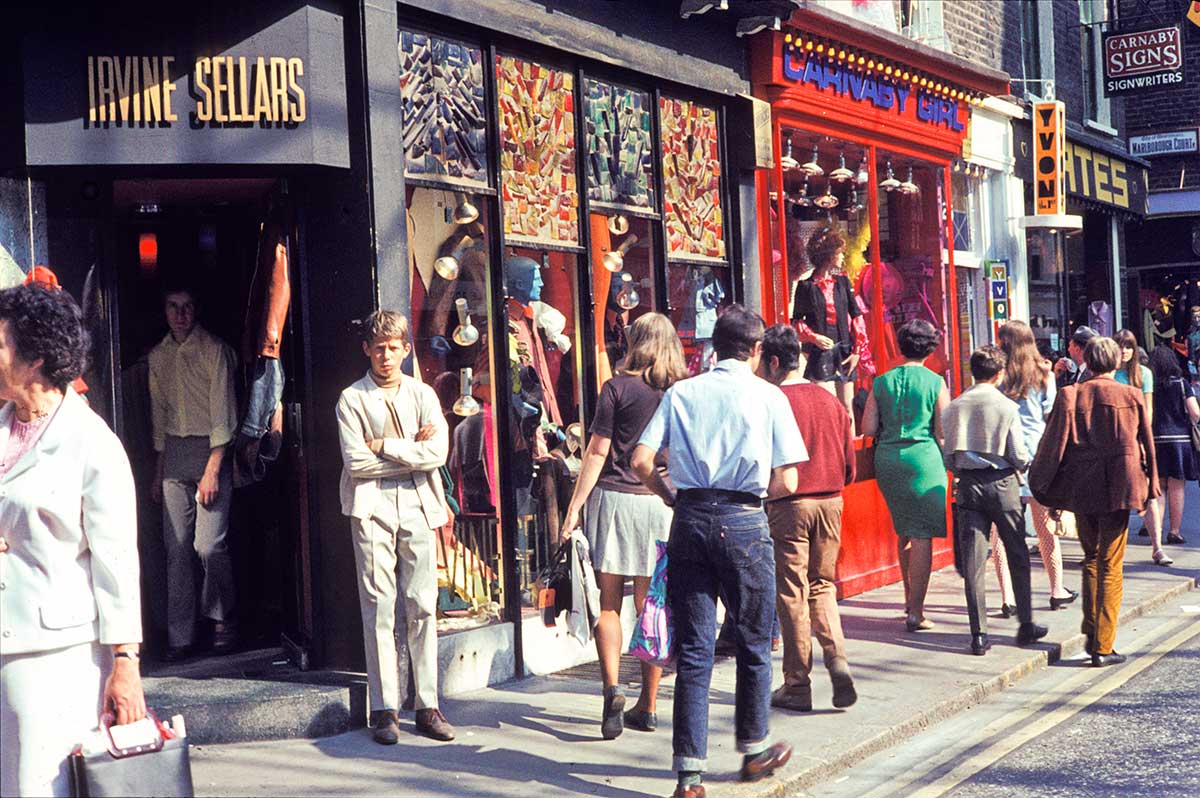 Carnaby Street is one of the most famous streets in the English capital, buzzing with life and a place both locals and tourists flock to for its abundance of imagination and the latest fashions. Located in Soho in Central London, the pedestrianised street is surrounded by other well-known shopping streets, including Regent Street and Oxford Street.
So where did this iconic history and status originate? The street rose to fame in the 1960s as it offered up a new and exciting atmosphere that screamed rebellion and attitude. Filled with unheard of music, bold colours, creativity and an anticipation that anything was possible, it attracted many music greats, fashionistas and socialites of the time.
It was a hub of activity, as it continues to be, and very much the place to be seen. Regulars included prominent bands The Beatles, The Rolling Stones, The Kinks and The Who, making it synonymous with the music of the time, which would go down in history as some of Britain's best ever.
Carnaby Street also became famed for its fashion. The first boutique there, 'His Clothes' by John Stephen,  opened in 1957, and rapidly made its mark. It was followed by the likes of 'Lord John' by Warren Gold, popular with mods, in 1964, and 'Lady Jane' by Henry Moss and Harry Fox in 1966. The latter caused much of a stir, as the opening saw female models changing in the shop window, attracting a large enough crowd to lead to the obstruction of the highway and legal repercussions for the owners.
The street also saw other firsts, with a vegetarian restaurant, Cranks, opening in 1961, a development that by today's standards seems nothing out of the ordinary but at the time would have echoed the rebellious vibe and emphasised intrigue; and in the opening of 'Tom Cat' boutique, heralded by Tom Jones walking the road with actress and Bond girl Christine Spooner and a live cheetah on a lead.
The extensive boutique openings brought the style icons of the era to the street. Brigitte Bardot and Elizabeth Taylor were regularly spotted. This led the way for Carnaby Street to become iconic for fashion both at the time and into the future, with the 1980s seeing designers such as Vivienne Westwood and Mary Quant moving into the area. With the shops you can find there today including Liberty London, A.P.C. and Barbour, it is clear that the allure of Carnaby Street for long-standing, iconic brands has not faded.
Time Magazine described the street in their 1966 article, 'In a decade dominated by youth, London has burst into bloom. It swings; it is the scene.' The Carnaby Street of the 1960s created a buzz and an environment for creativity to breed and grow, both nationally and internationally, as the influence of this London was felt across the globe. It was Instrumental in fostering this creativity and helping to inspire the generation of the time and generations to follow.