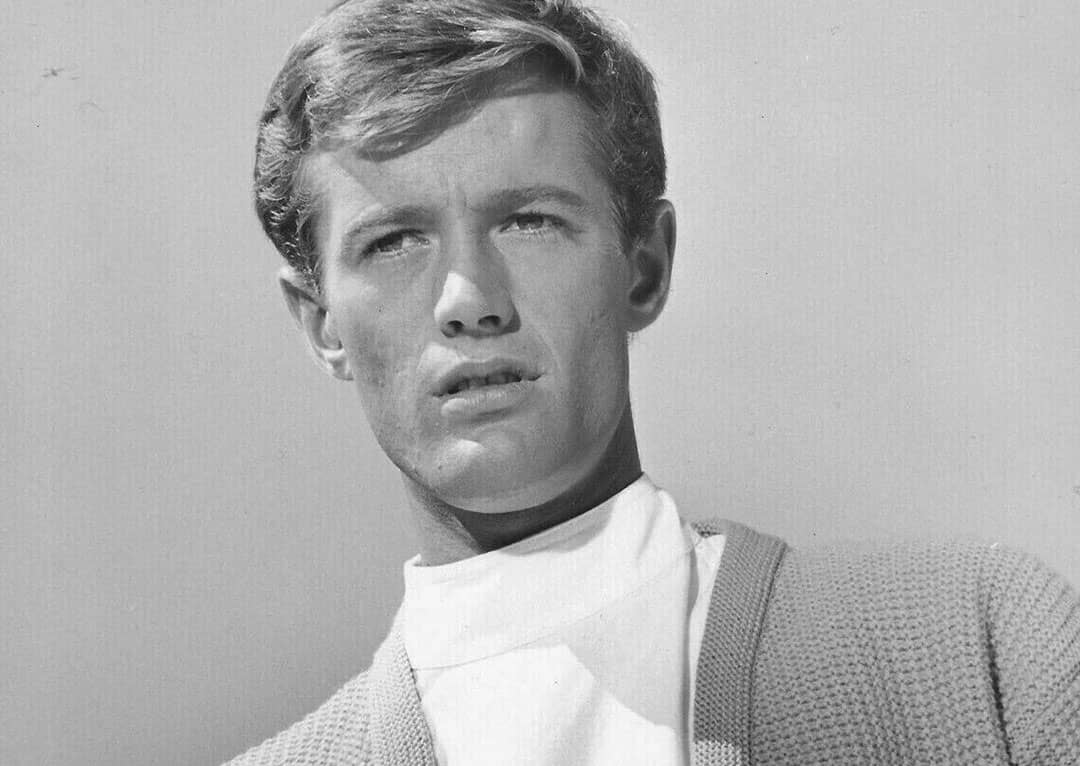 American actor Peter Fonda was born in February 1940 in New York City. He had acting in his blood: his father was the actor Henry Fonda (1905 – 1982) and his older sister is well-known screen star Jane Fonda (1937-). Acting appears to be a talent passed down from generation to generation within the family, since Peter's daughter, Bridget 1964-) has also made a name for herself in the acting world.
Peter's mother Frances Ford Seymour (1908 – 1950), although not herself an actress, was used to being in the spotlight. A socialite with a Canadian-American background, she was Henry Fonda's second wife and, having been married before, she brought with her into the family a half-sister for Peter and Jane called, Frances de Villers Brokaw (1931 – 2008).
Tragically, when Peter was just ten years of age, his mother committed suicide while an inmate in a mental hospital. Details about her death were kept from Peter for another five years.
In the meantime, Peter had nearly died after accidentally shooting himself in the stomach on his 11th birthday.
His education at least was uneventful and, having graduated in 1958 from a boarding school in Connecticut, he attended the University of Nebraska-Omaha where he studied acting and was involved with the Omaha Community Playhouse.
In 1960, Peter returned to New York, where he joined the Cecilwood Theatre; and in 1961, he beat over 200 other actors for a part in the Broadway show Blood, Sweat and Stanley Pool, a comedy written by James and William Goldman. Fonda won a New York Drama Critics' Circle Award for this debut performance, and this led to appearances in an array of television shows including the well-known Wagon Train.
In 1963, he was offered his first film role by producer Ross Hunter, starring alongside Sandra Dee (1942 – 2005) in Tammy and the Doctor, a romantic comedy set in a hospital, which was well-received by the critics.
I knew Henry Fonda was my father, but I didn't know who I was. They all thought of me as Henry Fonda's son. Unfortunately for them, they never got to know me.
His next big success was a supporting role in The Victors (1963), which followed the journey of U.S. soldiers as they travelled through Europe during World War II. This performance catapulted him into the spotlight, winning him the title of 'most promising newcomer' at the Golden Globe awards.
Even with these successes on the big screen under his belt, Fonda continued to appear in television shows, including Channing, an American series which told the story of life at a fictional college, and Arrest and Trial, an America crime drama that aired on Sunday evenings.
His next film role came in 1964 when he was cast by screenwriter and director Robert Rossen (1908 – 1966) in Lilith. This would sadly be Rossen's last film before his death in 1966. Starring with Fonda in this film were Warren Beatty, Jean Seberg (1938 – 1979) and Gene Hackman. The film tells the story of a war veteran (Beatty) who embarks on a new profession as a therapist. It follows his journey as he becomes obsessed and eventually falls for one of his patients, Lilith (Seberg). Fonda plays the part of another patient who has also fallen for Lilith and whom the war veteran therefore encourages to commit suicide.
Fonda's performance in this film was well received well; but although he was given a leading role in The Young Lovers, he was unable to resist some of the temptations the 60s had to offer. In particular, the fact that he was known to take the drug LSD regularly, began to impact on his reputation within the industry. Job offers became few and far between while he continued to emphasise his nonconformist attitude, partly by growing his hair long.
In the August of 1965, by way of a friendship with band members of The Byrds, he went to a house rented by The Beatles and together with John Lennon, Ringo Starr and George Harrison, took LSD. The story goes that while on his drug trip, Fonda referred back to the incident on his eleventh birthday when he had accidentally shot himself in the stomach. He told his fellow drug-influenced acquaintances 'I know what it's like to be dead', referring to the aftermath of the shooting. These words made a huge impact on Lennon, who would later use them in the song 'She Said She Said', a song recorded for the Beatles album Revolver in 1966.
Fonda was also known to dabble with other drugs, and in 1966 he was charged with possession of marijuana. Later that year, however, he was cleared of this charge.
He was arrested again in November that same year at the Sunset Strip riot. Fonda had joined many other young people to support the hippie and rock and roll counterculture movement of the time, feeling that the Sunset Strip, which had become the place to be for this group, was being brazenly stripped of its rights by curfew measures being enforced, with prominent nightclubs on the Strip facing name changes and forced closure by the city council at the request of local residents and business owners.
Along with what is said to have been over 1000 other protestors, including other celebrities, Fonda headed to the Strip to take part in a rally organised at nightclub and coffee house Pandora's Box, which had been threatened with closure and demolition. The disorder continued to the end of that year, and only really quietened down early in the New Year of 1967.
In the meantime, this countercultural influence filtered through to the roles Fonda began to be offered, with his first such role taking shape in 1966 in The Wild Angels, in which he plays the character of head biker, Heavenly Blues, of the motorcycle club the Angels. The film was incredibly popular and was also shown at Venice Film Festival. It is said to have been the film that inspired the biker movie genre.
In 1967, he co-starred with Susan Strasberg (1938-1999), Bruce Dern and Dennis Hopper (1936- 2010) in The Trip, a film written by Jack Nicholson about the effects of the drug LSD.
Following this, in 1969, along with Dennis Hopper, alongside whom he had previously starred, Fonda produced and co-wrote Easy Rider. Terry Southern (1924-1995) also wrote the film with them. Fonda and Hopper both played starring roles as bikers travelling across the US. The film was a huge success, and the three writers, Fonda, Hooper and Southern, were nominated for Best Original Screenplay at the Academy Awards.
After this, Fonda had his pick of projects in both acting and directing, and both appeared in and produced a number of films during the early 70s. One of particular note was the film Dirty Mary, Crazy Larry in 1974. Fonda starred in this road-action movie along with Susan George and Adam Roarke. This film set the tone for most of the rest of the decade, as Fonda went on to make a number of action movies.
Throughout the 80s, 90s and 2000s, Fonda continued to appear both on television and in numerous movies, including Ulee's Gold (1997), for which he was nominated for an Academy Award as Best Actor; and the 2007 remake of 3:10 to Yuma for which the entire cast including Russell Crowe and Christian Bale were nominated for a screen Actors Guild award. Fonda's later life saw him, with his continued work ethic, making appearances in many movies from 2010-2018. His last role was in the 2019 war film The Last Full Measure, directed by Todd Robinson. This film was not released until after his death, but he was deeply affected by viewing a final cut.
Over the course of his lifetime, Fonda had three wives, Susan Brewer, Portia Rebecca Crockett and Margaret DeVogelaere. With the first of these, he had two children, Bridget and Justin Fonda, who both went on to successful acting careers.
Living up to his nonconformist attitude, he is known to have caused some controversy at the Cannes Film Festival in 2011 by criticising Barack Obama while talking about a documentary he had created with Tim Robbins to cover the Deepwater Horizon oil spill.
In 2018, Fonda also got into trouble for a number of tweets attacking Donald Trump and members of his administration over their handling of US immigration policy and actions taken with regard to it.
Peter Fonda died at the age of 79 in August 2019 due to complications from lung cancer.