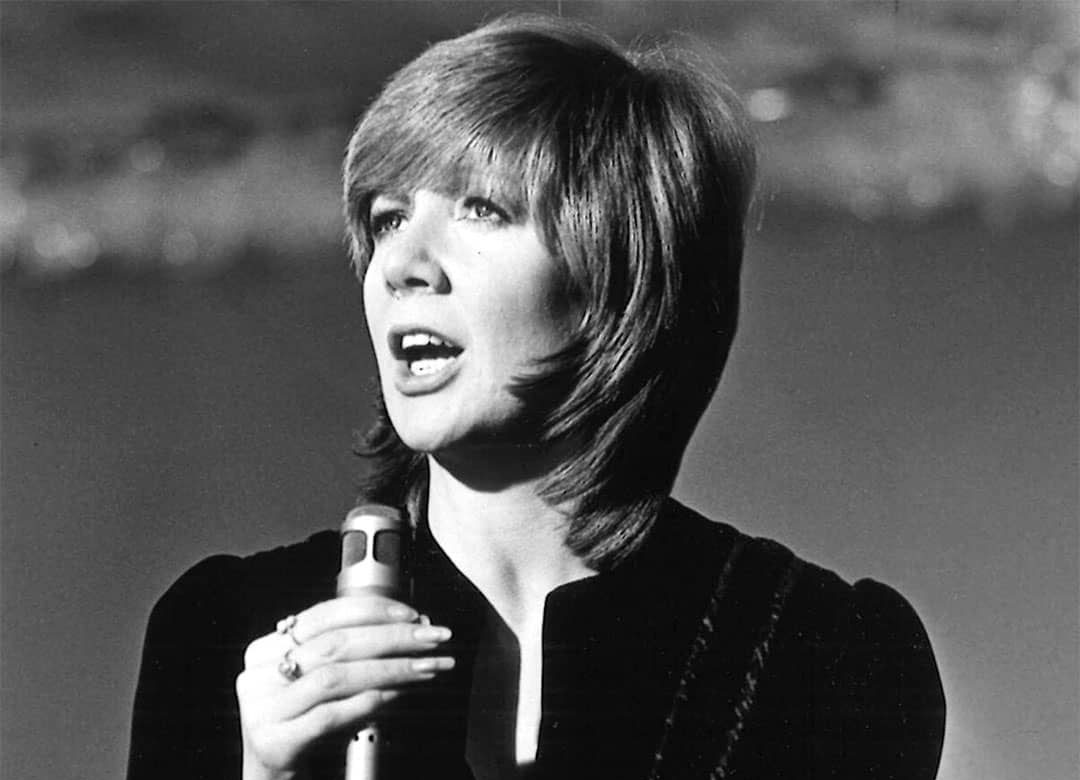 English Singer & Television Presenter
Priscilla Maria Veronica White, or Cilla Black as she was more widely known, was a singer and television presenter who became a much-loved household name. Cilla was born in 1943 in the Vauxhall area of Liverpool to a mother of the same first name, Priscilla Blythen (1911 – 1966). Her father was John Patrick White (1904 – 1971).
Black's family had Irish heritage, and she was raised in a Roman Catholic household. She attended school at St Anthony's in Scotland Road, which is in the same area as that in which she grew up. Although she was passionate about working in showbusiness, she later went on the attend Anfield Commercial College to learn office skills. The fire in her belly for performance didn't ease, however, and she pursued a job at the famous Cavern Club (q. v.) in her home city of Liverpool. Here, she worked part-time as a cloakroom attendant; but her nature and spontaneous performances while working there gained her the attention of The Beatles and a local promoter called Sam Leach.
It was Leach who secured her first musical performance at the Zodiac Club, where she performed as 'Swinging Cilla' before adopting the stage name for which she would later become most known.
Ironically, her final stage name of Cilla Black was not, as one might otherwise have imagined, of her own humorous devising based on the comical concept of talking in opposites from the starting point of her real surname. Instead, it was actually a music journalist's careless mistake. In the very first edition of the Mersey Beat, the local music newspaper that sold prolifically in Liverpool and the surrounding area during the 1960s, editor Bill Harry accidentally cited her surname as 'Black' rather than 'White' when she was featured. So many people read Mersey Beat that Cilla made the business decision that in order to feed on the recognition the feature had brought her, she had to perform under the misprinted name from then on, and so it stuck with her for the rest of her career.
I loved everything about show business, meeting the stars, the whole ambience. I was living every young kid's dream. I was told a pop singer's life was three years, but I was still making money seven years later.
Through her connections and friendship with The Beatles, Cilla managed to secure a contract with Beatles manager Brian Epstein (1934 – 1967), q. v.. After originally flunking her first audition for him thanks to suffering from terrible nerves, Black was subsequently seen by Epstein in a more natural setting, singing live at the Blue Angel Jazz Club. He was so impressed by her performance there that he quickly changed his mind about her potential and added her to his roster of all-male artists in September 1963.
Just three weeks after joining Epstein, Black would release her debut single, Love of the Loved, which was produced by George Martin (1926 – 2016), famed for his work with the Beatles. Although the song had been written by John Lennon (1940 – 1980) and Paul McCartney and had been aired on popular weekend television show Thank Your Lucky Stars, the single peaked at only No. 35 in the UK charts in November 1963.
However, just a few months later, Black would prove her salt and show herself as worthy of standing alongside Epstein's more successful performers, such as the Beatles, and Gerry and the Pacemakers, as her second and third singles both reached No. 1 in the UK, for three and four weeks respectively.
The singles in question were Anyone Who Had a Heart, a song originally written for Dionne Warwick by the famed songwriting duo of Burt Bacharach and Hal David, and You're My World, a song that came from an Italian ballad, originally recorded as just My World or (in the original Italian) II mio mondo.
As if from nowhere, Black was now a major national star. For her fourth single, her friends Lennon and McCartney joined forces again to put something together for her that would be another success. And they did just that, with Black's vocals and McCartney on the piano for the recording of It's for You, which reached No.7 in the charts in August 1964.
During this period of time, there were a number of female singers who excelled in covering originals and making them big successes in their own right, notably Dusty Springfield (1939 – 1999), Helen Shapiro, Lulu and Cilla Black. Cilla recorded a number of successful cover versions, all of which were produced, like the rest of her music, at the Abbey Road Studios, made famous by The Beatles.
Although she had many fans and followers who enjoyed her cover versions of other songs, not all music critics were entirely persuaded. The Righteous Brothers released an original version of their song You've Lost That Lovin' Feelin' in January 1965, just a week after Cilla had released her cover version. While Cilla's version at first ascended rapidly to No. 2 in the charts, the original made it all the way to the top, while Cilla Black's version moved quickly into reverse, falling to No. 5 the very week after climbing to No. 2. A notable critic who was outspoken in his criticism of Black's version of the Righteous Brothers song in favour of the original was Andrew Loog Oldham (born 1944), then manager of The Rolling Stones.
Cilla Black made attempts at breaking into the United States market, with a number of television appearances backed by Epstein; but homesickness and missing the UK meant that she could not bring herself to spend the required time touring in the USA needed to build up her name and following there. She did reach No. 26 on the Billboard charts with her song You're My World, but that proved to be her highest-charting song there.
She continued to record, enjoying ten further UK Top 20 hits by the end of 1971, including three further Top 5 hits, although she never again returned to the Top 2.
Black continued to make appearances on television, not only to promote her music, but also before long as a presenter, and also made some brief appearances in a number of films, although a viable career on the big screen never took off for her.
In the lead-up to August 1967, the relationship between Black and Epstein had become tense, as Black had felt his focus on her career development was lacking, and found this to be taking a toll on her career. Her single A Fool Am I, released in October 1966, was only the third in her career to date to fail to reach the UK Top 10, topping out at No. 13; and the follow-up, What Good Am I, performed even more poorly, peaking at No. 24 in June 1967. Perhaps Epstein's worsening drug addiction problem was partly to blame. He died of an accidental overdose that same August.
Following Epstein's sudden death, Bobby Willis (1942 – 1999), Cilla's boyfriend and songwriter, stepped up to take on his managerial responsibilities. Although her next single, I Only Live to Love You, was another relative flop by Cilla's standards, reaching No. 26 in December 1967, her career was set for a revival the following year.
With her boyfriend now at the helm, and continuing to benefit from the strong connections she had with The Beatles, Black returned to the UK Top 10 for the first time in 21 months in March 1968, when her single Step Inside Love, written by Paul McCartney, reached No. 8. McCartney had written this song specially as the theme tune for her new variety show screened by BBC television, a deal that Epstein had organised shortly before his death. The show, called simply Cilla, first aired in January 1968, and would ultimately run for just under ten years, cementing her reputation as a capable and popular TV presenter, which would become the mainstay of her career later in life.
Cilla enjoyed a few further song successes in the late 1960s and early 1970s, enjoying her last two UK Top 3 hits, Surround Yourself With Sorrow (1969) and Something Tells Me (Something is Gonna Happen Tonight) (1971) during these years, while also maintaining her variety show and star status. After 1971, she would never again return to the UK Top 30 as a musical artist, although she continued to occasionally record new music; but she had diversified her career enough to continue to be in demand as a star on British television for many years to come.
Also in 1971, Black attended that year's Cannes Film Festival with George Harrison (1943 – 2001), Ringo Starr and Marc Bolan (1947 – 1977), q. v., to support the screening of Erection, an experimental film by John Lennon (1940 – 1980) and Yoko Ono.
Not one to shy away from the limelight, Black additionally tried her hand at comedy, which was also generally a success, adding another string to her bow. She performed in her own comedy show on ITV, Cilla's Comedy Six, and was later named Britain's Top Female Comedy Star by the Writers' Guild of Great Britain.
After both Cilla and Cilla's Comedy Six had run their course, Black experienced a lull in both television and singing opportunities during the early 1980s, and was found filling her time with cabaret performances and concerts. It wasn't until 1983, when she put in an appearance as a guest on the prime-time evening chat show Wogan, that she began to return to the limelight as an active star, recapturing the public's hearts as well as the confidence of the British TV industry.
Indeed, soon after this guest appearance, she managed to secure a deal with London Weekend Television (LWT) to host a new entertainment show, Surprise Surprise, a show that did exactly what you would imagine based on its title, either surprising or tricking members of the general public, but in a good-natured spirit. Cilla sang her own theme tune in every episode, in a nod to her past career as a singing star. The show was launched in May 1984, and was soon being screened across the entire national Independent Television (ITV) network. It proved an enduring success, running through 14 series and 128 episodes until being dropped after 1997. After initially being screened on Sunday evenings, it was moved to Fridays from 1988 onwards. A further four one-off special shows were screened between 1998 and 2001, and another five between 2013 and 2015.
A year after the launch of Surprise Surprise, LWT signed Cilla Black for a second commission, as host of a new live dating show called Blind Date. This proved an even more enduring success, running through 18 successive seasons spanning November 1985 to May 2003, during which time no fewer than 374 episodes were aired, with the length of each season gradually building from 7 episodes at first to at least 24 from 1995 onwards, in strong testimony to its enduring popularity.
The format of Blind Date involved three potential suitors being hidden behind a screen so as not to be seen, and being required to give original answers to the same set of questions put to them by the star contestant who got to choose from among them. The answers given tended to be witty and sometimes corny, to the point that the intervention of professional scriptwriters in drafting them before they had been asked was widely suspected. Nonetheless, the show achieved high ratings over many years, keeping Cilla in the spotlight as a household name until the last episode was screened in the same month as her 60th birthday in 2003.
After Surprise Surprise was decommissioned following the 1997 series, Black was quickly called upon by her long-time employer LWT to take on another show alongside the continuing Blind Date, in a sign that she had cemented her position as television royalty. This came in the form of the game show The Moment of Truth, which ran for four seasons from 1998 to 2001.
Despite her hectic TV production schedule, Black still found time occasionally to record new music well into her late fifties. In 2003, she released the album Beginnings…Greatest Hits and New Songs. This was her fifteenth studio album, and featured both new and old music of hers. Fans were treated to eleven new tracks accompanied by nine hit singles that she had worked on with George Martin.
Other accomplishments of note include her performances in the pantomime Cinderalla during 2008-2009 and again in 2010. In 2008, Liverpool was awarded the status of European Capital of Culture, an award that is assigned by the European Union to the cities of different member states on a rolling annual basis. To mark the end of this momentous year for the city of Cilla's birth, she performed as part of a special show alongside other local stars. In spite of her now being 65 years old, her singing and performance were met with great praise.
A compilation album entitled The Very Best of Cilla Black was released in 2013 by Parlophone, the same record label with which she Had begun her career back in the 60s. It included all of her Top 40 singles, as well as new mixes, and a bonus DVD of an earlier music performance from The Savoy.
Cilla was an icon whose talents spanned many creative and artistic pursuits, although chiefly in the areas of singing, performing and television. In 2013, ITV honoured her long career in the public eye with a show called The One and Only Cilla Black. Celebrating her 50 years in show business, host Paul O'Grady (1955-2023) took her back to her home city, guest-featured many of her famous friends, and reminisced on the TV show that so many had looked forward to watching every Saturday night, Blind Date.
Adored by the public as a much-loved national treasure, Black was further celebrated by a three-part television show that would depict her life. The actor Sheridan Smith played Cilla, and the show aired in September 2014.
Her boyfriend and second manager, Bobby Willis, Hd become her husband in 1969. They had four children together. Sadly, Bobby died of cancer in 1999.
Cilla lived as a widow for another 15 years, before dying at the age of just 72 in 2015 while at her holiday home in a small town in Spain. She had suffered a sudden, fatal stroke, possibly brought on by a fall. The tributes that poured in from her many friends in showbusiness following her death gave some insight into how well-loved she was. O'Grady, Sheridan Smith, Paul McCartney, Ringo Star and Cliff Richard were just a few of the famous names who shared their sadness at the news of her death.
O'Grady also read a eulogy at her funeral, at which Cliff Richard sang. To mark her death, a further compilation of her most popular songs was released the day after the funeral. It attained the No. 1 position in the UK albums chart, testifying to the wave of public sympathy and nostalgia that followed her unexpectedly early passing.