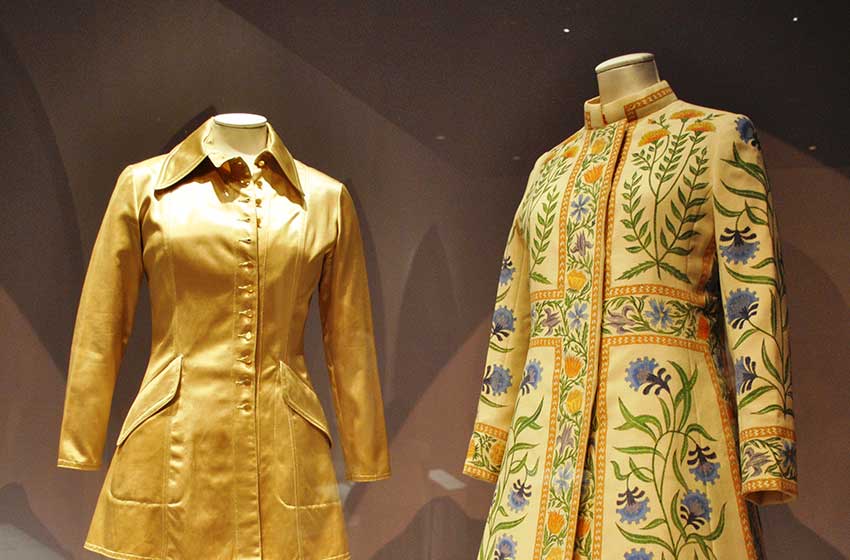 Fashion designer, textile designer, model
Celia Birtwell is a British fashion designer known for her striking and unique prints.
She was born in 1941 in Bury, then a part of Lancashire (now in Greater Manchester). Her parents were an engineer who was involved in textile production and a seamstress. Her father was an engineer involved in textile production, and her mother was a seamstress. With this background it must have seemed only natural for her to join the Royal Technical College in Salford, where she studied textile design from the age of 13. Here, she was inspired by the works of John Piper, as well as by L. S. Lowry, a former student of the college who visited frequently.
Then in 1961, she moved to Notting Hill in London, where she became part of the bohemian scene. In the early part of the decade, she was involved in theatre as a wig-maker and costumier, including for the Royal Shakespeare Company. During this time, her friends encouraged her to move back into textile design, which she then did.
I like humor and so do the Japanese. I like to smile when I do the designs. I really enjoyed making things for all ages.
1961 also marked the beginning of Birtwell's relationship with designer Ossie Clark. While they had first met in Manchester in 1959, it wasn't until they were living in London that they became closely involved. This was as much a professional partnership as a romantic one. In 1966, they received critical acclaim for their first collection for the London boutique Quorum. The launch of this collection was arguably the advent of the modern catwalk show as an event in itself, with music and the attendance of celebrities.
The combination of Birtwell's fabric designs and Clark's revolutionary 1930s-inspired cuts catapulted them into the spotlight of the fashion industry. They married in 1969, and had two children, Albert and George, in 1969 and 1971 respectively.
Aside from her iconic textile designs, Birtwell is almost equally known for being a muse for David Hockney, whom she met through his then partner Peter Schlesinger. From 1968, Hockney drew dozens of portraits of Celia; and she and Ossie and their cat appear together in his 1971 painting Mr and Mrs Clark and Percy, which remains one of the most popular exhibits in Tate Britain. This painting was later voted the greatest British painting of all time. Birtwell and Hockney were acquainted via Peter Scheslinger, Hockney's partner at the time.
Birtwell and Clark's marriage broke down in 1974 due to his increasingly erratic behaviour and drug addiction. Following this, she stepped away from fashion for several years to focus on raising their two sons, though she still worked as a paid model for David Hockney in Los Angeles for several years.
In 1984, however, she returned to her textile design work. This time – having felt she had done enough with fashion – she worked on designs for home fabrics and interiors. She opened a shop on Westbourne Park Road, which remained open until 2012 before moving online.
Since then, Birtwell has collaborated with many major fashion brands and other high street names, including Topshop, John Lewis and Boots. As recently as January 2022, she released a collection of vintage-inspired outfits with Next.
Since almost the beginning of her career, Birtwell has been a force of nature in fashion and design. Her prints can be found everywhere from the high street to internationally recognised hotels such as Claridge's. She was instrumental in defining the fashion of the era and how it is remembered today.