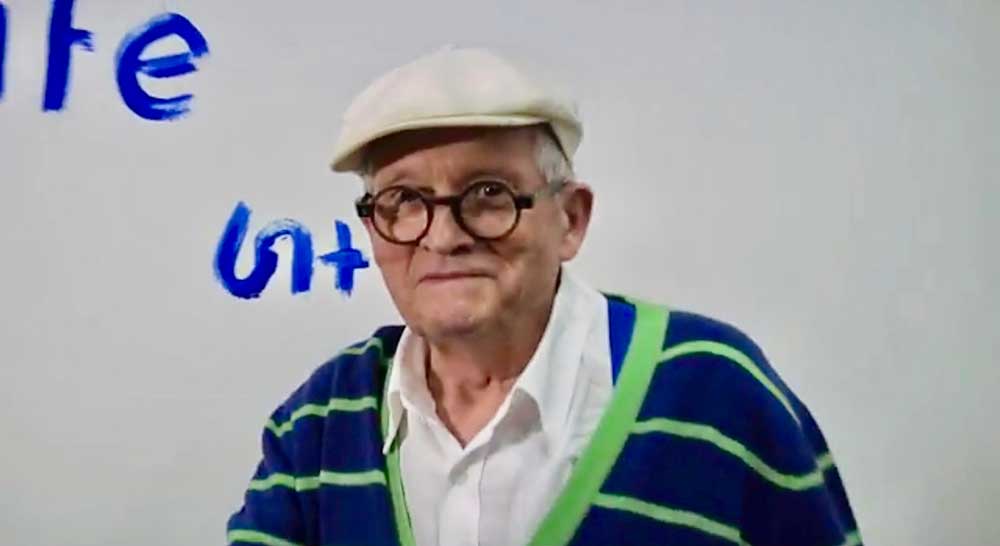 Painter, Photographer, Stage Set Designer & Art Historian
David Hockney (1937-) is a British painter, draftsman, photographer, printmaker, and art historian. He was one of the leading influencers upon the pop art movement in the 1960s, and has also designed stage sets for the theatre and opera.
Born in Bradford, he grew up in a large family as the fourth of five siblings. After attending Bradford Grammar School, he specialised in the study of art at Bradford College of Art and the Royal College of Art in London. In his youth, he developed his own pop art style while incorporating influences of expressionism into his work.
Following his graduation from the Royal College of Art in the early 1960s, Hockney was briefly employed as an art teacher at Maidstone College of Art before decamping to Los Angeles in California in 1964.
Here, he forged a career as a painter, specialising in painting brightly coloured swimming pool scenes on acrylic; from the late 1960s onwards, he developed a particular specialisation in portraiture. He has also painted rural landscapes in his native Yorkshire.
What an artist is trying to do for people is bring them closer to something, because of course art is about sharing. You wouldn't be an artist unless you wanted to share an experience, a thought.
As his career developed and international demand for his work increased, he found himself spending considerable lengths of time back in London and also in Paris, although California remained his permanent home. On the back of his success, he was eventually able to purchase two substantial homes there, one at Hollywood Hills and the other in Malibu. In 1979, he helped to found the Museum of Contemporary Art in Los Angeles.
His work has been exhibited over 500 times, including 400 solo exhibitions starting in 1963.
In his photographic work, he developed an experimental interest in the production of collages in the early 1980s, frequently featuring the same subject filmed from different angles and in different lighting. In his later work, he has freely experimented with the creative potential of computer software to create or enhance drawings and photographs.
He has designed sets for stage performances of plays such as Ubu Roi by Alfred Jarry, and for musical opera such as The Magic Flute by Mozart, Tristan und Isolde by Wagner, and Turandot by Puccini. Aditionally, he designed sets for several works by Igor Stravinsky, notably including The Rake's Progress, Oedipus Rex, Le Rossignol, and Le Sacre du Printemps.
In 1974, he began a long-term association with Gregory Evans, which included a romantic relationship for the first ten years or so before continuing as a professional relationship ever afterwards.
Hockney's paintings have lately become highly prized by billionaire art collectors and well-heeled galleries, with six having achieved auction sale prices in excess of $25,000,000 between 2018 and 2020 alone, fourteen having attained at least $5,000,000 between early 2017 and February 2020, and one, Portrait of an Artist (Pool with Two Figures), having realised an auction sale value of $90,000,000 in 2018.
He has received numerous awards and honours for his service to art and photography, including an exclusive Order of Merit from the Queen in 2012, after earlier being made a Companion of Honour in 1997. A poll of 1,000 British painters and sculptors held in 2011 named him Britain's most influential artist ever.
In later life, David has written a pioneering book on the history of art called Secret Knowledge: Rediscovering the Lost Techniques of the Old Masters (published 2001), in which he argues (with reference to visual artefacts in some paintings, as well as to contemporaneous written documentation) that the photorealistic paintings of the European Old Masters from the 15th to the 18th centuries were facilitated by the use of optical instruments including curved mirrors, camera obscuras and camera lucidas. He was assisted in developing this theory by American physicist Charles M. Falco, for which reason it has become known as the Hockney-Falco thesis.
In 2008, he set up the David Hockney Foundation, a registered charity to which he donated £80,000,000-worth of artwork that he previously privately owned, comprising chiefly those of his own works that had never been sold on to collectors. Its mission is to further the cause of public appreciation and understanding of visual art and culture.
After the example of his father, Hockney is a pacifist who has taken a public stand of conscientious objection to warfare. More controversially, he is a vocal defender of the freedom to smoke tobacco.
David is hard of hearing and has used hearing aids since 1979.