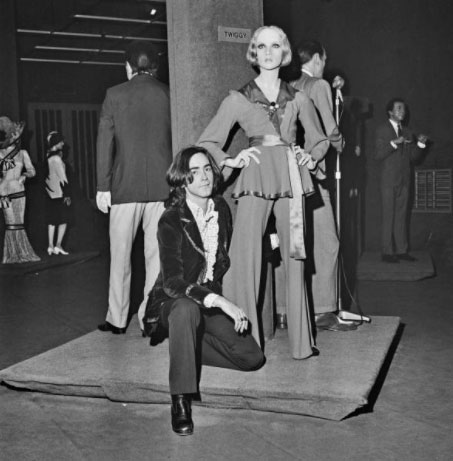 Raymond Clark (1942-1996), who became known as Ossie after his childhood abode of Oswaldtwistle, Lancashire, was an influential British fashion designer in the 1960s and 1970s. He is particularly known for the free-flowing forms of his clothing lines, inspired by his appreciation of dance and particularly the Polish dancer Vaslav Nijinsky.
Born during a World War II air raid, Ossie began designing and tailoring clothes in his early childhood. He went on to study art and architecture at Beamont Secondary Technical School. His art teacher had particular expertise in working with fabrics, and encouraged his talent for clothing design. At the age of 16, he was enrolled at the Regional College of Art in Manchester, from which he graduated in 1958. He subsequently studied for a degree at the Royal College of Art in London, attaining first-class honours in 1965 after putting on a fashion show there in connection with his degree that attracted widespread press attention, turning him into an overnight celebrity in the fashion world.
Soon afterwards, his clothing designs had found their way into multiple London stores and boutiques, including Woollands 21 in Sloane Street and Quorum. By the mid-1960s, a department store in New York, Henri Bendel, had bought up one of his collections.
Clark's girlfriend since his Manchester days, Celia Birtwell, had moved to London to join him there, and subsequently collaborated with him as a print designer for his clothing line sold by Quorum. Ossie's partnership with Celia continued for many years. In 1969, they married, and they subsequently had two children together. However, he subsequently became addicted to drugs in a way that took its toll on his marriage, leading to their eventual divorce.
In 1967, Quorum was struggling financially and was sold by its owner, Alice Pollock, to fashion brand Radley, whose director, Alfred Radley, continued nonetheless to commission Clark's designs, and supported their more widespread worldwide distribution under the banner of collections called 'Ossie Clark for Radley'.
From the late 1960s to the mid-1970s, Clark was at the pinnacle of his career success, and was in strong demand from the world's foremost celebrities for his designs. After his divorce, he struggled for a few years to maintain his previous creative momentum, but in the late 1970s, a new business partnership with Tony Calder and Peter Lee gave rise to some highly successful fashion shows that saw a revitalisation of his reputation in the industry.
In the 1980s, changing fashions rendered Clark's aesthetics out of style, and although he was briefly re-employed by Radley in 1984, he was soon made redundant on the grounds that his designs were no longer selling. His career continued to falter until the 1990s, when he enjoyed new success with the London fashion label Ghost, which employed his skill in cutting delicate fabrics such as chiffon.
After his separation from Birtwell, Clark had frequent love affairs with men, including, from 1978 to 1983, a long-term relationship with London barman Nicholas Balaban, who himself became a successful fashion designer under Clark's influence before ultimately dying of AIDS in 1994.
In August 1996, Clark's own life was cut tragically short by murder, as he was stabbed by an Italian former lover, Diego Cogolato.