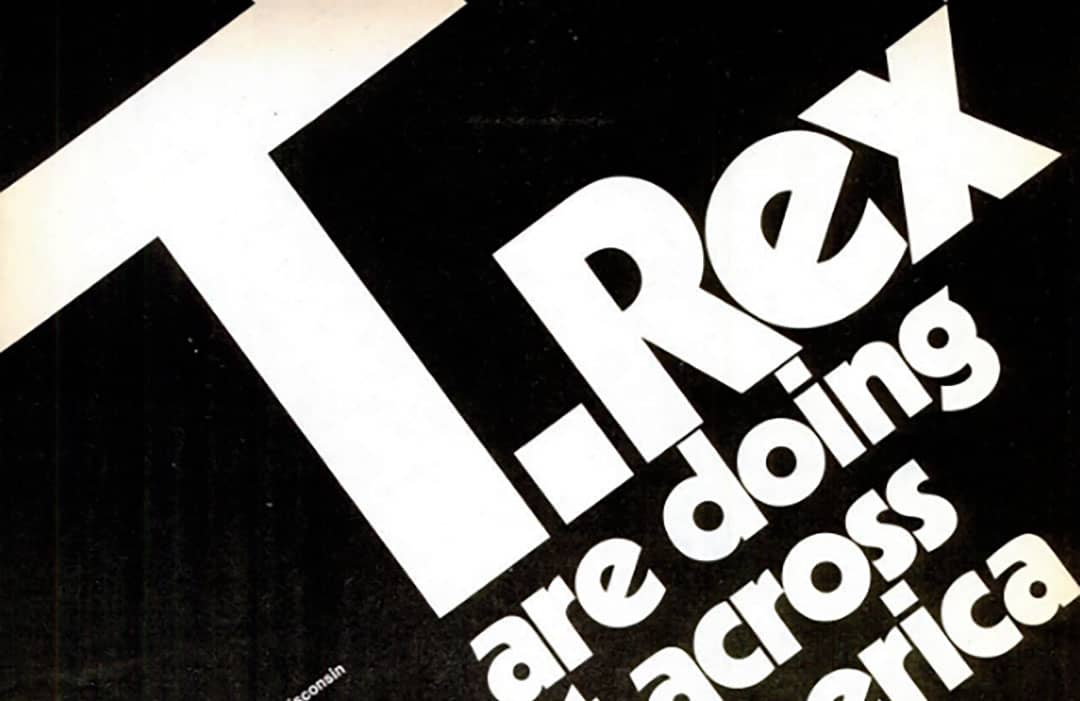 Psychedelic rock band, Glam rock band, Folk band
Tyrannosaurus Rex was a British band founded in July 1967 by Marc Bolan (1947-1977).
It began as an electric guitar-driven rock band with four members, including lead guitarist Ben Cartland, an unidentified bass guitarist, and drummer Steve Porter (1949-1980) alongside Bolan. In this guise, only a single concert was performed, at the Electric Garden in Covent Garden, London, on July 22nd. Following the poor audience reception to this performance, Tyrannosaurus Rex in its original form immediately disbanded.
Bolan and Porter nonetheless decided to continue performing as Tyrannosaurus Rex without Cartland and the bassist, changing their style to folk music drawing influences from Indian sitar player Ravi Shankar, with Bolan singing and strumming an acoustic guitar while Porter, who adopted the stage name Steve Took, played bongo drums, Pixiphone glockenspiels, and other percussion.
By the beginning of 1968, Tyrannosaurus Rex in its new guise had been signed to the record label Regal Zonophone. July 5th, 1968 saw the launch of their début album, which bore the extremely long name My People Were Fair and Had Sky in Their Hair... But Now They're Content to Wear Stars on Their Brows. It was produced by the young American record producer Tony Visconti (born 1944). BBC Radio 1 DJ John Peel, an early champion of the band, put in a guest appearance on the last track with his spoken-voice narration of a children's story that Bolan had written. The album cover featured a fantasy art scene by British artist George Underwood (born 1947), who had previously been in a school band alongside David Bowie and Peter Frampton.
Little more than three months later, on October 14th, 1968, Tyrannosaurus Rex's second album, Prophets, Seers & Sages: the Angels of the Ages, was released. This was followed on May 16th, 1969, by their third, Unicorn.
In mid-1969, Bolan and Took began to diverge in their interests and lifestyles. Took started to write his own songs, but Bolan rejected them, leading to their falling out with each other, as a result of which Bolan sacked his percussionist that September after returning from the band's first tour of the United States.
Took was replaced by Mickey Finn (1947-2003), who was considered a second-rate percussionist compared with his predecessor in terms of his technical ability, but noted for his dashing looks and his habit of wearing hats, as well as for his motorcycling lifestyle.
The band's fourth album, and last as Tyrannosaurus Rex, A Beard of Stars, was released on March 13th, 1970. By this time, Bolan had reintroduced electric guitar to his sound, which had moved more in the direction of rock.
Later the same year, the band was renamed T.Rex and re-signed to Fly Records. In this new incarnation, it was quickly catapulted to the heights of commercial success, with the first single since the change of name, Ride a White Swan, eventually reaching No. 2 in the UK singles chart in January 1971 and notching up 14 successive weeks in the Top 20 and 19 weeks in the Top 40. This was a vast improvement on the band's previous most successful single One Inch Rock, which had got to No. 28 in September 1968.
Following the breakthrough success of Ride a White Swan, Bolan expanded T.Rex with two new members, bass guitarist Steve Currie (1947-1981) and drummer William Fifield, better known by his stage name of Bill Legend (born 1944). Soon afterwards, he also changed his personal style from low-key hippy to one that was shiny, glittery and physically demonstrative on stage, helping to launch the 'glam rock' genre that would come frequently to dominate the upper reaches of the UK singles chart over the following five years.
After these changes were made, although the band lost favour with some of its early fans, who felt that it had sold out to commercial pressures and lost its artistic edge, the hits kept coming for T.Rex in rapid succession, continuing for the next two and a half years. The immediate follow-up singles, Hot Love and Get It On, both topped the charts in 1971; and slightly later releases Telegram Sam and Metal Guru repeated this feat in 1972. Three further singles, Jeepster (1971), Children of the Revolution (1972) and Solid Gold Easy Action (1972), peaked at No. 2, with 20th Century Boy (1973) getting to No. 3 and The Groover (1973) reaching No. 4. A double A-sided re-release of two early Tyrannosaurus Rex singles, Debora / One Inch Rock, reached No. 7 in its own right in 1972, taking the band's career tally of Top 10-charting singles to eleven.
After the summer of 1973, T.Rex would never reach the Top 10 again, but they had managed another four Top 20 hits and three further Top 40 hits by the summer of 1976.
During these years, seven albums were released under the band's new name: T. Rex (Fly, December 18th, 1970), Electric Warrior (Fly, September 24th, 1971), The Slider (T.REX, July 21st, 1972), Tanx (T.REX, March 16th, 1973), Zinc Alloy and the Hidden Riders of Tomorrow (T.REX, February 1st, 1974), Bolan's Zip Gun (T.REX, February 16th, 1975), and Futuristic Dragon (T.REX, January 30th, 1976). T. Rex's final studio album, Dandy in the Underworld, which was their eighth under their new name and twelfth overall, was released by T.REX on March 17th, 1977.
After the band's contract with Fly came to an end early in 1972, Bolan, through the vehicle of his music publishing company, Wizard Artists Limited, set up his own independent record label, the T. Rex Wax Co., which nominally released all the band's remaining studio albums in the UK, although they were distributed under licence by the major record label EMI. Various other record companies, including Ariola (Germany and Spain), CBS (France) and Reprise Records (USA), released some of their mid-career albums overseas. The label imprint was generally abbreviated to T.REX.
Each successive album saw some changes in musical direction, with blue-eyed soul and funk becoming increasingly strong stylistic themes on Zinc Alloy and Zip Gun in particular. The band's decision to distance its sound from glam rock engendered a decline in its commercial success but a rise in its critical acclaim towards the end of its career. After the release of Zinc Alloy, Finn announced his departure from the band, and Bolan ceased to work with Visconti, further denting T.Rex's chances of continuing commercial success.
The band was still active, however, at the time of Bolan's untimely demise in a car crash in London at the age of 29 on September 15th, 1977. Two other prominent early members would also suffer accidental deaths within four years, with Took choking to death on a cocktail cherry aged 31 on October 27th 1980, and Currie suffering his own fatal car accidental in Portugal at the age of 33 on April 28th, 1981. Finn lived to the age of 55 before dying of suspected complications from liver and kidney disease on January 11th, 2003.