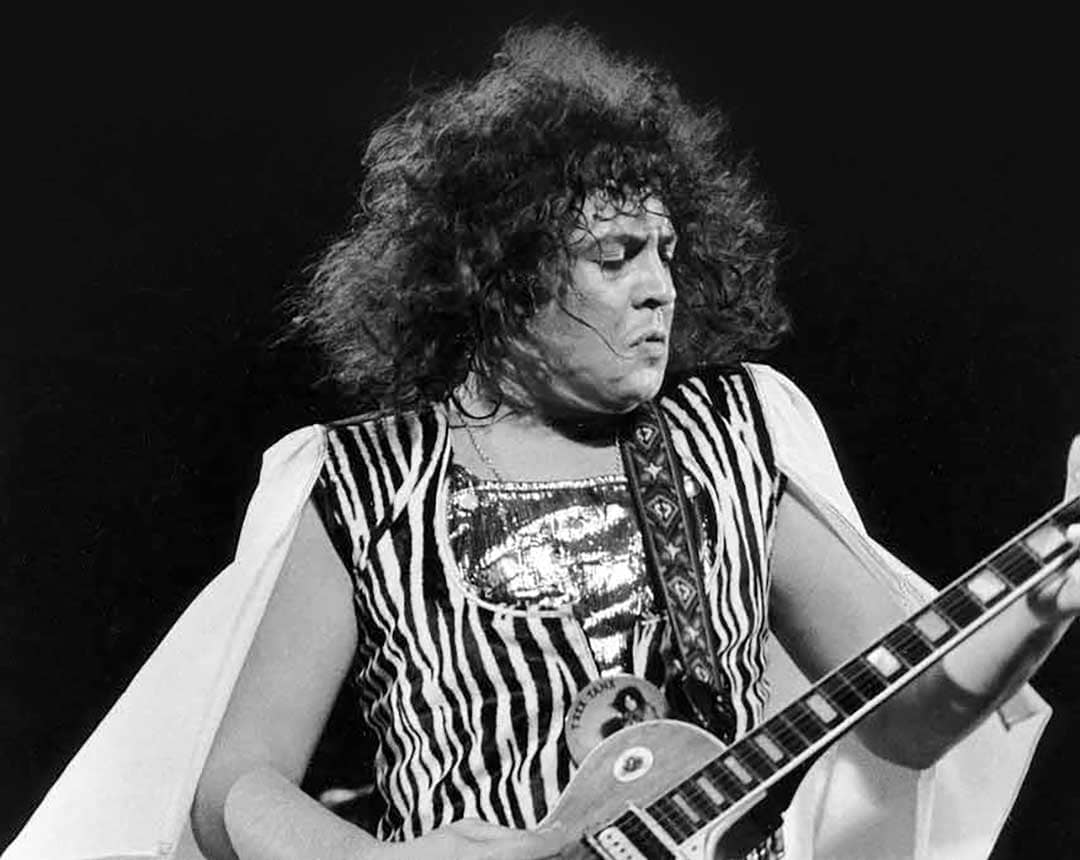 Singer, Songwriter & Television Presenter
Marc Bolan (1947-1977), born Mark Feld, was an English popular singer, songwriter, poet, and occasional model, actor and television presenter. He is best known for his work in the 1970s with the British glam rock band T. Rex, which first emerged in 1969 as a mutation of an earlier psychedelic folk rock band, Tyrannosaurus Rex, which he had founded in 1967.
T.Rex was one of the most commercially successful chart music acts of the early to mid-1970s in the UK, recording no fewer than four No. 1 hits and a further four No. 2 hits as part of an uninterrupted run of 11 successive UK Top 10 hits between October 1970 and June 1973. Four further Top 15 hits had followed by July 1976.
Feld grew up in Hackney, East London, the son of a lorry driver of eastern European Jewish ancestry. He took up the guitar at the age of nine and started a skiffle band soon afterwards, before getting recruited as the guitarist for school band Susie and the Hula Hoops, whose lead singer, future teen singing sensation Helen Shapiro, was only ten when it was formed around 1957. Shapiro would go on to top the charts as a solo artist aged just 14 in July 1961.
There is so little time for us all, I need to be able to say what I want quickly and to as many people as possible. Time passes so slowly if you are unaware of it and so quickly if you are aware of it.
After being expelled from his secondary school for disciplinary offences at the age of 15, Mark became increasingly involved in the burgeoning music scene around a Soho coffee bar called the 2 i's [sic]. In 1964, he was taken under the wings of music industry manager Geoffrey Deloray-Hall and made his first professional recording backed by session musicians.
Soon afterwards, Feld was further talent-spotted by successful child actor Allan Warren. They moved in together, and Warren began to take on the role of his manager in Deloray-Hall's place, signing him up to a record contract, and subsequently hiring a recording studio and overseeing Mark's first vinyl cuts, which included cover versions of songs by Bob Dylan and Dion, both of which were released as singles but without attracting significant commercial success. At this time, Feld began to experiment with stage names, initially adopting the pseudonym of Toby Tyler.
Soon afterwards, Warren ran into personal financial difficulties, leading him to dispose of his contract with Feld by selling it to his own landlord, David Kirch, for the sum of just £200 (equivalent to almost exactly £4000 in 2021), in order to settle rent arrears. Kirch reportedly made no attempt to market the remaining recordings, resulting in Feld's mother angrily demanding that the contract be nullified, to which Kirch acquiesced.
This freed Feld to sign to a new record company, and he was taken on by the major label Decca Records in 1965. In connection with this development, he changed stage names under the direction of Decca personnel from Toby Tyler to Marc Bowland, which was subsequently truncated to Marc Bolan. He began recording folk music for Decca, and two singles were released, but neither charted.
In 1966, record producer and music industry manager Simon Napier-Bell agreed to record some more of Bolan's songs, and subsequently offered him a place in a live band he managed called John's Children, primarily as a songwriter. John's Children was signed at the time to another record company, Track Records. Bolan went on tour with the band, but it folded in 1967, prompting Bolan to start his own band, Tyrannosaurus Rex, that same year, on the basis of openly recruiting for personnel in the music press.
After a shaky start, with the first version of his new band getting a very poor reception at its inaugural live gig, Bolan sacked most of the musicians he had taken on, and continued Tyrannosaurus Rex as a lower-key folk duo with just Steve Took, a drummer, providing support to his singing and acoustic guitar.
Although Took in turn was eventually dismissed after taking too many drugs for Bolan's liking during a tour of the US, Tyrannosaurus Rex survived even his departure thanks to replacement drummer Mickey Finn coming on board; and the band in its various forms ultimately recorded three albums including two that reached the UK album chart Top 20. Two of their singles from 1968 further reached the UK singles chart Top 40. Bolan had broken through from near-total anonymity into the outer reaches of the commercial mainstream, giving him a solid launch-pad from which to further advance his musical career.
Towards the end of the Tyrannosaurus Rex project, Bolan began to reintroduce amplified electric guitar, and his move in this musical direction prompted the ultimate reinvention of his band as T.Rex by August 1969, when its debut single thus, King of the Rumbling Spires, was released. Although T.Rex's first single under its new name narrowly failed to reach the UK Top 40, only just over a year later, in October 1970, subsequent single Ride A White Swan charted at No. 47 and climbed from there all the way to No. 2, peaking in January 1971, as part of a 19-week Top 40 run.
After that breakthrough success, there was no stopping Bolan. He had hit the big time with his new brand of glam rock, and T.Rex had become a national institution within the British popular music culture of the early 1970s. Their nine subsequent singles under their new name, Hot Love, Get It On, Jeepster, Telegram Sam, Metal Guru, Children of the Revolution, Solid Gold Easy Action, 20th Century Boy and The Groover, all got to the Top 4 of the UK singles chart too; and most of these songs have become so enshrined in British popular music culture that they have continued to enjoy radio play ever since.
Shortly before writing and recording Ride a White Swan, Bolan had got married to June Child, a former secretary, who is said to have become his muse and to have inspired its lyrics. Their marriage ended in the mid-1970s after he had an affair with a backing vocalist and keyboard player he was working with by then, American singer Gloria Jones, who went on to give birth to his son Rolan in 1975.
I personally believe that I was... a previous life or something... a previous reincarnation, a bard of some sort, because most of the things I write about are descriptions of places I've never been to.
Bolan also dabbled in poetry, especially in his early life. A compendium book of his verse, The Warlock of Love, was first published in 1969, and ultimately sold 40,000 copies.
In the final year of Bolan's life, he was recruited by the regional independent TV company Granada as the presenter of a short-lived music television series named Marc, in which many different bands and singers of the time were featured.
Towards the end of his life, Bolan came out as bisexual.
His life was tragically cut short at the age of 29 in September 1977 by a fateful car crash. While his girlfriend Gloria Jones was driving him home from a meal out together, her car made glancing contact with a fence post at the roadside in Barnes, south-west London, sending it careering off-course into a tree. While Jones was only injured and survived to make a full recovery, Bolan was killed by the force of the final impact.
The site of the tree where the singer met his untimely death has since been purchased by a T.Rex appreciation society called the T.Rex Action Group, and continues to be maintained by it as a shrine to its lost idol.