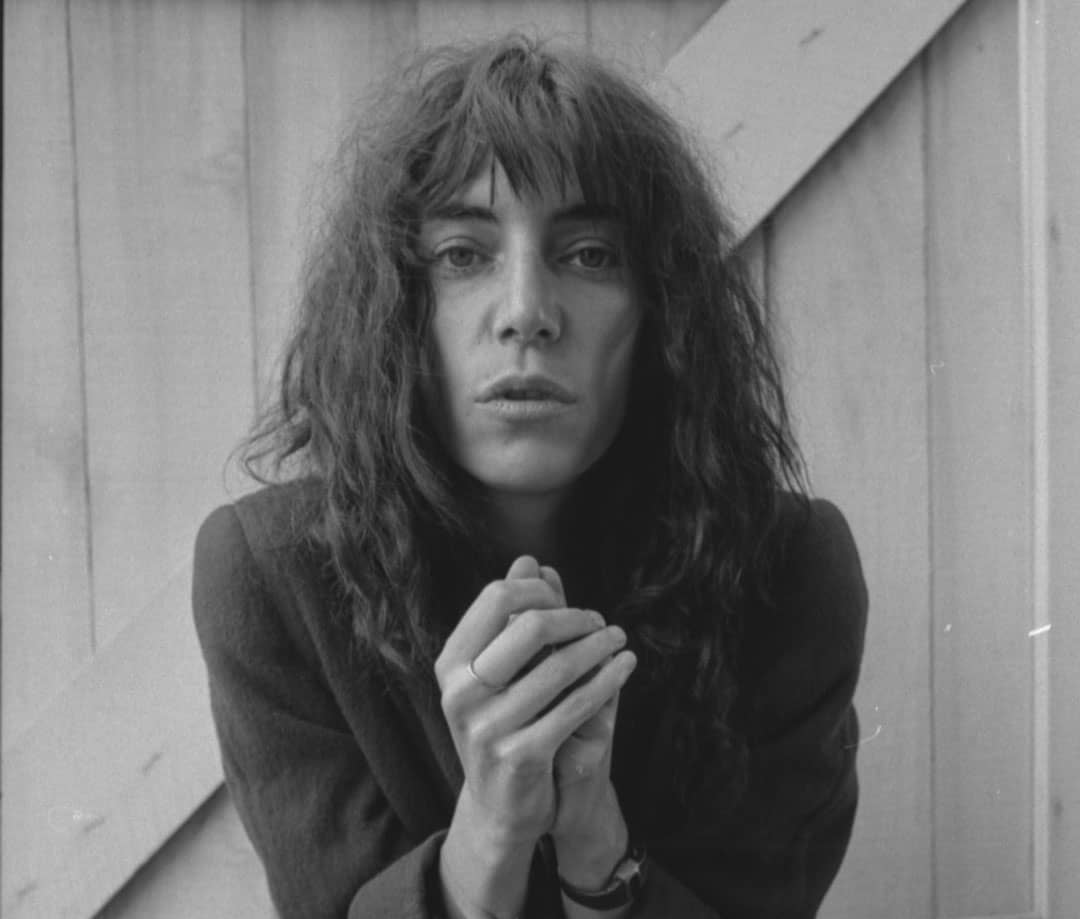 Singer, Actress, Visual Artist & Photographer
Patti Smith, not to be confused with country singer Patty Smyth, is an American rock singer, songwriter, visual artist and actress, best known for her work with The Patti Smith Group, whose commercial success peaked in the late 1970s. In the UK, her band scored a No. 5 smash with Because the Night (1978), which remains her only Top 40 singles chart hit in either the UK or her native USA, although she also reached the UK Top 75 with subsequent singles Privilege (1978) and Frederick (1979), and provided guest vocals on R.E.M.'s 1996 single E-Bow the Letter, which also reached the UK Top 5.
Smith has recorded 11 studio albums between 1975 and 2012. Of these, only Easter (1978) reached the Top 40 in the UK albums chart, although in the United States, it was matched in this achievement by follow-up Wave (1979).
Smith's songwriting is characterised by its poetry, while her voice and music have a raw, energetic quality that place it firmly in the rock camp.
Born in December 1946 in Chicago to jazz singer Beverly Smith, Smith grew up in a large working-class family, with three younger siblings. Her parents were religious, and initially raised her as a Jehovah's Witness, but she rejected religion in her teens. In her childhood, her family moved in succession to Philadelphia and multiple addresses within New Jersey.
After finishing school, Smith began work in a local factory. While studying at Glassboro State College, she gave birth to a daughter at the tender age of 20, and decided to put her up for adoption. Later that year, she moved to Manhattan, New York, where she found work in Scribner's, the famous bookstore on Fifth Avenue. Here, she met and became romantically involved with the photographer Robert Mapplethorpe.
During a visit to Paris with her sister in 1969, Patti took up busking and performance art. She later stated that she was inspired in her youthful artistry by French surrealist poet Arthur Rimbaud. Her experiences in Paris seem to have empowered her to get involved in similar artistic projects upon her return to New York. These included acting in a play called Femme Fatale, written by Jackie Curtis, and in one called Island, written by Tony Ingrassia, as well as providing the spoken narrative to an art-house film in which Mapplethorpe acted.
In 1971, Smith co-wrote with her lover of the time Samuel Shephard Rogers III a play called Cowboy Mouth, in which she also performed. In the early 1970s, she also wrote the lyrics to several songs performed by the band Blue Öyster Cult while in the early stages of a long-term relationship with its keyboard player Allen Lanier.
I imagined myself as Frida to Diego, both muse and maker. I dreamed of meeting an artist to love and support and work with side by side.
Patti's music career was launched around 1974, initially in collaboration with guitarist Lenny Kaye, before they formed a fuller band, which became the Patti Smith Group and was signed by Arista, recording its first album, Horses, in 1975.
In 1977, Smith suffered a serious accident while dancing, falling five metres into an orchestra pit, resulting in fractures to multiple vertebrae in her neck. But she recovered well after taking time off.
By the late 1970s, Smith's relationship with Lanier was over, and she got involved with her future husband Frederick Dewey Smith, a guitar player who had previously been a member of a successful rock band from Detroit called MC5. She settled with him near Detroit, Michigan, and they got married in 1980, and had two children in the 1980s: son Jackson (born 1982) and daughter Jesse (born 1987). Sadly, Frederick died of a heart attack in 1994 at the age of just 46.
In 1996, Patti, now a widow, returned from Michigan with her children to her previous home city of New York, where she resumed recording new music after a long period of relative inactivity. Her 2004 album Trampin' was released by Columbia Records.
An exhibition of her visual art spanning four decades from 1967 to 2007 was displayed in Paris by the Fondation Cartier pour l'Art Contemporain in 2008. In the same year, a documentary film about her life, Patti Smith: Dream of Life, was released. In 2011, her photography, upon which she had spent much time since the death of her husband, was exhibited at a museum in the USA.
In 2010, Smith released a memoir, Just Kids, which focused on her experiences in New York in the 1970s, and was awarded the National Book Award in the United States that November.
In 2012, Pratt Institute, an old university based in Brooklyn, New York, awarded Smith an honorary doctorate in fine arts in recognition of her accomplishments.
Patti has been a vocal advocate of environmental causes, a supporter of the Green Party, and an opponent of warfare, including the second Iraq War launched by George W. Bush. Her songs have frequently broached political themes, especially ones born of humanitarian concerns.