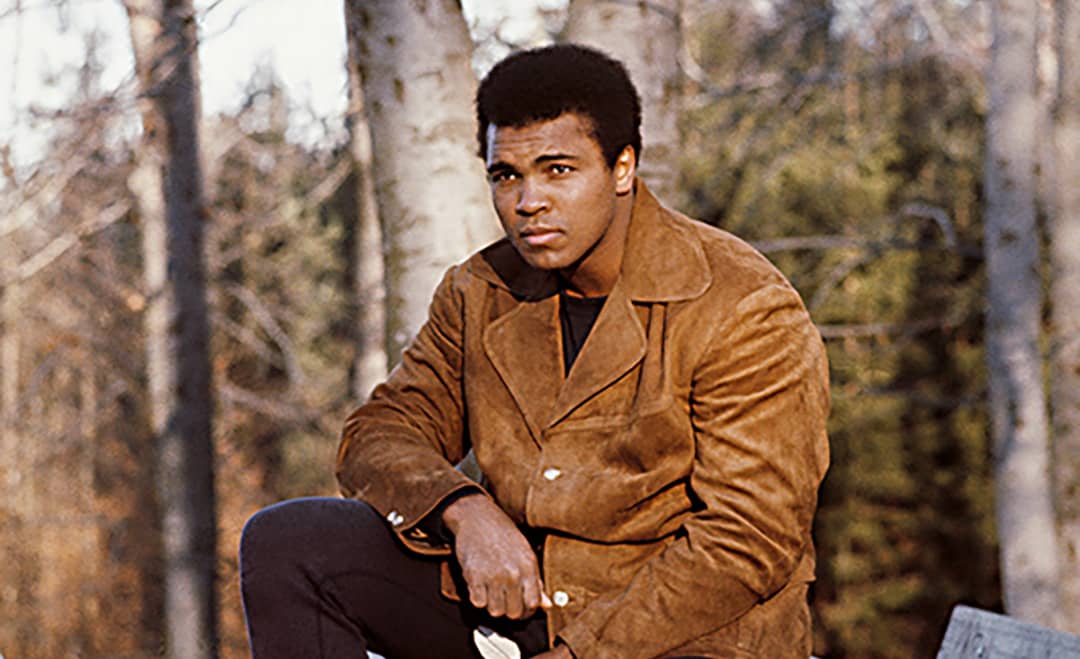 Boxer, Activist, Entertainer & Philanthropist
Muhammad Ali, born Cassius Marcellus Clay Jr. (1942-2016), was an American professional boxer, entertainer and activist. Within his lifetime, he became a legendary sporting icon whose name was famous throughout the world, and was also widely looked up to as a role model by other African Americans.
 Cassius grew up in the city of Louisville, Kentucky, the son of Cassius Marcellus Clay Sr. (1912-1990), a sign painter and pianist. Clay Sr. had himself adopted his name in honour of the original Republican politician Cassius Marcellus Clay (1810-1903), a prominent representative in Kentucky of the American movement for the abolition of slavery. Cassius Jr. had a younger brother called Rudolph Clay (born 1944), who would follow him into professional heavyweight boxing. Their mother, Odessa O'Grady Clay (1917-1994), was a domestic assistant and devout Baptist who raised both her sons in the faith.
Young Cassius experienced racial discrimination throughout his childhood, when racial segregation was still legally and socially enforced. He became so enraged at the news of the murder by lynch-mob in Mississippi of 14-year-old African-American boy Emmett Till (1941-1955) that he and a friend committed acts of vandalism at a local rail yard.
Clay Jr. became involved in amateur boxing at the age of 12 on the suggestion of local police officer Joseph Elsby Martin Sr. (1916-1996), who happened also to be a boxing coach. Martin became his boxing trainer at the local Columbia Gym, which unlike most gyms in Louisville was racially integrated.
By the age of 18, Clay, who was still an amateur boxer and was still being coached by Martin, was competing in the 1960 Olympic Games. There, he won the gold medal in the light heavyweight boxing contest. Following this success, he turned professional that October, and went on to win all nineteen of his first 19 professional fights held between then and the end of 1963.
In February 1964, now aged 22, Cassius won the world heavyweight title in a bout against the incumbent holder Sonny Liston (1930-1970). His other most prominent opponents were Joe Frazier (1944-2011), George Foreman (born 1949), and Floyd Patterson (1935-2006).
From 1961, Clay identified increasingly with Islam after attending his first Nation of Islam meeting that year. In 1962, he personally met Malcolm X, and they became friends. Ali was denied membership of the organisation due to his boxing career conflicting with its views, although he changed his name to Cassius X after the practice taught to its followers. In 1964, he was finally admitted, whereupon its leader Elijah X announced that Cassius would thereafter be known as Muhammad Ali, a markedly Muslim choice of name. Shortly after this, Ali's spiritual mentor Malcolm X broke away from Nation of Islam, forcing Ali to make a hard choice between them. Having just been admitted, he chose to stay with the organisation for a number of years.
After his death, Elijah was succeeded as the leader of Nation of Islam by his son Warith Deen Muhammad. Warith sought to steer the group's followers in the direction of traditional Sunni Islam, and Ali followed his guidance, converting to Sunni Islam himself.
Ali's activism came to wider public prominence in 1966 when he refused military conscription into the Vietnam War. This resulted in the punitive stripping of all his boxing titles, as well as his criminal conviction on charges of draft evasion, for which he was sentenced to five years in jail. He was also targeted with numerous death threats over the stance he took, even while others admired his bravery for going against the grain of mainstream American public opinion on the war. He was released on bail for the duration of his appeal, which he took all the way to the Supreme Court. In 1971, his conviction was thrown out by the Supreme Court.
Following his highly publicised opposition to the Vietnam War, Ali was among several prominent activists whose communications were wiretapped by the National Security Agency. Perhaps because of his prominence as a popular public figure, he had come to be regarded as a genuinely subversive threat to national security.
Only after his exoneration by the Supreme Court was Ali free to return to boxing. Now in his 30s, he was not immediately widely fancied to resume where he had left off. In a bout with Frazier touted as the Fight of the Century, which was held in March 1971, he was defeated on points after taking heavy punishment during the fight. He nonetheless continued boxing throughout the 1970s before announcing his retirement in July 1979, eight months after reclaiming the heavyweight title from Leon Spinks, who had unexpectedly defeated him in February 1978.
By 1980, Ali had begun to show the outward signs of Parkinson's Syndrome, but he was declared fit to fight. Drawn back into the professional arena by the promise of a rich pay packet one last time that October, he came out of retirement to face Larry Holmes (born 1949). Holmes easily defeated him to retain his WBC title.
After announcing his retirement from professional boxing for a second time in 1981, Ali remained in frequent demand as a celebrity for guest appearances, including on television shows. Otherwise, he turned his attention mainly to philanthropy, activism and his religion.
By 1984, Ali had been diagnosed with Parkinson's Syndrome. Although this did not restrict his public appearances to begin with, his condition progressively worsened in his later life. As a result, he cultivated a lower public profile in the years before his death in June 2016.
In 2001, Ali publicly denounced the instigators of the 9/11 attacks.  In an official statement, he proclaimed that they were not real Muslims but racist fanatics, and declared that Islam was a religion of peace.
I never thought of losing, but now that it's happened, the only thing is to do it right. That's my obligation to all the people who believe in me. We all have to take defeats in life.
In August 1964, Clay married his first wife, Sonji Roi, but they divorced in January 1966 after he was pressed by Nation of Islam to divorce her when she refused to join the organisation herself. In August 1967, he married a fellow-member of Nation of Islam, Belinda Boyd, who changed her name to Khalilah Ali after marrying him. Together, they had four children, Maryum (born 1968), Jamillah (1970), Rasheda (1970) and Muhammad Jr. (1972).
After ten years, Ali's marriage with Khalilah broke down over his infidelity. This followed his fathering of two daughters through extra-marital affairs carried on during their marriage. The first such relationship, with Patricia Harvell, led to the birth of Ali's daughter Miya in 1972; and the second, with Wanda Bolton, then just a 16-year-old girl, led to the birth of his daughter Khaliah in 1974. Following this, he and Wanda married in an unofficial Islamic ceremony while he was still legally married to Khalilah.
In 1977, Ali got married for a third time to Veronica Porché, a model. As in his previous marriage, he was unfaithful, and they divorced in 1986. Prior to marrying, they produced two further daughters, Hana and Laila (born 1977). Laila herself became a professional boxer from 1999 to 2007, initially against her father's wishes.
In 1986, Muhammad married Yolanda Williams, better known as Lonnie, who had been his carer since 1982. In the year of their marriage, they adopted a baby son, Asaad Amin. This final marriage of his life was the most successful, lasting some 30 years until Ali's death in 2016.
Two further individuals have come forward claiming to be Ali's biological children resulting from other affairs.
Alongside his boxing career, even as early as the 1960s, Ali showed a love of spoken-word poetry, contributing to the tradition of Black poetry and foreshadowing the emergence of rap music as a genre the following decade. He recorded a number of records featuring his spoken-word performances in the 1960s and 1970s, and was widely referenced by hip-hop artists in later years.
He also enjoyed artwork, and was especially active in drawing and painting during the 1970s. His autobiography, The Greatest, My Own Story, was published in 1975. It was subsequently turned into a 1977 film, The Greatest, starring Ali as himself. He performed in a musical on Broadway, Buck White, in 1969, and starred in the film Freedom Road in 1978, alongside various other minor acting roles.
His philanthropic work included visits on humanitarian missions to Ghana, Palestine and Bangladesh, and generous personal charitable donations to organisations such as the United Negro College Fund. He met with Iraqi President Saddam Hussein in 1990 and successfully persuaded him to release various American hostages. In return, he promised to give the leaders of the USA an honest account of Iraq, although this did not prevent the onset of the first Gulf War the following Spring. In 2002, when the memory of the 9/11 attacks was still very fresh in people's minds, he was dispatched to Kabul in Afghanistan by the United Nations as a U.N. Messenger of Peace.
In 1980, he was sent to Africa by U.S. President Jimmy Carter on a diplomatic mission to persuade African governments to join the USA in its planned boycott of the Moscow Olympic Games, which were to be held that year. This met with little success in most African countries owing to various political factors of which Ali had been unaware, except in Kenya, which was persuaded to join the boycott.
Starting in 1998, Ali also teamed up with fellow Parkinson's sufferer actor Michael J. Fox, helping to raise funds for medical research and to raise public awareness of the condition.
In the last three years of his life, Ali was hospitalised three times with different acute illnesses. The third-one, a respiratory tract infection, proved fatal; he died of septic shock in June 2016.