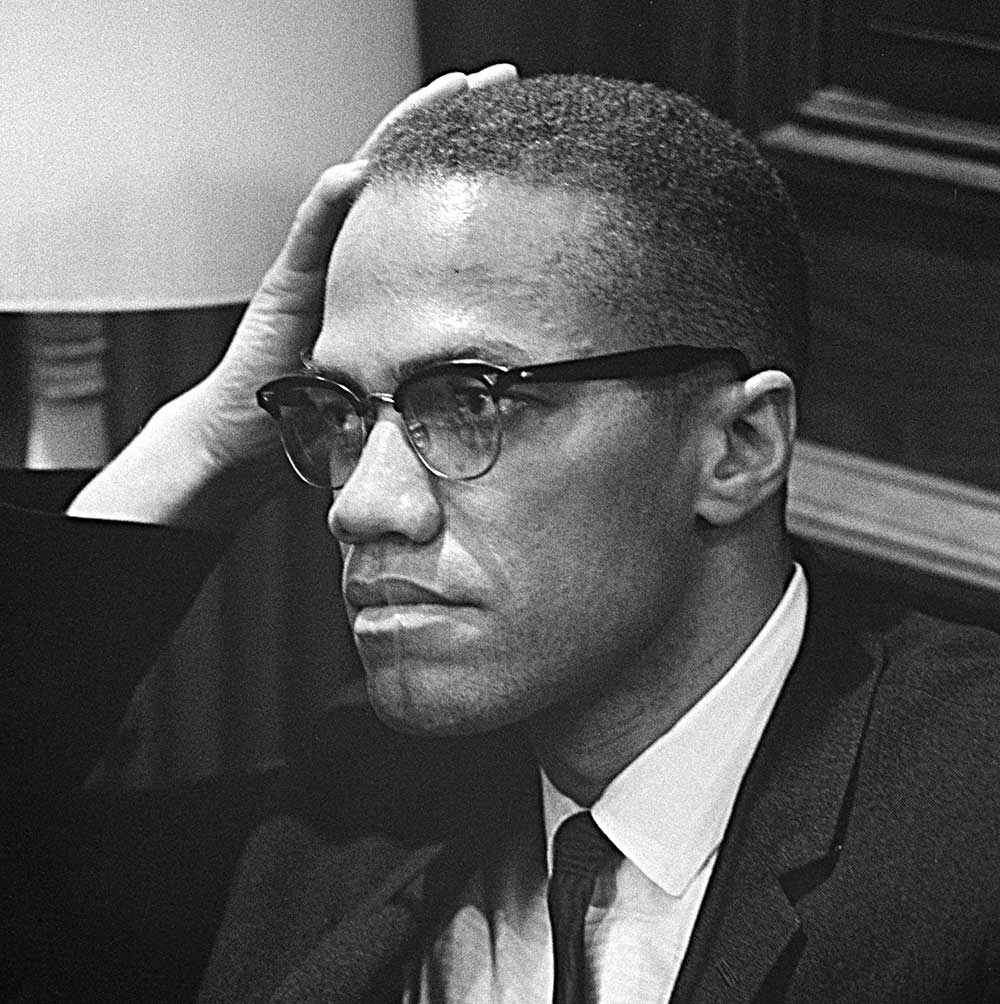 Civil Rights Campaigner, Anti-Racism Campaigner & Muslim Leader
Malcolm Little, better known as Malcolm X (1925-1965), was a prominent African American human rights activist who also worked as a Muslim minister after joining the Nation of Islam while serving a prison sentence.
Born in Ohama, Nebraska to a Baptist lay speaker father from Georgia, USA and a mother from Grenada, West Indies, Malcolm was just six years old when he suffered the sudden death of his father in suspicious circumstances that led him and others to suspect he had been the victim of a racist murder, although the death was officially ruled to have been an accident.
Having aspired to become a lawyer, young Malcolm was put off his studies by a white teacher who told him that this was an unrealistic aspiration for a black man. He consequently dropped out of high school at the age of just 16. After spending most of his teen years with his half-sister in Boston, he settled in the Harlem district of New York City in 1943, and here became involved in various illegal activities to earn money, including pimping, robbery, drug dealing and racketeering, as well as taking up gambling.
If you stick a knife in my back nine inches and pull it out six inches, there's no progress. If you pull it all the way out that's not progress. Progress is healing the wound that the blow made. And they haven't even pulled the knife out much less heal the wound. They won't even admit the knife is there.
Upon his return to Boston in 1945, Malcolm joined a gang of burglars. Having been caught taking a stolen watch for repairs at a shop, he was arrested and sentenced in February 1946 to 8 to 10 years in prison for burglary and larceny, of which he would serve 6½ before being granted parole in August 1952.
While in prison, Little, who had formerly opposed organised religion, was influenced into joining a new Muslim movement called the Nation of Islam that advocated freeing Africa from white colonialism and returning it to the control of its traditional black inhabitants. Its leader, Elijah Muhammad, asked all members to use X as a surname in place of their born family surnames, and Little duly complied, assuming the name by which he is best known to this day, Malcolm X. This was because the surname Little would have been forced upon Malcolm's enslaved ancestors by a slaveowner of the same name, meaning their original African surnames were stripped from them. The Nation of Islam also preached that God would return and give members a new holy name; however, until this time, members would use X as a surname instead. Hence from this point, Malcolm Little became known as Malcolm X.
In 1950, Malcolm wrote a letter to President Harry S. Truman in opposition to the Korean War, in which he incidentally declared himself a communist, leading the FBI to open a file on him and start to monitor his activities. In time, the FBI became less alarmed by his communist sympathies and more concerned about his increasing prominence in the Nation of Islam, for which he established three new temples in different American states. He eventually earned a reputation as the Nation of Islam's second most influential leader after Muhammad himself, and presided over a vast increase in its membership thanks to the publicity he attracted.
Malcolm first rose to wider public prominence in 1957 when he stepped in to defend the human rights of another member of the Nation of Islam, Hinton Johnson, after the latter was beaten up by a pair of New York City police officers. His intervention in this case induced the NYCPD to begin its own surveillance on him, considering him a threat to its authority, and further brought him to the attention of the media, leading to him becoming in demand for his comments on topics of racial justice and human rights.
By 1960, his reputation was such that he was an invited guest of multiple African countries at the United Nations General Assembly that convened in New York City that September. At this event, he made friends with Fidel Castro of Cuba, and was invited by Castro to visit his country.
In March 1964, Malcolm ended his membership of the Nation of Islam, after becoming increasingly disillusioned with the leadership of Elijah Muhammad. During the resultant period of turmoil, he was issued credible death threats by other members of the organisation. He remained a Muslim but changed his denominational allegiance in favour of Sunni Islam, after being successfully courted by a group of Sunni Muslims that invited him to learn more about their faith. He subsequently decided to focus his attention on organising a new national organisation for African Americans whose aim was to raise their political consciousness, announcing the creation of the new Organisation for Afro-American Unity (OAAU) that June.
In February 1965, Malcolm was making a speech to the OAAU in Manhattan, New York when three gunmen suddenly emerged from the audience and shot him dead aged just 39. All were members of the the Nation of Islam, brutally confirming the real danger that his rift with it the previous year had brought to his life.