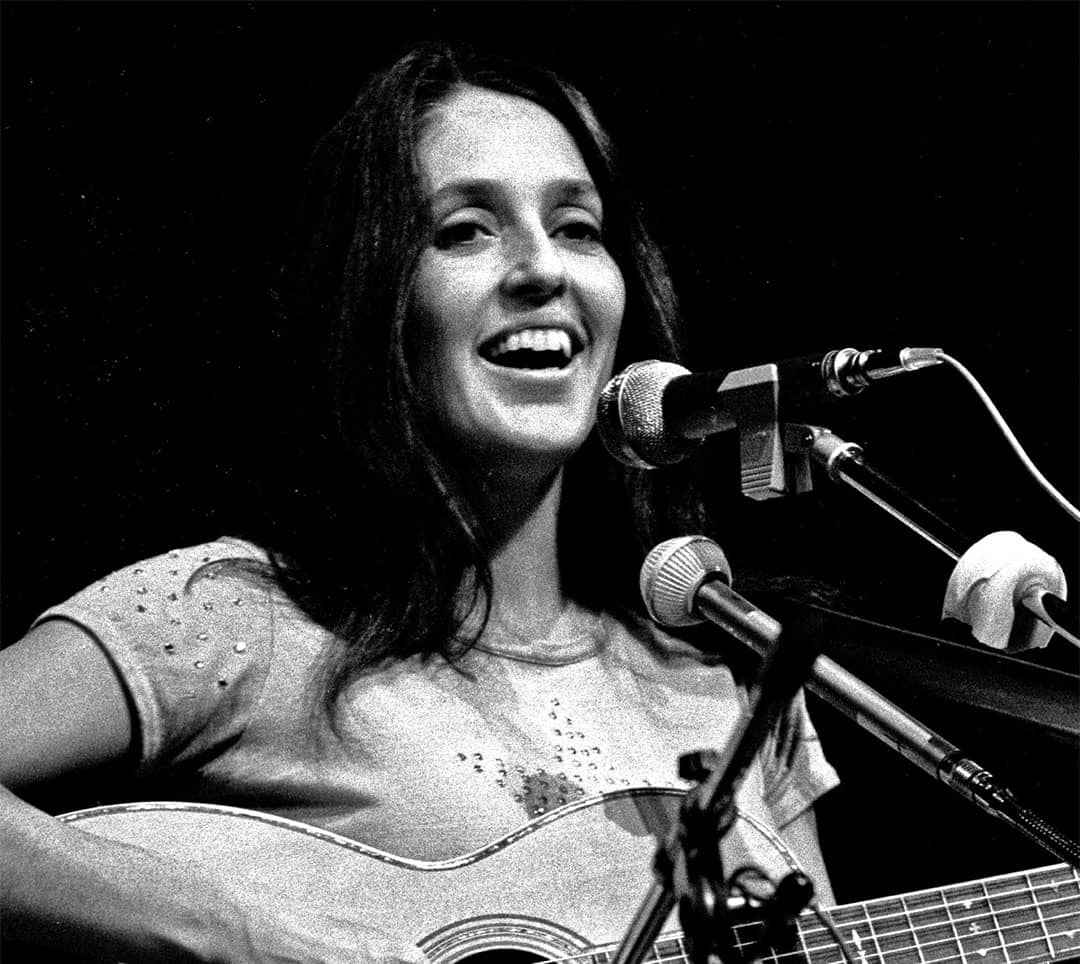 Folk Singer, Human Rights Activist, Anti-racism Campaigner & Peace Campaigner
Joan Chandos Baez (born January 9th, 1941) is an internationally acclaimed American singer, musician, songwriter and activist, who has been especially strongly associated with folk music.
Joan's father, Albert (1912-2007) was a Mexican-born academic mathematician and physicist, who obtained degrees in mathematics in 1933 and 1935 followed by a doctorate in physics in 1950. Having migrated to the United States with his father at the age of four, he grew up from the age of five in New York City, where Joan was herself eventually born in 1941, the middle daughter of three, after Pauline (1938-2016) and before Margarita (1945-2001). Once he had obtained his PhD, he became in demand for work in physics from UNESCO, leading to a variety of moves for the family to locations outside New York, including a one-year posting in Baghdad, Iraq.
Her mother, born Joan Chandos Baez Sr. (1913-2013), was born Joan Chandos Bridge in Edinburgh, Scotland.
Her parents were both themselves the children of Christian priests, with Joan's paternal grandfather serving as a Methodist minister in Brooklyn, and her maternal grandfather being an Anglican priest. But her parents became Quakers and raised her in this tradition, awakening her interest in pacifism at a very early age.
During her teen years, Joan was based in the San Francisco Bay area, where she attended Palo Alto High School, graduating in 1958, before moving once again with her father to Boston, Massachusetts in connection with his latest job at the Massachusetts Institute of Technology.
If people have to put labels on me, I'd prefer the first label to be human being, the second label to be pacifist, and the third to be folk singer.
At Boston, Baez began her career as a live singer, finding that she fit in well to the burgeoning folk music scene in the city. Soon she had met Samuel Robert Gibson (1931-1996), one of the most prominent folk singers of the day, and he invited her to perform two duets with him at the Newport Folk Festival held at Newport, Rhode Island in 1959. This appearance brought her to national prominence for the first time, earning her the nickname 'the barefoot Madonna' in sections of the press, and led to two record companies pursuing her. She eventually signed a record deal with Vanguard Records in 1960, leading to the publication of her eponymous first album that year.
During her years in Boston, she was in a relationship with Michael New, a student from Trinidad and Tobago, whom she had met while studying at the same college. Her emerging success put a strain on their relationship, but they are said to have stayed together for several years into the 1960s, having moved to California together in 1960.
A second LP, Joan Baez Vol. 2, followed in 1961, and by the end of that year, Joan's concerts were selling out major venues such as the Town Hall in New York on November 11th. Two live albums of previously unreleased songs were released in the two following years.
Her career continued to flourish into the mid-1960s, and during these years she was instrumental in promoting Bob Dylan, then a little-known artist, to wider audiences, as well as recording cover versions of some of his songs herself. They first met at a folk music venue in Greenwich Village, Manhattan, New York, in April 1961. Two years later, she invited Bob to perform with her at the 1963 Newport Folk Festival, and around that time, they entered into a relationship together, and she frequently invited him to perform some of his songs at her concerts as he followed her around on tour. Their relationship is believed to have remained active at least until 1965 before ending, but they remained friends, and in 1968, she went on to record a whole album of Dylan covers, entitled Any Day Now. She would later support him as a featured vocalist on a tour of his own called the Rolling Thunder Revue, which spanned 1975 to 1976.
In the later 1960s, she varied her style of music with the addition of classical musical orchestration provided by the composer Peter Schickele (born 1935), which featured on three successive albums of hers: Noël (1966), Joan (1967) and Baptism: a Journey through Time (1968).
In 1967, Baez and her mother were arrested together with almost seventy other women for actively protesting outside the Armed Forces Induction Unit in Oakland, California against the imprisonment of young men who had refused military conscription, by blocking its entrance together.
While imprisoned for a month for her pains at Santa Rita Jail in Dublin, Alameda County, Joan met a prominent anti-war activist, David Victor Harris (born 1946). After making each other's acquaintance in the jail, they entered into a serious relationship together following their release, and got married in New York in March 1968. Soon after they got together as a couple, they had moved in together into a commune of conscientious objectors based at Los Altos Hills near Stanford, California, tending the land and living a vegetarian lifestyle. Baez recorded an LP, David's Album (released 1969), in her husband's honour, and they subsequently conceived a son, Gabriel, who was born in December 1969.
However, in July 1969, more than four months before her son was born, David was spirited away from Joan back to prison after refusing military conscription, and this time he was jailed for fifteen months. Early in 1971, three months after his release, the couple separated, with their amicable divorce following in 1973, and she raised her son largely alone, although retaining joint custody of him with her ex-husband. Since growing up, Gabriel has himself become a drummer, and has occasionally performed on the drums at his mother's concerts.
In August 1969, Joan, who was five months pregnant at the time, was among the many artists performing at the Woodstock Festival, where her set was filmed, with extracts subsequently making it into an internationally successful documentary film about the festival released the following year, raising her profile overseas.
Three final albums of original material by Baez were released by Vanguard in the early 1970s: One Day At A Time (1970), Carry It On (1970), and Blessed Are… (1971). A compilation album, The First Ten Years, was also published in 1970.
After moving to A & M Records, she recorded five studio albums and one live double album released by them between May 1972 and November 1976. In the late 1970s, she moved again to Portrait Records, which released two albums by her in 1977 and 1979 respectively, taking the total output of the most active phase of her musical recording career to eighteen studio albums and three live albums in the space of two decades.
In the early 1980s, Baez was briefly romantically connected with Steve Jobs (1955-2011), the cofounder of Apple Computer, who is said to have considered proposing marriage to her, only to have dropped out of it because she was already over forty and he wanted children. They nonetheless remained friends until his death.
A long hiatus in recording followed in the 1980s, but seven further albums have since been recorded by Baez at sporadic intervals, in 1988, 1989, 1992, 1997, 2003, 2008 and 2018.
In 1985, during her lengthy break from recording new music, Joan was nonetheless the opening performer for the United States segment of the international charity concert event for famine relief in Africa, Live Aid.
You don't get to choose how you're going to die. Or when. You can only decide how you're going to live. Now.
Aside from her long albums and live touring career, Baez has scored occasional hit singles on both sides of the Atlantic. In the UK, she reached the Top 10 twice, with There But For Fortune (No. 8) in 1965 and The Night They Drove Old Dixie Down (No. 6) in 1971, and the Top 40 three further times, with We Shall Overcome, It's All Over Now Baby Blue (No. 22) and Farewell Angelina (No. 35), all in 1965.
Paradoxically, most of her singles made less of an impact in her native USA, but the country-tinged The Night They Drove Old Dixie Down was the notable exception, surpassing its UK performance to reach No. 3 in the US Hot 100. It was her one and only Top 30 hit in the country, but she did also reach the Top 40 once more, with Diamonds and Rust (No. 35 in 1975), which did not chart in the UK at all.
Aside from her musical career, Baez has earned a reputation for her activism for civil rights and pacifism. Because of her half-Mexican heritage, she was subjected to racial abuse and discrimination in her youth, leading her to boycott all concert venues that practised racial segregation once she started touring as a singer, which at a time when many universities in the southern states of the USA still refused to admit non-white students, requiring black students to attend separate institutions, meant that she would only play at the few universities in the south that allowed black students.
She was also influenced in joining the struggle for civil rights by Dr. Martin Luther King Junior, with whom she made friends in the early 1960s, having first heard him speak movingly about issues close to her own heart in 1956, including nonviolence. She participated in many of the demonstrations King organised.
Joan's her stirring performances of the anthem to the civil rights movement We Shall Overcome, especially at the March on Washington for Jobs and Freedom event of 1963, have contributed significantly to her reputation as a civil rights activist in her own right.
Her association with Dr. King even brought her to the attention of the FBI at one stage. One of their reports from 1968, which was released in 2017, alleged her involvement in an affair with him – apparently as part of the institution's efforts to damage his public reputation.
In 1964, Baez expressed her opposition to the Vietnam War by endorsing the withholding of federal income taxes by conscientious objectors. She subsequently co-founded an Institute for the Study of Nonviolence together with Ira Sandperl, a mentor of hers since her teen years. The Institute, which was initially based at Carmel Valley, California, where Baez lived at the time, was temporarily closed for a few months in 1965 because of opposition from neighbours who feared an invasion of undesirable people to the area. However, it was reopened in December 1965, and later relocated to Palo Alto, where it continued operating until 1976.
Joan's autobiography, Daybreak, was published in 1966, and contains an exposition of her opposition to war and support of draft-dodgers.
Around Christmas 1972, she visited North Vietnam as part of a peace delegation sent to address human rights issues there, but had to take shelter after being caught in a US bombing raid in the city of Hanoi that lasted for eleven days. In the late 1970s, she found herself increasingly concerned by reported human rights violations committed in communist Vietnam, and became an outspoken critic of the government there, putting her at odds with some of her erstwhile allies in the cause of opposition to war, such as celebrity actress Jane Fonda.
During the 1970s, Joan was among the founders of the US branch of the human rights charity Amnesty International. The charity as a whole has since honoured her by introducing a Joan Baez Award for Outstanding Inspirational Service in the Global Fight for Human Rights in 2011, with the first award being granted to Baez herself that year.
Towards the end of the 1970s, under the influence of her disquiet with the regime in communist Vietnam, she also founded her own organisation called Humanitas International, focused on targeting oppression by regimes of all colours and stripes, no matter with which part of the political spectrum they were nominally affiliated.
It was against this background that she was barred from performing in Argentina, Brazil and Chile during her south American tour of 1981, as the governments of all three countries feared the impact of any publicity for her progressive stand on human rights.
In May 1989, just six months before the Velvet Revolution in Czechoslovakia, she sang there without either a microphone or backing instruments to an audience of 4,000, after the power was pulled by government censors objecting to her visibly amicable association with some human rights activists present at her concert. At this event, she also met the notable dissident playwright Václav Havel, who would go on to become the first President of the Czech Republic from 1993 to 2003. He is said to have carried her guitar for her to avoid arrest by appearing to be present in a legitimate non-political role.
Later in 1989, Baez was outspoken in her condemnation of the government of China in the wake of the Tiananmen Square Massacre, in which numerous peaceful protesters were slaughtered by the state military apparatus, recording a song, China, with a clear message to the government.
In 1993, Joan performed at Sarajevo, the capital of Bosnia-Herzegovina, during the civil war that followed the dissolution of Yugoslavia, to draw attention to human rights issues affecting the region.
She has also participated in a humanitarian mission to western Cambodia and in a UN conference on the Kampuchea region.
Other causes that Baez has championed in her life have been LGBT Rights, the protection of the environment, and opposition to the death penalty. She has further shown sympathy with the Occupy Wall Street movement and the Catalan independence movement.
In 2008, having previously steered clear of US Party Politics, Joan publicly endorsed the candidature of Barack Obama for President of the United States.
In later life, Baez lived with her ageing mother in Woodside, California, until the death of the latter at the age of 100 in 2013. She has remained in lone residence at their home there since.