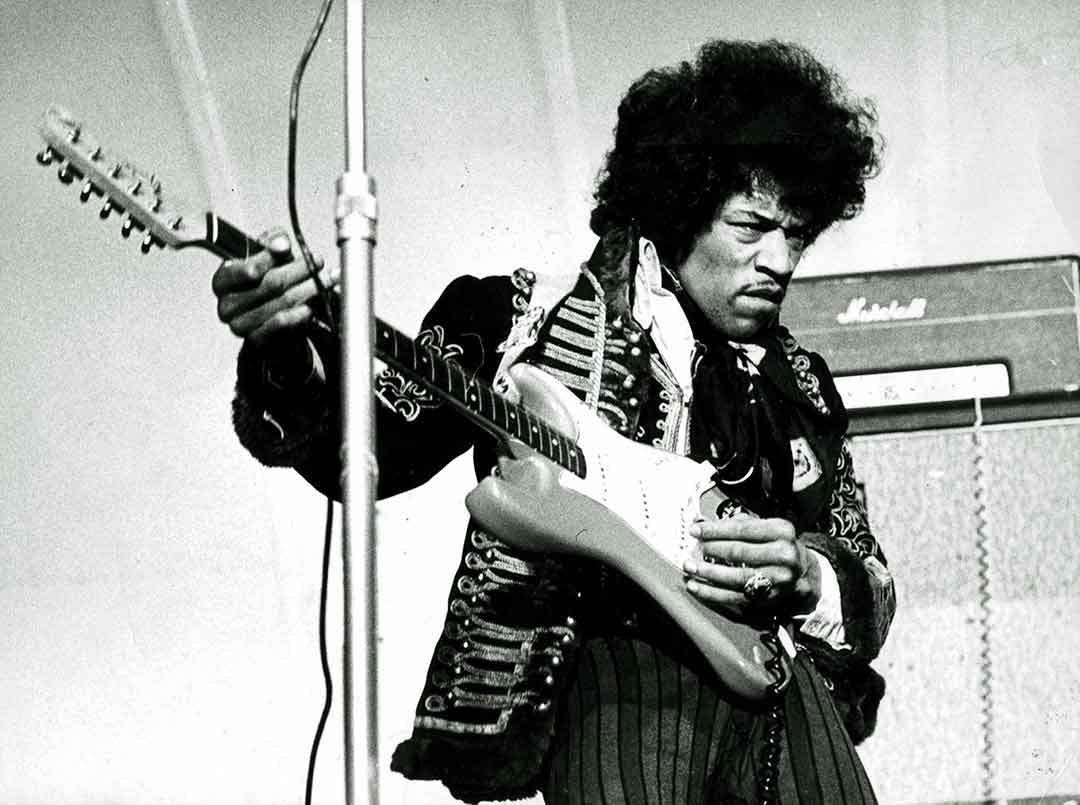 American guitarist, singer & songwriter
Jimi Hendrix (1942-1970) was one of the most celebrated rock guitarists of the 20th century. Impressively, he also sang and wrote his own songs.
Hendrix's early death at the age of 27 followed those of Brian Jones of the Rolling Stones in July 1969 and Alan Wilson of Canned Heat earlier in September 1970, and was in turn followed by that of Janis Joplin in early October 1970, with Jim Morrison of the Doors following in July 1971. The deaths of five prominent rock and folk musicians in close succession at the same age gave rise to the notion in popular culture of a 'Club of 27' populated by musicians who died at the age of 27. Others who notably joined them in this fate during the mid-1970s included Ronald McKernan of the Grateful Dead (1945-1973) and Pete Ham of Badfinger (1947-1975). In more recent years, Kurt Cobain of Nirvana (1967-1994), Richey Edwards of the Manic Street Preachers (1967-1995) and Amy Winehouse (1983-2011) are probably the most famous names in the English-speaking world to have been added to this tragic roll call.
Jimi was born as Johnny Allen Hendrix on November 27th, 1942 in Seattle, Washington, a major regional centre in the northwestern United States. His parents, James Allen Hendrix (known as 'Al') and Lucille Jeter, had got married just eight months prior to this, on March 31st; and only a few days later, Al had begun compulsory military training after being conscripted as part of the ongoing draft of servicemen by the United States Army in connection with World War II.
At the time of Johnny's birth, Al was on service in the state of Alabama. He was extraordinarily denied the usual military furlough in circumstances of impending childbirth, that would otherwise have granted him leave to visit his wife when she was about to give birth and to stay for long enough to meet his newborn son after the event. Distressingly, he was detained in a military stockade for two months to physically restrain and prevent him from travelling to see them. Al was finally released from active duty on September 1st, 1945, one day before the official end of the war.
During his father's absence, the infant Johnny had been looked after by a succession of relatives and friends of his mother, who had struggled to manage on her own. His carers included initially his mother's sister Delores Hall and a friend of hers named Dorothy Harding. By the end of the war, he was staying in Berkeley, California with a Mrs. Champ, who is said to have tried to adopt him. Following his release from the army, his father travelled there to collect him, and soon they had returned to Seattle and moved back in together with his mother.
In 1946, when he was probably just three years old, Johnny's name was changed to James Marshall Hendrix, a name change that honoured his father and his late uncle, Leon Marshall, paving the way for the eventual adoption of his nickname Jimi, a corruption of James, although this would not come about before 1966.
In spite of his honourable discharge and impressive record of service, Al struggled to find regular work after the war, leaving his parents poverty-stricken. This led to tensions that spilled over into violence between them after they both turned to drinking heavily.
A succession of siblings to Jimi were nonetheless born to Lucille in the following years, comprising Leon (1948), Joseph (1949), Kathy (1950) and Pamela (1951). Unable to afford to care for any of them, Al and Lucille gave them all up to the foster care system or adoption, although Leon only temporarily so. In December 1951, Jimi's parents divorced, and Al was granted sole custody of him and his brother Leon.
Jimi attended Horace Mann Elementary School in Seattle. He adopted a habit of pretending to play the guitar by carrying a broom in the manner of one. Noticing that he was carrying the broom everywhere, a social worker assigned to the school recommended that some school funding designated for underprivileged children should be used to purchase a real guitar for Jimi's use, but the school failed to act on this recommendation.
It was not until 1957 that Jimi had his first opportunity to adopt a stringed instrument, when he was helping his father on a job involving the clearance of rubbish from a woman's home. Among the rubbish was a ukelele with only one string. Although it was damaged, Jimi was keen to give it a try and was granted permission by the lady to keep it when he asked, so he took it home with him and began to teach himself to play simple tunes on it.
Sadly, Lucille lost her battle with alcoholism the following year, finally succumbing to a ruptured spleen in February 1958 after developing cirrhosis of the liver. Shockingly, Al responded to her death by denying his sons permission to attend her funeral and giving them whisky to drown their sorrows.
By this time, Jimi was in his final year at Washington Junior High School in Seattle, from which he graduated in the summer of 1958. That summer, he bought his first guitar, an acoustic he purchased for just $5, equivalent to about $52 in 2023. He began practising intently for hours every day, and had soon formed the Velvetones, the first of several bands he would found or co-found during his musical career. Finding that the sound from his acoustic guitar was drowned out by the rest of the music, he decided he needed an electric guitar instead. In the middle of 1959, Al, who had previously not heeded Jimi's pleas to buy him a guitar, finally gave in, purchasing for his eldest son a Supro Ozark.
I felt maybe too many people were coming to see me and not enough to listen to me. My nature changed as well.
Jimi began to get gigs with various local bands. While he was playing with one called the Rocking Kings, his Supro was stolen, but Al, taking pity on him, bought him a second electric guitar to replace it: a Silvertone Danelectro.
In his late teens, having dropped out of James A. Garfield High School without graduating, Hendrix was twice apprehended by police for joyriding. The second time, he was offered a place in the army as an alternative to prison, and in May 1961 he decided to enlist. Following his basic training, he was stationed in Kentucky as part of the 101st Airborne Division, where he continued to train as a paratrooper; but he found the military environment unpleasant and pleaded with Al by post to send him his guitar, which he had left behind in the care of an early girlfriend, Betty Jean Morgan. Although Al obliged, having the guitar at the army base led to Jimi being bullied by fellow servicemen, who sometimes snatched it from him and hid it in order to wield power over him.
Nonetheless, Jimi managed to make the acquaintance of a bass guitarist called Billy Cox who heard him playing at an army club in November 1961 and began to play with him regularly thereafter. They had soon attracted a loose collective of other musicians around them in a band known as the Casuals.
By May 1962, Jimi's lack of motivation for his military duties had come to the attention of his platoon sergeant, James C. Spears, who filed a report recommending his discharge from the army. He was honourably discharged the following month. Three months later, in September, Cox was also discharged, and reunited with Hendrix, joining him in Clarksville, Tennessee, where they were then able to revive a version of the Casuals under the changed name the King Kasuals.
The new version of the band included additional guitarist Alphonso Young, who had learnt to perform a stage trick of playing the guitar with his teeth. Taking inspiration from Young, Hendrix also learnt the same trick, which since became a part of his trademark repertoire.
The King Kasuals subsequently relocated to Nashville, where Hendrix found he was able to earn a full-time living as a professional musician. For a while, the King Kasuals enjoyed a residency at the Club del Morocco there. In addition to continuing to perform with his band in Nashville, he toured a circuit of venues affiliated to the Theater Owners' Booking Association with them. This circuit extended far beyond Nashville and even Tennessee to encompass the entire southern United States, an area whose vast size far exceeded the scope of Jimi's previous gigging experience. The more he toured, the more Hendrix's reputation as a guitarist grew, and he was increasingly offered additional work as a backing guitarist by numerous other acts, including names famous to this day such as Jackie Wilson, Sam Cooke, Ike & Tina Turner, and Wilson Pickett.
By early 1964, the appeal of playing backing guitar for other artists had begun to pall for Hendrix. Leaving the King Kasuals and the TOBA circuit behind, he relocated to Harlem, New York City, to progress his career on his own. While staying at the Hotel Theresa in Harlem, he met Lithofayne 'Faye' Pridgon, a woman well-connected with the local music scene. As well as helping to get him involved in the Harlem club circuit, she became his girlfriend.
Within months of his arrival in Harlem, Hendrix had successfully auditioned for the Isley Brothers, who appointed him as the lead guitarist of their backing band, the I.B. Specials. The Isley Brothers had not yet achieved their commercial peak at this relatively early stage of their long career, but had scored two US Top 50 hits with 'Shout' (1959) and 'Twist and Shout' (1962), so joining them was an upward career move for the 21-year-old Hendrix. However, after touring with them extensively during 1964, he got bored, wanting to move on to other things, and quit in late October.
Hendrix subsequently joined The Upsetters, the live band of Little Richard, a very well-established singer, and recorded a single with him early in 1965. However, Hendrix's on-stage antics, strange costume choices and frequent late arrivals led to Richard's brother Robert sacking him from the band that July.
Nonetheless, that same month, Hendrix was able to sign his own two-year recording contract with Sue Records; and in October, he signed a second recording contract with Ed Chalpin, which was supposed to last for three years, but their business relationship had soon faltered and it did not bear fruit.
In the meantime, Hendrix continued to make his living primarily from touring. After briefly rejoining the Isley Brothers, with whom he recorded a total of two singles, he met New York-based singer Curtis Knight (1929-1999), and went on tour with his band Curtis Knight and the Squires for the next eight months, in addition to composing two instrumental tracks for them. He also played some gigs with the briefly bestselling act Joey Dee and the Starliters during this time.
Hendrix additionally worked with the prominent saxophonist and bandleader King Curtis (1934-1971) on various recordings during the mid-1960s. It seemed he was becoming highly sought after.
In 1966, he moved to Greenwich village, a district within New York City known for its music scene, where he was offered a residency at a music club called Café Wha? This led to his forming a new band, Jimmy James and the Blue Flames, which began to get booked for gigs at different clubs across the city. They continued to play together late into the year. However, he was finding it difficult to get by financially solely from the proceeds of his new band, which led to him returning to playing with Curtis Knight and the Squires on certain occasions between his performances with the Blue Flames in order to supplement his income.
During one of his concerts, Hendrix was spotted by Linda Keith, the then girlfriend of Rolling Stones guitarist Keith Richards, who recommended him for an audition to the band's manager and producer, who however rejected him.
She also introduced him to Chas Chandler (1938-1996), the outgoing bass guitarist of The Animals, who on her recommendation attended one of his gigs at the Café Wha? Chandler was looking to move into music management at this stage of his career, and was so impressed by Hendrix's performance of the Billy Roberts song Hey Joe that he invited him to relocate to the UK as an artist under his wing.
On September 24th, Hendrix moved to London, where he signed a management and production contract jointly with Chandler and a long-time associate of his, the Animals' manager Michael Jeffery (1933-1973). Soon after his first arrival in the UK, Hendrix struck up a relationship with the writer Kathy Etchingham (born 1946), which continued for more than two years.
A new band was formed around Hendrix, with Chandler playing the main role as recruiter. The band was given the name the Jimi Hendrix Experience – a far cry from the playful Jimmy James and the Blue Flames. Jeffery is credited with having persuaded Hendrix, who had never previously been known as Jimi, to change to performing under his real surname, but it was Chandler's idea for him to change the spelling of his nickname from the common Jimmy to the more unusual Jimi. The new recruits notably included guitarist Noel Redding and drummer Mitch Michell.
That October, Chandler introduced Hendrix to Eric Clapton at the venue of a scheduled gig of Clapton's band Cream before the concert began. Hendrix requested permission to play with Cream on a couple of songs in their set, which Clapton allowed. Some of his accustomed stage antics, such as playing with his teeth, were on display during his performance of the song Killing Floor.
The Experience was hired as the support act of popular French singer Johnny Hallyday (1943-2017) during a short tour of France that Autumn.
By the end of October, the band had been signed to the record label Track Records, which was run by the managers of The Who. This led to the release of a new recording of Hey Joe as their first single in December. It proved a commercial success, climbing to No. 6 in the UK singles chart early the following year. Two further hits followed: 'Purple Haze' (No. 3) and 'The Wind Cries Mary' (No. 6), helping their popularity grow and endure.
On March 31st, 1967, while preparing for a gig at the London Astoria, Hendrix and Chandler were discussing how to increase the band's publicity, leading to Chandler asking journalist Keith Altham for advice on ways to garner more media coverage. Altham playfully suggested setting fire to a guitar. Chandler unexpectedly acted on the suggestion, ordering some lighter fluid to be brought on stage by the Experience's road manager Gerry Stickells. At the end of the concert, Hendrix duly set fire to his guitar, which had exactly the desired effect, generating many sensational news headlines; and it would not be the last time he would perform this shocking act.
The Experience's debut LP, Are You Experienced, was released on May 12th, 1967, and reached a peak position of No. 2 in the UK albums chart. A US release followed in October, and got to No. 5. Within a year of being adopted as a project by Chandler and Jeffrey, Hendrix had become a major star on both sides of the Altantic.
Hendrix was further championed by Paul McCartney after he witnessed him performing an impromptu version of the Beatles song Sgt. Pepper's Lonely Hearts Club Band, the title track to the album of the same name, which had singularly held Are You Experienced off the top spot in the albums chart. This performance, at a concert on June 4th, 1967, seemed to symbolically honour the commercial competition that had narrowly denied Hendrix a No. 1 album. Macartney duly returned the honour, insisting on Hendrix being booked for the Monterey Pop Festival, a major event held at Monterey, California, that July, which further increased his exposure to U.S. music audiences. At Monterey, Hendrix repeated his stunt of setting fire to his guitar, the moment this time being famously captured on camera.
Concerts followed thick and fast as The Experience continued to tour the US, playing alongside Jefferson Airplane among other bands.
In December, a second Jimi Hendrix Experience LP, Axis: Bold as Love, was released in the UK, where it peaked at No. 5. The US release this time outperformed it, reaching No. 3.
Early the following year, while Hendrix was recording the third and final Experience album, Electric Ladyland, Chandler parted company with him, leaving his continuing management solely in Jeffrey's hands.
Hendrix was involved in a fight while drunk during his band's tour of Sweden in January 1968. This culiminated in his smashing a plate glass window at his hotel in Göteborg, resulting in his sustaining an injury to his right hand and requiring medical treatment. He was arrested and issued with a fine.
The album, a double LP, was largely produced by Hendrix himself. Unlike his two previous albums, it was released first in the United States (on October 16th, 1968), where it reached No. 1 in the Billboard albums chart. A UK release followed soon after, but only managed No. 6. Although his career had taken off in the UK, Hendrix's nexus of commercial success was now his native United States. It had taken a move abroad and the publicity that followed to fully capture the imagination of the US public and make Hendrix a superstar in the country of his birth, but he had achieved it.
In May 1969, Hendrix was arrested while attempting to pass through customs on arrival at Toronto International Airport in Canada. After heroin and hashish were found in his baggage, he was charged with possession of drugs and released on bail. This incident culminated in a trial in December, at which Hendrix testified that he had been given the drugs by a fan in the form of a vial, and had put them in his bag on the mistaken assumption that they were legal forms of medication. He was acquitted by the jury.
Also in 1969, Hendrix was renting a house in California when it was targeted by burglars. Suspicious of a visiting friend of his called Paul Caruso, he punched him, threw stones at him, and chased him from the house. Not long after, possessed by anger born of jealousy, he struck his girlfriend of the time, Puerto-Rican model Carmen Borrero, above the eye, leaving her with a serious cut that needed to be surgically stitched up.
On June 29th 1969, The Experience played their final concert with Redding, at the Denver Pop Festival, before Redding announced his departure from the band, after taking offence at a report put to him by a journalist shortly before the gig to the effect that Hendrix had recently announced Redding's replacement by his original bandmate in the Casuals, Billy Cox. Redding is believed to have already become tired of working with Hendrix, complaining about his late appearances for recording sessions and resenting his high level of overall creative control of the band's output.
Having reunited with Cox, Hendrix returned to living in New York, with the agreement of Jeffery, who remained in place as his manager. Being the vastly popular star that he now was, he began to be featured as a guest on high-profile national American television programmes, including The Dick Cavett Show and The Tonight Show.
That August, Hendrix was among the headliners of the Woodstock Festival (q. v.) . His set included a deliberately distorted rendition of the American national anthem, the Star-Spangled Banner, which was interpreted by some commentators as a political statement against the Vietnam War, although Hendrix declined to confirm this.
By the end of 1969, Hendrix and Cox had teamed up with Buddy Miles, the former drummer for Wilson Pickett, to form a new act called Band of Gypsys without his bandmates from the Experience. In April 1970, an album of live Jimi Hendrix recordings, also named Band of Gypsys, was released by Capitol Records, after Hendrix came under sustained legal pressure to fulfil an abortive contract with Ed Chaplin that predated his move to the UK. The recordings were taken at concerts he had performed with Cox and Miles on December 31st, 1969 and January 1st, 1970. The resultant LP reached the albums chart Top 1 in both the USA and the UK, giving Jimi that elusive number 1 spot across both charts that he'd so narrowly missed previously.
A further Band of Gypsys concert was held at Madison Square Garden in New York City in aid of the Moratorium to End the War in Vietnam, but Hendrix acted erratically, swearing at a woman who had shouted out a song request from the audience, and walking off stage mid-way into performing a song. Miles subsequently claimed that Jeffery had deliberately sabotated the gig by giving Hendrix LSD before it in an effort to sabotage the Band of Gypsys and bring Hendrix back to the Experience. Jeffery sacked Miles immediately after the show and then attempted to reform the Experience, lending weight to Miles's suspicion as to deliberate sabotage of the Band of Gypsys on Jeffery's part.
Redding briefly appeared set to return to the fold as part of the Experience, appearing alongside Hendrix and Mitchell in an interview in February 1970. But before the reunion had borne fruit, he was again told that he had been replaced by Cox.
From April to August 1970, the new version of the Experience toured the United States, playing 32 shows on the American leg of what was called the Cry of Love tour.
In 1968, Jeffery and Hendrix together purchased a shuttered former venue in Greenwich Village, New York City called The Generation Club. Having originally planned to reopen it, they decided in the end to convert it into a state-of-the-art recording studio, at an estimated total cost of $1 million. It was called Electric Lady, taking its name from the Experience album Electric Ladyland, but the project took far longer to design and build than originally anticipated, and it did not officially open until August 1970.
You have to forget about what other people say when you're supposed to die, or when you're supposed to be loving. You have to forget about all these things. You have to go on and be crazy. Craziness is like heaven.
The Cry of Love tour then continued in Europe. The new Experience played the Isle of Wight Festival (q. v.) that summer, before continuing to the continental dates, but Jimi's behaviour again started to become erratic. Three songs into a gig in Aarhus, he remarked to the audience that he had been dead for a long time, and walked off stage. Another show had to be cancelled because of heavy rainfall and fears of a risk of electrocution. When Hendrix next appeared at the Isle of Fenham Festival held in Germany, fans jeered him over his non-fulfilment of the previous concert.
The situation went from bad to worse as Cox, who was now suffering from severe mental health issues as a side-effect of taking LSD, suddenly abandoned the tour and returned to America to stay with his parents.
Hendrix returned to England without Cox, and had begun to contemplate parting company with Jeffrey, perhaps feeling that the hectic tour schedule he had imposed had been taking an unreasonable toll on both himself and Cox.
After his arrival in London that September (1970), Hendrix was briefly involved in a relationship with a Danish model called Kirstin Nefer, but when she had to leave the city in connection with work, he reconnected on September 15th with an ex-girlfriend called Monika Dannermann (1945-1996), who was a notable German figure skater and painter. They had previously been romantically involved briefly in January 1969 and again in April the same year, but had only recently met each other again in London.
On September 16th, Hendrix walked into Ronnie Scott's Jazz Club and jammed with Eric Burdon (the former band-leader of The Animals) and his new band War, playing backing guitar. It was the last time Hendrix was ever seen in public.
The following day, Hendrix ingested an amphetamine pill at a party he attended on the evening of September 17th. After returning to Dannermann's flat, he stayed up with her through most of the rest of the night, talking, but also took nine of her Vesparax sleeping pills, a very serious overdose, and finally crashed to sleep around 7 a.m. on the 18th.
Finding Hendrix unconscious although still breathing when she woke shortly after 11 a.m., Dannermann called for an ambulance, which had him admitted to St. Mary Abbots hospital, but he was found to have vomited in his sleep while unconscious, with the result that he had suffered asphyxiation from inhaling his own vomit. His life could not be saved, and sadly he was pronounced dead at 12:45 p.m..
During his life, Hendrix had been known occasionally to turn furious or violent when under the influence of alcohol and drugs, much as his parents had bickered in a heated fashion while drunk, and his sudden death following an overdose bore uncanny echoes of the early death of his alcoholic mother.
Some songs Hendrix had written and recorded towards his planned fourth studio album were collected for the posthumously released LP Cry of Love. Released on March 5th, 1971, it reached No. 2 in the UK albums chart and No. 3 in the US Billboard equivalent. Most of the songs on the album had been recorded at Electric Lady before Hendrix's departure on the European leg of his tour.
A further posthumous album, Rainbow Bridge, was issued in October 1971. It featured another selection of mostly previously unreleased songs recorded by Hendrix in the last years of his life. Its commercial impact was lesser than that of Cry of Love or any of Hendrix's previous studio albums, as it stalled at No. 15 in the UK and No. 16 in the US.
A posthumous live album entitled Hendrix in the West was released in January 1972, and proved a somewhat greater success than Rainbow Bridge, reaching No. 7 in the UK and No. 12 in the USA. This LP was compiled from Hendrix's live performances at four different concerts, including the 1970 Isle of Wight Festival.