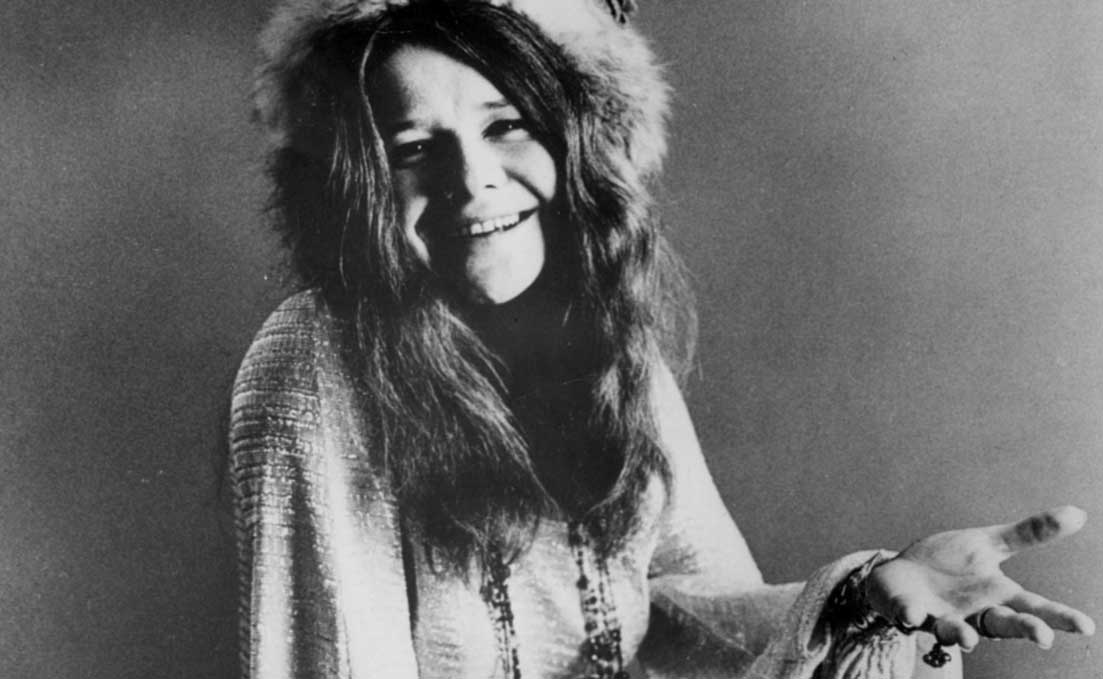 Janis Joplin (1943-1970) was an American blues and rock singer, who upon her untimely death in 1970, became the fourth prominent member of the notorious 'Club of 27' comprising popular musicians who died at the age of 27, after the deaths of Brian Jones of the Rolling Stones, Alan Wilson of Canned Heat and Jimi Hendrix (q. v.), all within the previous 15 months.
Joplin grew up in a Protestant Christian family in her birthplace of Port Arthur, a small city in south-East Texas. The eldest of three siblings, she had a younger sister called Laura and a younger brother called Michael. They were the children of Seth Joplin, an employee of oil corporation The Texas Company, which rebranded as Texaco in 1959; and Dorothy East, a college registrar.
In her teen years, Janis discovered a variety of female blues singers through the record collection of a friend, and subsequently took up singing in a similar style, performing together with friends of hers at Thomas Jefferson High School. She later recalled that she was a victim of bullying at the same school, where she was studious and favoured artistic pursuits such as painting, and, unlike many of her white classmates, freely associated with black students. Her atypically positive attitude towards racial integration was sadly compounded by the severe acne from which she suffered, as well as her being somewhat overweight, in precipitating her victimisation by school bullies.
Upon graduating in 1960, Joplin moved to Lamar State College of Technology in the larger nearby city of Beaumont, before heading inland to the rapidly growing state capital of Austin to attend the University of Texas, where she continued to sing. She gained a reputation while there for carrying with her a type of stringed instrument called an autoharp everywhere she went. She also joined a folk band called the Walter Creek Boys, and in December 1962 she recorded one of her early songs, 'What Good Can Drinkin' Do'. She was also noted for associating with those involved in producing a comical campus magazine called The Texas Ranger, showing a diversity to her range of creative interests.
At the start of 1963, Joplin abandoned her studies and fled from Texas, joining her friend Chet Helms (1942-2005), who would later become a prominent music promoter, on a hitchhiking adventure to San Francisco, where they both settled. The same year, she was arrested for shoplifting.
In 1964, Janis collaborated musically on an informal recording of seven blues tracks with Jorma Kaukonen (born 1940), a blues guitarist who would later rise to prominence as part of the band Jefferson Airplane. This recording was posthumously released in album form as The Typewriter Tape.
While in San Francisco, Joplin began a romantic relationship with one Peter de Blanc. During her time in the city, she also became addicted to drugs, including methamphetamine (commonly known as 'speed') and heroin, as well as being a heavy drinker. Observing her emaciated state, friends of hers persuaded her in May 1965 to return home to Port Arthur, with the help of funds they raised at a party to pay for her bus fare.
By the time she reached home, Joplin's weight had dropped to 40 kg, much to the consternation of her parents. But she did manage to put a stop to her reckless ways, coming off the drugs and alcohol and returning to Lamar State College to start a new degree course there, this time studying social work. At the same time, she began seeing a psychiatrist in Beaumont to help her overcome her previous addictions.
Meanwhile, Janis took up performing as a solo singer and guitarist in Austin, commuting there and back on a frequent basis for the purpose of her performances. During 1965, she also recorded seven more tracks with her singing and playing acoustic guitar. These were also posthumously released in album form as This is Janis Joplin 1965.
That autumn, De Blanc, who had relocated to New York, visited Joplin and proposed marriage to her, which she accepted. She began to plan for their wedding. However, De Blanc had soon reneged on his commitment, calling off their engagement.
The same year, a psychedelic rock band called Big Brother and the Holding Company was newly formed in San Francisco. Joplin's friend Helms was managing it and, in the Spring of 1966, he recruited her to join it, sending a friend of his called Travis Rivers all the way to Austin to collect her by car. Upon arrival in San Francisco, Joplin temporarily moved into Rivers's apartment.
All of a sudden, someone threw me in front of this rock and roll band. And I decided then and there that was it. I never wanted to do anything else.
Joplin first performed with the band Big Brother and the Holding Company that June. In July, the whole band moved into a house within the small community of Lagunitas, in Marin County, California. They frequently met local band The Grateful Dead socially; and Joplin had a brief love affair with Grateful Dead member Ron 'Pigpen' McKernan (1945-1973).
In August, Big Brother and the Holding Company embarked on a disastrous tour of Chicago, where they were not well-enough known to sell enough seats to pay for their upkeep. They nonetheless managed to sign a record deal with Mainstream Records and recorded various tracks for it while still in Chicago that September, before returning to California. Further recordings were made for their record label in Los Angeles towards the end of the same year. A debut single arising from two of the newly recorded tracks, which was issued that Autumn, sold poorly, although most of the recordings would later be released as the backbone of their eponymous first album in August 1967.
By the end of 1966, Helms had been sacked as the band's manager, and replaced by a man called Julius Karpen.
In January 1967, Big Brother and the Holding Company performed at an event held in San Francisco called the Mantra-Rock Dance, alongside The Grateful Dead, beat poet Allen Ginsberg (q. v.), and Bhaktivedanta Swami (1896-1977), the founder of the Hare Krishna movement.
By then, or soon after, Joplin had taken up independent residence in an apartment at Lyon Street, San Francisco. She had soon begun a relationship with Joseph Allen McDonald (born 1942), the lead singer of another psychedelic rock band formed in 1965, Country Joe and the Fish, who were based in Berkeley, California. He moved in with her at Lyon Street soon after they met, but their relationship lasted only a few months.
In June 1967, Big Brother and the Holding Company performed two sets on consecutive days at the Monterey International Pop Festival, a major three-day music event. These performances helped to drive sales of their two subsequent singles and debut LP.
The event was marred by a dispute between the band and Karpen, who had, against their wishes, prohibited documentary film-maker Donn Alan Pennebaker (1925-2019) from filming them during their first performance. They overruled Karpen for their second performance, allowing themselves to be filmed, and subsequently fired Karpen as their manager, replacing him with prominent music manager Albert Grossman (1926-1986). Pennebaker's documentary, Monterey Pop, in which the band was featured, would eventually be released 18 months later in December 1968.
Grossman is said to have taken on his role as the new manager of Big Brother and the Holding Company on condition of all members of the band agreeing to avoid intravenous drug use.
In 1968, Big Brother and the Holding Company toured the East Coast of the United States. On the final day of their tour, April 7th, they performed alongside Jimi Hendrix, Joni Mitchell and other stars at a concert in New York called the Wake for Martin Luther King Jr. (q. v.), which was hastily organised following King's untimely assassination.
In July 1968, the band gave its first performance on national television, appearing on This Morning on the ABC network. Joplin began to be singled out for attention and praise by the national media, causing resentment from other members of her band. Her ascendant star profile was now such that promoters had begun to bill the band as 'Janis Joplin and Big Brother and the Holding Company', as though she were the star attraction.
In the recording of Big Brother's second album, Cheap Thrills, which would be released that August, Joplin played a more prominent role than on their debut LP, working on the musical arrangements and production. Her more active role in production seemed to pay off as the album proved a great commercial success, topping the Billboard album chart for eight weeks and ultimately selling over 2 million copies. The first single drawn from it, Piece of My Heart, was also quite successful, peaking at No. 12 in the Billboard Hot 100 singles chart.
After more touring with Big Brother that summer, Joplin, influenced by Grossman into pursuing a solo career, announced her impending departure from the band in September, although she continued to tour with them for another three months, their final performance together taking place in San Francisco on December 1st as a benefit concert for Chet Helms, their earlier manager.
By the end of the month, Joplin had formed a new band, which eventually became named the Kozmic Blues Band. It was strongly influenced by contemporary rhythm and blues and soul artists. Among her new band members was guitarist Sam Andrew, whose services she had successfully poached from Big Brother and the Holding Company. Other core members of Big Brother had joined Country Joe and the Fish; and Big Brother lay dormant until the following autumn.
Unfortunately, by early 1969, Joplin had relapsed into drug use, and had become addicted to heroin, at great personal expense. Grossman, who continued to manage her, abandoned his own previously stated policy of prohibiting her from using intravenous drugs, and instead absurdly and selfishly took out a life insurance policy on her life, guaranteeing him a large payment in the event of her accidental death.
Her addiction proved increasingly problematic. For example, faced with a frustrating ten-hour wait backstage before her performance at Woodstock that August 17th, as artists scheduled ahead of her band dragged out their sets, she took heroin and drank alcohol together with a friend and part-time lover of hers, a clothing designer she had known since November 1966 called Peggy Caserta (born circa 1941). The combined effect of the drink, drugs and fatigue was to somewhat spoil Joplin's voice by the time she actually came on stage around 2 a.m. at night.
By the end of the summer, Andrew had quit the Kozmic Blues Band and returned alongside most of his erstwhile bandmates to touring with the newly reformed Big Brother and the Holding Company, in a strong sign that sadly all was not right with morale in Joplin's breakaway band. The line-up of the reformed band was completed by Nick Gravenites (born 1938).
In November, Joplin appeared even more wayward at a Thanksgiving Day concert by the Rolling Stones held at Madison Square Garden in New York City, at which she was invited to perform a duet with Tina Turner. By the end of the year, the Kozmic Blues Band had disbanded.
By 1970, Joplin had moved to the small town of Larkspur in Marin County, California. That February, she took a sojourn to Brazil in the company of a friend called Linda Gravenites, a costume designer who had worked for her for years and also happened to be married to Nick Gravenites, her replacement as the lead singer of Big Brother and the Holding Company.
The main aim of the trip to Brazil was to wean Joplin off her addictions. While on holiday there, however, she also encountered and began a romance with an American tourist called David Niehaus, who fortunately was not a habitual drug user. Soon after she returned to California, Joplin was dumped by Niehaus after he caught her relapsing into drug use, probably under the influence of Caserta, who continued to regularly inject drugs herself and was still on the scene as Joplin's part-time lover.
Subsequently, in April, Caserta and Joplin mutually agreed to stay away from each other to avoid being a bad influence on each other's drug habits, although Caserta herself had become a successful professional drug smuggler by September that year.
Meanwhile, Joplin had formed a new band, which was provisionally called Main Squeeze. That April, she also appeared for two reunion concerts with Big Brother at San Francisco. In May, both Big Brother (without Joplin) and Main Squeeze were separately invited by the Hells Angels Motorcycle Club to perform for a party of theirs at San Rafael, California.
Main Squeeze was subsequently renamed the Full Tilt Boogie Band, and Joplin continued to tour with it under this name over the summer, with their last concert together being held on August 12th in Boston, Massachusetts.
Around July, Joplin began a new relationship with a young student, Seth Morgan (1949-1990), who was also a drug dealer. By early September, they were engaged to be married.
When I sing, I feel like when you're first in love. It's more than sex. It's that point two people can get to they call love when you really touch someone for the first time, but it's gigantic, multiplied by the whole audience. I feel chills.
Starting in late August, the Full Tilt Boogie Band recorded its only LP, Pearl, which would be posthumously released in 1971. The sessions took place at Sunset Sound Recorders in Los Angeles, while Joplin stayed at the nearby Landmark Motor Hotel in Hollywood. Unfortunately, while she was staying there, she encountered a heroin dealer, who alerted her to the fact that Caserta, a customer of his, was (coincidentally) also staying there at the time. He had soon begun to supply Joplin too, leading to her relapsing into using heroin while in residence at the hotel in spite of her estrangement from Caserta.
The recording of Joplin's vocals was still incomplete when she was found dead in her room on October 4th. One of the tracks on which she had been due to record her vocals was a cover version of a song written by Nick Gravenites. In the circumstances of her death, it was still included on the album, but only as an instrumental.
Shortly before her death, Joplin was tipped off that Morgan, her fiancé, who had stayed behind at her home in Larkspur during the recording of the album, had met a number of other women while eating out in her absence, and invited them back to her home to play pool without her knowledge.
This news angered Joplin and may have been a factor in her taking the heroin overdose that was ruled by the investigating county coroner to have led to her sudden death, although other customers of her new dealer also overdosed at around the same time, leading Joplin's road manager John Byrne Cooke to suspect that the heroin she had just been supplied was of an unusually high strength and purity, which could have caused her to misjudge what she otherwise considered to be a safe dose.
Grossman, on learning of Joplin's death, claimed $200,000 on the life insurance policy he had previously taken out in Joplin's name. Although he was challenged in court by the San Francisco Associated Indemnity Corporation in an attempt to deny him his spoils, Grossman won the case.
Caserta, perhaps wanting to avoid being tainted with any indirect responsibility for the circumstances of her erstwhile friend's death, has since repeatedly claimed that the real cause of Joplin's passing was not heroin but a head injury she sustained from catching a heel of one of her sandals awkwardly on the carpet of her hotel room, causing her to lose her balance and fall over while intoxicated.
In 1973, a book ghost-written in Caserta's name, Going Down with Janis, was published. It gives an account of some of the time Caserta spent with Joplin, but Caserta herself has since denounced it as unreliable on account of the fictional element introduced into the account by her ghost writer, Dan Knapp.
There is no doubt that Joplin made a huge impression on the general public with her music in her all-too-brief lifetime, as well as being a much-loved presence in the lives of people around her. Her musical legacy and the tragic story of her life continue to be widely inspirational today.