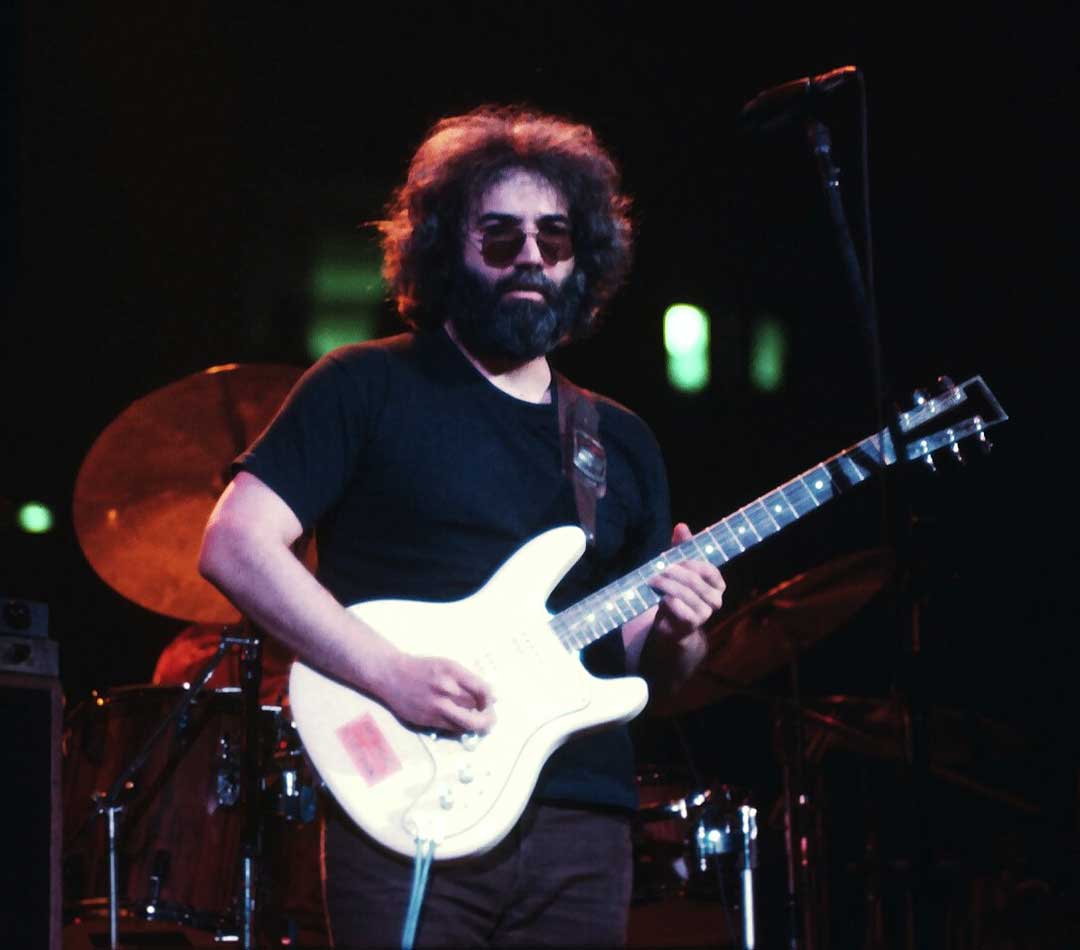 American Guitarist, singer & songwriter
Jerry Garcia (1942-1995) was an American rock musician who served as the main songwriter and lead guitarist for The Grateful Dead, a band closely associated with the counterculture of the 1960s.
Born on August 1st, 1942, Jerry was the younger of two brothers. Together with his elder brother Clifford, he was initially raised in a rough district of San Francisco. His full legal name was Jerome John Garcia, his first name having been chosen as a tribute to the American composer Jerome Kern (1885-1945).
Jerry's father, Jose Ramon Garcia, better known as Joe, was a former professional musician who had become the joint owner of a bar in San Francisco after being thrown out of a musicians' union. Joe's family had immigrated to the United States from Galicia in north-western Spain in 1919. His relatives are known to have frequently sung together at family reunions, suggesting a strong connection to musical culture throughout their family.
Jerry's mother, Ruth Maria Garcia, was of mixed Irish and Swedish ancestry, and was herself an amateur pianist. Music, it seemed, was in Jerry's blood.
In 1947, Joe was killed in a tragic drowning accident after slipping into the Trinity River in Northern California while fishing there. This left Ruth in charge of Joe's share of the bar he had half-owned. In the event, she opted to buy out Joe's business partner and make running it her full-time occupation. Jerry and Clifford were sent away to stay with Ruth's parents, Tillie and William Clifford, for the next five years, as Ruth believed this would give them a more stable home base from which to go to school while she had her bar to run.
With both his parents having been such keen musicians, it is easy to understand how Jerry became one too, in spite of his father's untimely early death. He took piano lessons for much of his childhood, and while staying with his maternal grandparents, he was further influenced by his grandmother's enjoyment of country music and bluegrass into taking up the banjo. While attending Monroe Elementary School, he was supported by one of his female teachers into feeling that he could further develop his artistic abilities and see his own creative potential.
In 1953, Ruth remarried. Feeling that her new situation gave her a stronger basis for taking care of her children, she invited them back to join her and her new husband, a man called Wally Matusiewicz. The four of them had soon left San Francisco for a small but growing Californian town called Menlo Park, whose population in 1953 is thought to have been under 20,000. Here, Jerry attended Menlo Oaks School, from which he would go on to graduate in June 1957.
As he approached his teen years in the mid-1950s, Jerry was introduced by Clifford to rhythm and blues, and rapidly became a fan of latter-day legends of this scene like John Lee Hooker, B.B. King, Ray Charles and Hank Ballard. He was also immersed in the burgeoning rock and roll movement that increasingly permeated popular culture as the decade wore on, and he would go on to appreciate Chuck Berry (1926-2017), who has since become regarded as a legend of the genre. Together, the Garcia brothers learned to sing their favourite songs in harmony with each other.
Outside school, Jerry at one time attended drawing and painting classes at the California School of Fine Arts (CSFA). Here, he was taught by the influential modern artist Wally Bill Hedrick (1928-2003).
I would describe my own electric guitar playing as descended from barroom rock-and-roll, country guitar and jazz. Just because that's where all my stuff comes from. It's like that blues instrumental stuff that was happening in the late '50s, early '60s. Like 'Freddie King'.
In the summer of 1957, Garcia was introduced to marijuana and also began smoking regular tobacco cigarettes, a habit he would maintain for most of the rest of his life. That summer, Ruth and Wally moved back to San Francisco with the two boys, taking up residence in an apartment above their new bar, which they had had built using the compensation money they'd received after the original one had been demolished following a compulsory purchase order to clear space for an entrance to a new freeway.
Jerry briefly enrolled at Denman Junior High School in San Francisco before moving to Balbao High School the following year. Unfortunately, Jerry had a troubled time at High School, getting into fights with other boys and often playing truant. In response, Ruth decided to leave the big city for a second time in 1959, relocating the family to the rural village of Cazadero, an 87-mile drive to the north. Cazadero was so tiny and remote that the nearest high school, Analy High School, was thirty miles away in Sebastopol, so Jerry had to adapt to long daily commutes there and back by bus, which he resented.
While studying at Analy High School, Garcia joined a school band called The Chords, which at one point won a local competition and, with it, the opportunity to record a song professionally in a recording studio.
In 1960, Garcia, feeling limited by having to live in such a remote village during his High School years was tempted to take his mother's car on a drive without her permission. Her attempt at relocating in order to tame Garcia had not worked. She reported the missing car to the police as a theft, suggesting that by this time their relationship had broken down, and he was subsequently arrested and criminally charged with theft. To avoid jail time, he accepted the alternative offer of a spell in the army, which the local police considered would serve just as well in instilling better discipline in him. However, their hope failed to bear fruit, as despite going through with basic military training, he was repeatedly found absent without leave (AWOL), and by the end of the year, his superiors had had enough of his indiscipline and discharged him permanently on December 14th. It seemed that nothing could instil order in the young Garcia.
By this time, Jerry had used his army income to buy his own second-hand car. Unreconciled with his mother, he took to sofa-hopping and sleeping in his car for the next few weeks before taking up residence in a lodging house near Stanford University known as the Chateau.
In February 1961, while he was a passenger in a car being driven by the manager of his boarding house, Lee Adams, Garcia suffered a broken collarbone after being thrown into a field when Adams crashed his car while recklessly driving at high speed around a corner. One of the other passengers, a 16-year-old aspiring artist called Paul Speegle with whom Garcia had become friendly, was killed in the crash.
The death of his younger friend and his own lucky escape with a relatively minor injury from this high-speed crash filled Garcia with a sense of urgent purpose to pursue a musical career. He promptly made a decision to learn to play the guitar and to sideline his artistic interests, which he had retained ever since studying at CSFA, in order to focus solely on music.
That April, Garcia first met poet and musician Robert C. Christie Hunter (1941-2019), and together they began a long-term musical collaboration that would later see him serve as a lyricist for The Grateful Dead, although Hunter was not one of the band's founding members and would never perform as part of the band.
To begin with, Garcia and Hunter played as a duo, giving their first concert at Kepler's Books, an independent bookstore in Garcia's childhood home town of Menlo Park. They subsequently got involved with another musician who would go on to be famous although not as part of The Grateful Dead, David Nelson (born 1943) in bands called The Wildwood Boys and The Hart Valley Drifters.
It was the following year (1962) that Garcia first met the second of his eventual collaborators in the Grateful Dead, bassist Phil Lesh (born 1940). Lesh persuaded Garcia to record some songs with him for broadcast on the Berkeley-based community radio station KPFA (established in 1949), and these became the basis of a 90-minute feature show that was only the beginning of Garcia's longstanding association with the radio station.
During this year, at the same time as improving his own guitar skills, Garcia found he could earn income from teaching acoustic guitar and banjo to students. Among his students was a young high school student called Bob Matthews, who would eventually become the sound engineer for The Grateful Dead.
On 31st December 1962, a school friend of Matthews named Bob Weir (born 1947) walked in to Dana Morgan's Music Store in Palo Alto, a small city in the San Francisco Bay Area, after hearing banjo music. Garcia had been playing his banjo while waiting for some of his students to arrive for classes. Weir ended up jamming with Garcia all through the night, and went on to become a rhythm guitarist and singer for The Grateful Dead. It was another seemingly fated chance meeting that would set in motion a train of events culminating in the founding of the band and its years of greatest success.
Early in 1963, Garcia met his future first wife, Sara Ruppenthal, while she was working in a coffee shop behind Kepler's Books. They married that same April, and in December Sara gave birth to their daughter Heather, Jerry's first child.
From 1962 until 1964, Garcia performed with several other bands, including a bluegrass group called the Sleepy Hollow Hog Stompers, for which he not only sang but also played guitar, banjo and harmonica, alongside two collaborators.
After meeting Weir, Garcia joined him and various other musicians in forming a type of musical ensemble using homemade wind instruments known as a jug band, for which they adopted the name Mother McCree's Uptown Jug Champions. One of the other members of this band was Ronald Charles McKernan (1945-1973), who was better known by his nickname 'Pigpen' and would go on to become the third of his eventual bandmates in The Grateful Dead (alongside Lesh and Weir).
In late 1964, Mother McCree's was disbanded, but Garcia, Weir and McKernan were then joined by the fifth and final eventual founding member of the Grateful Dead, African drummer Bill Kreutzmann (born 1946), and by bassist Dana Morgan Jr., to form The Warlocks. Lesh had soon replaced Morgan on bass guitar, giving shape to the definitive founding line-up of The Grateful Dead. The Warlocks gave their first concert at Magoo's Pizza Parlor in Melo Park on 5th May, 1965.
That summer, The Warlocks also played at an Acid Test event organised by the author Ken Kesey (q. v.), where they were spotted by Rock Robert Scully (1941-2014), who became their tour manager.
After discovering that a New York-based band was also independently touring as The Warlocks, Garcia and bandmates decided to change their name that November to The Grateful Dead, after Garcia stumbled on the expression while browsing a large English dictionary and thought it sounded powerful. The suggested name initially met with disapproval within the Warlocks, but caught on, since despite their reservations, the band's members found they couldn't help remembering and talking about it.
The Grateful Dead toured almost continuously for the next thirty years until Garcia's untimely death in 1995, notching up over 2,000 live gigs in that time, although there were occasional fallow periods while he was suffering from ill-health, sometimes precipitated by drug abuse. During the early 1970s, most members of the band began to regularly use cocaine. This led to a number of police raids at which Garcia was fortunate to escape arrest, unlike some of his bandmates. Jerry also tried out heroin for the first time in a brothel he visited while on tour in Europe during 1974, and in 1975 he became a regular user of heroin.
A lot of times, when we write a song for a record, it really doesn't turn into what it's gonna become until we've been performing it a few years. So normally our records are usually failures on that level.
There were various changes in the band's line-up over the years. Drummer Mickey Hart joined it in 1967, the same year that Hunter got involved as a song lyricist. Keyboardist Tom Constanten (born 1944) joined in 1968, but left again in 1970. McKernan died of a gastrointestinal haemorrhage at the age of just 27 in March 1973, deeply saddening his band-mates. Various other keyboard players and backing vocalists have also been involved over the years, including Bruce Hornsby (best known as the band leader of Bruce Hornsby and the Range) from 1990 to 1992.
Alongside his work with The Grateful Dead, Garcia worked frequently as a session musician, and played in various other bands over the years. His most notable side project was one he founded in January 1976 as the Jerry Garcia Band, which toured on and off until his death in 1995, recording two albums launched during his lifetime: 'Cats under the Stars' (1978) and the eponymous 'Jerry Garcia Band' (1991). Three further live Jerry Garcia Band albums were released between 1997 and 2001, years after his death.
In December 1966, Garcia moved in with his eventual second wife Carolyn Adams (born 1946), who had previously been romantically involved with Ken Kesey (q. v.) and had been part of his entourage known as the Merry Pranksters, for which purpose she had adopted the pseudonym of Mountain Girl. Despite separating from her husband George Walker at the same time, Adams remained legally married to him for another 12 years until 1978. While living with Garcia, Carolyn gave birth to his second and third daughters, Annabelle Walker Garcia (born February 1970) and Theresa Adams Garcia (born September 1974).
In 1975, Garcia and Adams separated. For the next two years, he lived with a film director called Deborah Koons. When Jerry's relationship with Deborah ended, he moved back in with Carolyn again for another year; but by this time, Jerry's persistent drug use had become deeply problematic, as he was addicted to both cocaine and heroin, which precipitated their second separation in 1978. By the early 1980s, Jerry is thought to have been spending $700 per day on maintaining his drug habits, equivalent to over a quarter of a million dollars per year: an expenditure that seems unimaginably lavish to anyone of ordinary means.
Paradoxically, Garcia and Adams decided to get married in 1981, three years after she had finally divorced George, but mainly for tax benefits. They remained affectionate friends but continued to live apart from each other, testifying to the fact that the marriage was largely for financial reasons. At the time, she was based in the state of Oregon while Jerry remained near the band's offices at San Rafael, California, sharing a house with housemates including Scully and Nora Sage, a closely involved fan of the Grateful Dead. By that time, Scully had long since ceased to manage The Grateful Dead but was still closely associated with Garcia in his role as manager of The Jerry Garcia Band.
In 1985, Garcia's heroin addiction led his Grateful Dead bandmates to issue him with an ultimatum to check into a rehabilitation centre on pain of being dismissed from the Grateful Dead if he refused. Although he agreed to attend one based at Oakland, he was arrested for possession at Golden Gate Park in San Francisco just days before he was due to check in, and was instead sent on a drug diversion programme at the instigation of the police. This was nonetheless successful, and with Nora's help and to the band's relief, by 1986 he had quit his cocaine and heroin habits completely.
By then, however, Garcia also suffered from severe diabetes, and that year he slipped into a diabetic coma for five days. At this point, Adams returned to the fray to nurse him during his period of recovery, and for a while they became closer again as a result.
While on tour with The Grateful Dead in the Spring of 1987, Jerry began an extra-marital affair with an artist he had known as a friend since 1978 called Manasha Matheson. This led to her giving birth to Jerry's fourth daughter, Keeling Noel Garcia, that December. Jerry and Manasha were unofficially married in a spiritual ceremony without legal backing in August 1990.
This turn of events eventually prompted Adams to file for divorce, and their marriage finally ended early in 1994. By this time, Garcia was no longer together with Matheson. In early 1993, he briefly rekindled an old romance with ex-girlfriend Barbara Meier, whom he had previously dated in the early 1960s before his marriage to Sara. However, this did not last, and that same Spring, he moved back in with his ex-lover Deborah Koons, who became his third legal wife in February 1994.
In 1991, feeling worn out by years on the road, Jerry slipped back into his heroin habit. This time, his bandmates were quick to react, and obliged him to return to rehab. He agreed to attend a methadone clinic, and retained his place in the band as a result. But in the summer of 1992, his diabetes flared up again, prompting him to adopt more drastic measures to improve his health: in particular, he quit smoking and became a vegetarian.
Unfortunately, decades of drug abuse had damaged Jerry's nervous system, and in the years to follow, he experienced pain that he found he could only numb by using variations on the very same class of drugs that had caused the damage in the first place: narcotics. In July 1995, immediately after The Grateful Dead's summer tour had ended, he voluntarily entered the Betty Ford Center, a drug rehabilitation clinic based at Rancho Mirage, California, where he stayed for two weeks. Feeling positive about the impact of this stay on his health, he then moved on to a similar clinic in Forest Knolls called the Serenity Knolls Treatment Center. But sadly, this proved to be too late to save his life, as while staying there he suffered a fatal cardiac arrest that same August.
Two decades after her husband's death, his surviving widow Deborah endured a bitter legal battle with The Jerry Garcia Family, a limited company that had been collectively established by the children he fathered with Carolyn, his brother Clifford, Carolyn's daughter Sunshine, and various other individuals connected with him, over the rights to his musical master tapes. The case was still being heard in late 2016.