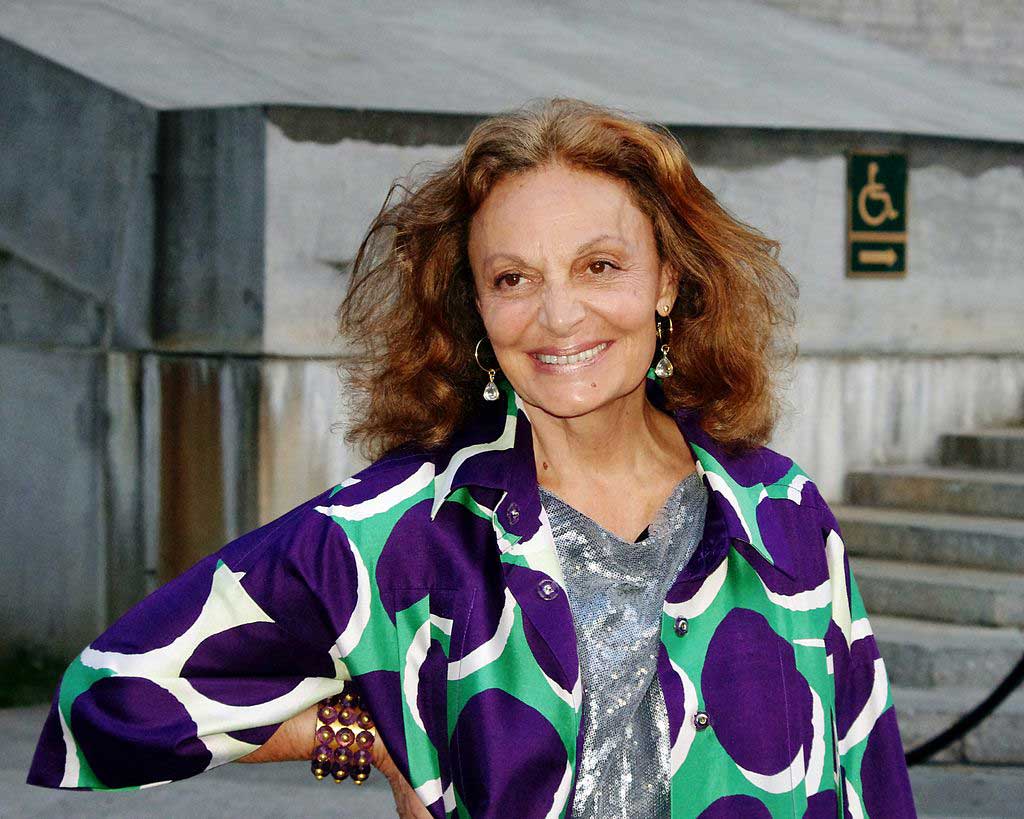 Fashion Designer & Entrepreneur
Diane von Fürstenberg, born Diane Simone Michele Halfin in December 1946, is an iconic Belgian fashion designer whose creations are widely known and loved. She married into royalty in 1969 and immediately fell into the public eye as a result, her husband being Prince Egon von Fürstenberg of Germany.
Following her marriage, Diane wanted to forge a name for herself in the world outside the celebrity conferred on her by her association with her Royal husband. And she did just that. Prompted into designing clothes, she developed a successful independent career as a fashion designer. Her clothing is now known across the world and available in over 70 countries, and the head office of her fashion label is located in the prestigious environment of New York's Manhattan, along with its flagship store.
Following her separation from her husband, von Fürstenberg moved to New York, a move that proved lucrative. It was here she met Vogue editor Diana Vreeland, who was able to help propel her further into the fashion spotlight, describing her designs as 'absolutely smashing'. Diane became a regular on the New York Fashion Week schedule, and the business continued to blossom.
Don't blame your parents, don't blame your boyfriend, don't blame the weather. Accept the reality, embrace the challenge, and deal with it. Be in charge of your own life. Turn negatives into positives and be proud to be a woman.
She became known for a particular design, a wrap dress style that she introduced in 1974. This signature design empowered women through its ability to be thrown on quickly without the need for buttons or zips, and its undeniably flattering style and shape. It quickly became a go-to stable piece that women could rely on to make them feel confident and fearless, enabling them to focus on other things in life. The dress defined a moment in womenswear and has continued to do so in the many years since, with the iconic style still seen in her collections today.
Following the incredible success of 'the' dress, von Fürstenberg landed the cover of Newsweek magazine in 1976, and The New York Times later reported in 1979 that annual retail sales had reached $150 million.
The style, which has evolved over the years and is now available in mini, maxi and midi lengths, is a favourite with the masses due to its ease of wear. Her unfaltering use of prints and colours also make it a winner if you are looking for a sophisticated statement piece.
Celebrity fans of Diane's designs include the Duchess of Cambridge, Jennifer Lopez and Gwyneth Paltrow. The style also became so much of an iconic piece within women's fashion that the original dress now sits within the collection of the Costume Institute of the Metropolitan Museum of Art.
Over the years, von Fürstenberg has grown her empire both in the fashion world and in related sectors including fragrance and cosmetics. At one point, she even moved away from the fashion world to start a quite different company called Salvy, a publishing house she launched in Paris. Thankfully, in 1997 she bought back her dress line, and continued on the path she had already trodden, relaunching the company and introducing the iconic wrap dress again to the women of the time.
More collections launched, including jewellery, accessories and beachwear, which gave her further traction within the fashion sphere as a force to be reckoned with, and in 2006 she gained the title of president of the Council of Fashion Designers of America, a position she has held ever since.
Furthering a number of accolades in recognition of her impressive lifetime of work, in 2009 an exhibition opened in Moscow called 'Diane von Fürstenberg: Journey of a Dress'; and in 2014, edited versions of the show launched in LA and London.
More recently, in 2020, she was awarded France's Légion d'honneur, which is awarded to only a select few who make a great contribution to the country.
As for the future of her great fashion empire, it seems it may be handed down to her granddaughter Talita Natasha von Fürstenberg, with whom Diane designed a capsule collection in 2018, making her a strong candidate to take up the reins.
There's no doubt that von Fürstenberg changed the landscape for women's fashion with her wrap dress: timeless, flattering and easy to wear, it's no wonder that the style remains popular today. We would take a guess that it will be just as popular in another 47 years.