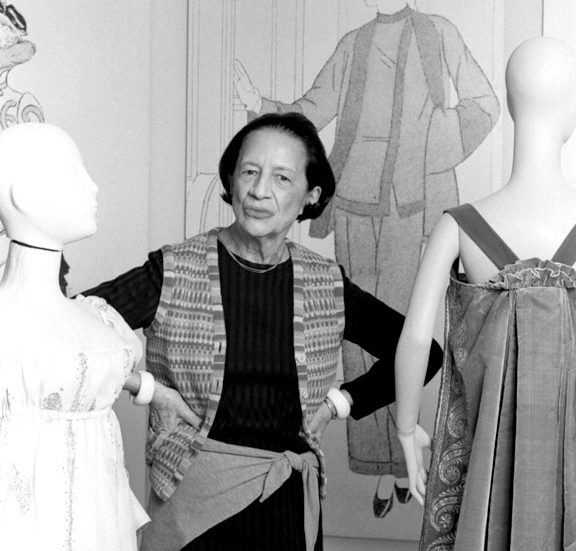 Fashion Journalist & Fashion Magazine Editor
Diana Vreeland, a famous columnist and fashion editor, was born in September 1903 and died in August 1989. The French-American was born Diana Dalziel to an American socialite mother, Emily Key Hoffman, and a British stockbroker father, Frederick Young Dalziel.
Although Vreeland was born in Paris, the family emigrated to the United States at the start of World War I, moving to New York where it quickly established itself in society. A young Vreeland attended dancing school and later performed in Anna Pavlova's Gavotte at Carnegie Hall.
In January of 1922, Vreeland took to the pages of one of the very magazines she would later come to work for, Vogue, appearing in a feature that covered socialites alongside their cars. Little did she know that in a few years' time she would be the one directing and orchestrating this very type of shoot.
In 1924, she married Thomas Reed Vreeland, who was a banker and international financier. They went on to have two sons. The family followed the father's work, and from 1929 spent a stint in London. It was here that Diana opened a lingerie boutique and was able to travel and explore Europe until 1935, at which point her husband's work meant a move back to New York was needed.
It was with this move that Vreeland's career in publishing began. The then editor of Harper's Bazaar, Carmel Snow, had seen Vreeland dancing at the St. Regis in a white lace Chanel dress and bolero, and admired her look that much she requested Vreeland come and work for her at the magazine. Vreeland accepted and began running a column called 'Why Don't You?'
From here she eventually became fashion editor of the magazine, and was admired by many who worked there and in the wider industry itself. Such was she known for her eye for style that when John F. Kennedy became president in 1960, she was even commissioned to advise the First Lady on style and clothing.
In 1962, she made a move up the publishing career ladder and left Harper's Bazaar to join Vogue. From 1963 – 1971, she was editor-in-chief and continued to make a name for herself as a prominent figure in the fashion world who was both admired and feared.
Vreeland brought a fresh take to fashion which was exciting, one that would set a standard for years to come; and she wasn't afraid to speak her mind. A notable quotation from her is, 'The bikini is the most important thing since the atom bomb'.
Her own style, as you would imagine, was immaculate and polished, always without a hair out of place. She pushed boundaries and made waves in the industry, for example publishing photos of Mick Jagger taken by David Bailey when Jagger perhaps wasn't deemed famous enough to grace the pages. She went beyond what was seen as acceptable within publishing at the time, and did so boldly.
I was always fascinated by the absurdities and luxuries and the snobbism of the world that fashion magazines showed. Of course, it's not for everyone...But I lived in that world, not only during my years in the magazines business but for years before, because I was always of that world-- at least in my imagination.
Following her time spent at Vogue, her next position was consultant at the Costume Institute of the Metropolitan Museum of Art in New York. Much like the curation of the pages of a magazine, she excelled at the organising and curation of exhibitions for the museum and really came into her own here.
They say style is something you are born with and not something you can learn. This may well have been the case for Vreeland, as shown by her landing a job at Harper's Bazaar with no formal training in the field, just a love of clothes and how to put them together. Her impeccable eye for style shone through as she was able to rise through the ranks in the fashion world.
Adding to her renowned reputation, she was named on the International Best Dressed List Hall of Fame in 1964, although really we would expect nothing less: she was a true style icon of her time and beyond.