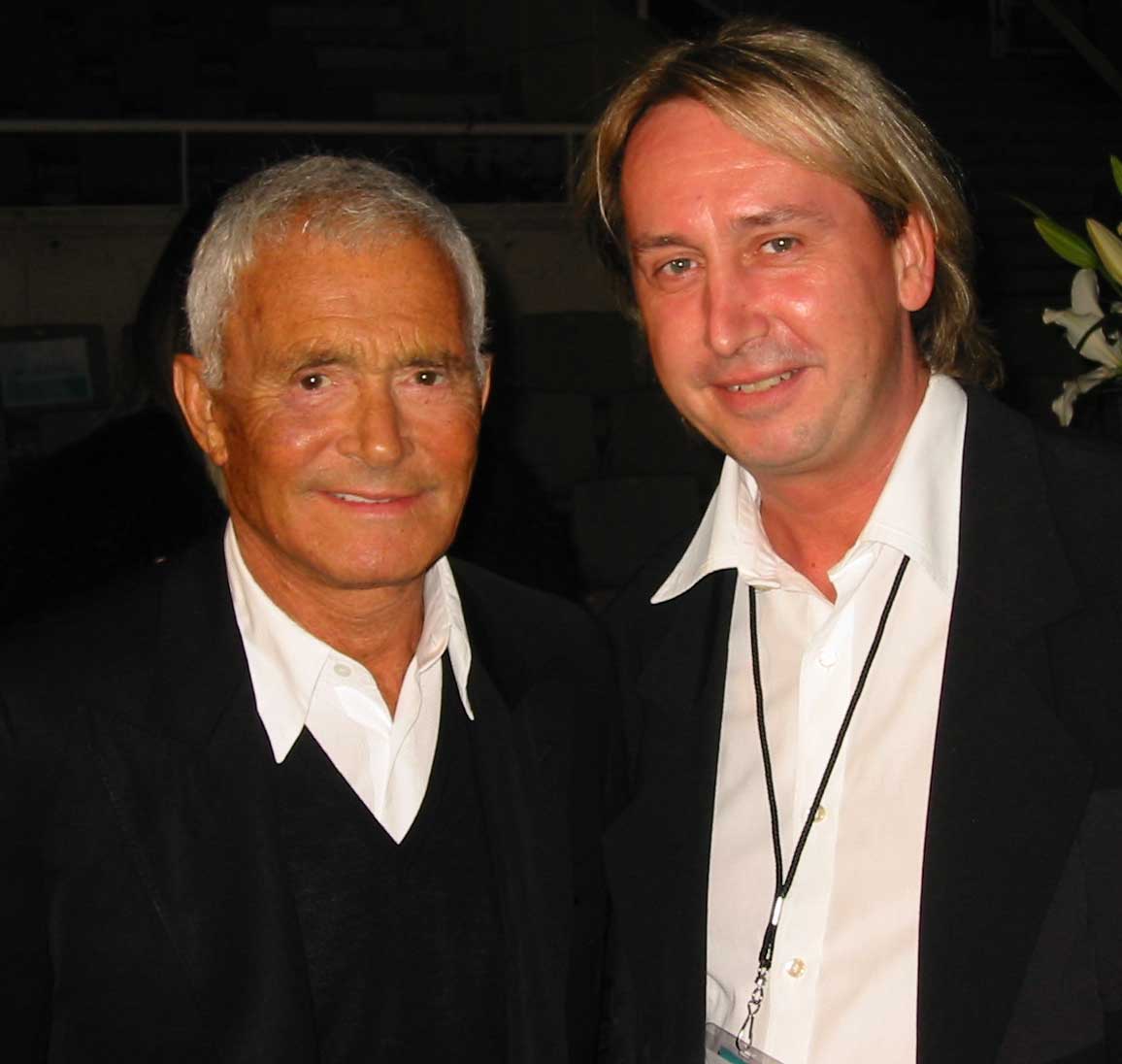 Hairstylist, Entrepreneur, Anti-Racism Campaigner, Activist
Vidal Sassoon (1928-2012) was a British hairdresser and businessman who founded a successful chain of hairdressing salons and an associated brand of hair-care products. He was also an anti-fascist activist.
Born in Hammersmith, London, Vidal was the son of an Ashkenazi Jewish mother of Ukrainian ancestry called Betty, and a Sephardi Jewish father of Greek origin named Jack. He subsequently grew up in the Shepherd's Bush area, which was known at the time for its Greek Jewish community.
At the age of three, however, Vidal suffered the sudden disappearance of his father from the family homestead, as Jack moved in with another woman. This left Betty in severe poverty, to the point where she was evicted over rent arrears and moved in with her elder sister, who already had three children of her own, taking Vidal and his younger brother Ivor along with her. There were now two women and five children sharing a cramped two-bedroomed tenement flat. Besides having a leaking roof, Vidal's aunt's flat lacked any bathroom or its own toilet, and had only rights to the shared use of a single outdoor water closet with the occupants of three other flats.
Still finding herself unable to afford the costs of raising her two sons, Betty had soon sent Vidal and Ivor to a Jewish orphanage with strict rules that allowed Betty to visit them only once a month. They would stay there for the next seven years.
Once he had been inducted into his new life in the orphanage, Vidal began to attend a large local Christian primary school called Essendine Road Primary School, where he was subject to anti-Semitic taunts. He was considered non-academic by his teachers, but was quick at mental arithmetic and excelled in athletics. One year, he even won the 100-yard race that was open to all pupils in the school.
In September 1939, with the outbreak of World War II, the entire intake of the orphanage was evacuated from London, and Vidal and Ivor were sent on a train to a village called Holt in Wiltshire.
Around three years later, with the Blitz over, Vidal returned to London and left school (as was then the right of British children who so chose) aged just fourteen, taking up work as a messenger. Sporadic bombing persisted in London, so he took to spending his nights in bomb shelters.
By this time, Betty had remarried, but she remained in close contact with her children and, having claimed that she had had a vision of his future, she told Vidal that she was ambitious for him to become a professional hairdresser, and began to look for an apprenticeship programme for him. He was eventually accepted by Adolph Cohen, a well-known barber based in Whitechapel Road in East London, as an apprentice free of charge, although initially Cohen had indicated that his two-year training programme would cost 100 guineas, a cost that it was not within Betty's meagre means to afford.
The war came to an end in 1945, shortly after Sassoon had completed his apprenticeship. Now aged 17, he became actively involved in the 43 Group, a Jewish resistance movement to the fascist ideology of Sir Oswald Mosley, founder of the erstwhile far-right political party the British Union of Fascists, which had been banned in 1940.
In 1948, Sassoon volunteered his services as a soldier for the Palmach, a Jewish fighting force in Palestine, and fought in the Arab-Israeli War following the dissolution on the British Mandate for Palestine and the Israeli declaration of independence on the 14th of May.
However, he was persuaded by his mother to return to London. Now aged 20, he took up a job working in Mayfair for Raymond Besson, who was reputed as the most prestigious hairdresser in the whole of the capital. Besson refined Vidal's hair-cutting skills.
In 1954, Vidal broke away from Besson to set up his own hairdressing salon called Raymond. By the 1960s, he was attracting a high-profile clientele that included film stars.
He soon became romantically involved with his receptionist Elaine Wood, and they married in 1956, but divorced just two years later in 1958.
Hairdressers are a wonderful breed. You work one-on-one with another human being and the object is to make them feel so much better and to look at themselves with a twinkle in their eye.
Sassoon developed a number of fashionable low-maintenance hairstyles, including a modern recreation of the vintage bob cut (first popularised in the 1900s), as well as the caret, the sesson and the pixie. He is further credited with popularising the hand-held hair-dryer. He emphasised the importance of styling hair into geometric shapes that harmonised visually with the natural form of the customer's face, and was especially well-known for adopting a 'five-point' cut, which he is said to have first tried out on Welsh model Grace Goddington (born 1941), who would later become creative director of Vogue magazine in the United States.
In 1967, Vidal married for a second time, wedding the young Canadian-American actress Beverly Adams (born 1945). Together, they had three children, daughter Catya (1968-2002), son Elan (born 1970), and daughter Eden. In 1975, they also adopted a three-year-old boy called David, but their relationship was fraught, and he was disinherited by Vidal two months before his death after they had become permanently estranged.
In 1965, Sassoon had been persuaded by Natalie Donay, a business executive working in the advertising and cosmetics industries, to start up a salon on Madison Avenue in New York City. Although he continued to be based primarily in London for the next several years, he had developed a taste for life in the United States, and set up a new permanent home base in Los Angeles in 1971, after handing over the reins of his London salon to Roger Thompson, its 30-year-old serving artistic director.
The Vidal Sassoon brand of hair-care products was launched in 1973, with a Los Angeles-based company, Vidal Sassoon Inc., being set up to oversee it. Sassoon also started his own hairdressing school in Santa Monica, California.
During the same decade, Vidal's salon chain was expanded under a franchise system, spurred on by some of his former staff wanting to branch out to start their own salons while showing off their training under his tutelage.
In 1983, both Vidal Sassoon Inc. and the separate hairdressing school were bought out by American pharmaceuticals giant Richardson-Vicks, netting a personal fortune for their founder, as by this time the hair products company in particular was earning over $100 million in annual sales around the world. The hair products company was further sold on to Proctor & Gamble in 1985, but retained Vidal's personal services as a consultant until the mid-1990s.
Once he had sold his businesses in 1983, Vidal turned his attention primarily to philanthropic causes. His main interest remained combating antisemitism worldwide, to which end he had already founded the Vidal Sassoon International Center for the Study of Antisemitism, based at the Hebrew University of Jerusalem, in 1982.
He further established a Vidal Sassoon Foundation based at Los Angeles, which helped to fund a variety of educational initiatives in Israel, as well as the Performing Arts Council of the Music Center of Los Angeles and the Boys Club of America.
Also in 1983, Sassoon had got married for a third time, to an equestrian sportswoman called Jeanette Hartford-Davis. Their marriage was short-lived. His final marriage was to a designer called Rhonda (known as Ronnie to her friends) in 1992.
In 2002, Vidal's eldest daughter Catya, an actress, died suddenly of a heart attack brought on by drug use, aged only in her early 30s.
In 2009, Sassoon himself was diagnosed with leukaemia. This eventually led to his death at his home in Los Angeles in May 2012, aged 84.