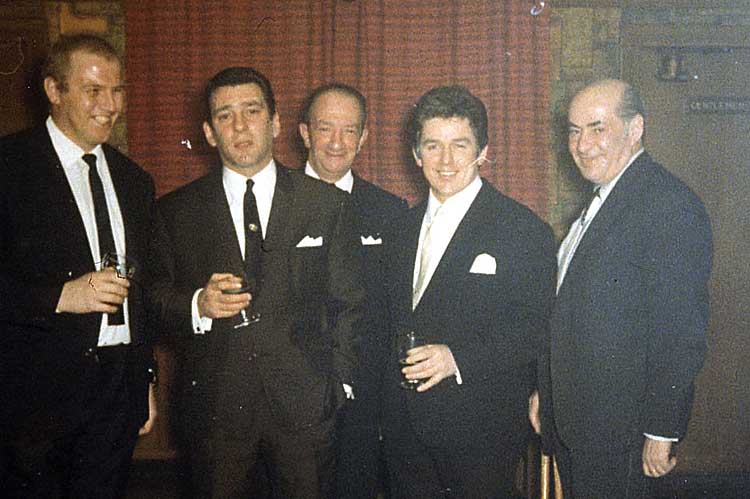 Gangsters, Murderers, Criminals, London Mafia
From the late 1950s, Ronald 'Ronnie' and Reginald 'Reggie' Kray (identical twins born on 24 October 1933) were two of the most notorious gangsters in Britain.
Ronnie and Reggie were born in Haggerston, in the East End of London. They both caught diphtheria as toddlers. In their youths, both twins were aspiring boxers. Their grandfather had been a professional boxer and trained both of them. Despite their showing considerable talent, their careers were cut short before they could begin: they were called up for National Service, from which they then absconded, resulting in their dishonourable discharge.
The twins' first business venture – and foray into the criminal world – came in the form of the Regal billiard hall, which they bought. Under their ownership, the Regal became a safe haven for an assortment of crooks, who would fence their stolen items at the venue. For their part, Ronnie and Reggie received a cut of whatever monies changed hands. However, they quickly realised that they wanted more money, and more respect.
In 1960, Ronnie was sent to prison for eighteen months, on account of his running protection rackets and threatening behavior associated with such. During this time, Reggie took over the general running of the fledgling criminal empire. He was sold another nightclub, 'Esmeralda's Barn', by the infamous landlord Peter Rachman, who was trying to escape further extortion by the twins. The acquisition of Esmeralda's Barn probably marked the beginning of the twins' reputation as charismatic nightclub owners, despite the fact that their criminal operations – particularly illegal gambling rackets – were already well-established.
In 1964, the Daily Mirror ran an exposé that claimed Ronnie was in a relationship with Lord Boothby, a Conservative peer. Although the piece named neither of them, Boothby threatened to sue the newspaper and received a substantial out-of-court settlement, while the Krays opted to intimidate the journalists involved. Although Boothby was a Conservative, the Labour Party was also reluctant for the story to be publicised as it would inevitably have resulted in the Labour MP Tom Driberg, who was also gay, being linked to Ronnie, and thus to criminal activity. Equally, the Krays' intimidation of fellow gangsters and witnesses frustrated the Metropolitan Police's attempts to bring them to justice.
The silencing of the press after the Boothby affair left the Krays feeling invincible, and they felt able to expand their criminal empire with an air of legitimate business. It was during this time that they ran a number of prestigious nightclubs and bars, including the Double R, where many celebrities spent their time. They socialised with major stars, such as Judy Garland, Danny La Rue and Liza Minelli, and were photographed by David Bailey. Superficially they were the most charming of hosts; and the excitement of mixing with men suspected by many of being on the fringe on the criminal world gave them a uniquely alluring place at the heart of Swinging London society
In March 1966, Ronnie shot and killed George Cornell, who worked for a rival gang, in revenge for the murder of Richard Hart, who worked for the Krays, at The Blind Beggar pub. While revenge for Hart's murder the day before was surely on Ronnie's mind, some sources claim that it was also because Cornell had called Ronnie a 'fat poof' during a confrontation a few months prior. Indeed, Cornell had not even been present for Hart's murder. It is likely that at this point in time, Ronnie was already suffering from what would later be diagnosed as paranoid schizophrenia. Despite there being multiple witnesses to the murder, Ronnie and Reggie would not be prosecuted successfully for another three years – Ronnie for the murder itself, and Reggie for being an accessory after the fact.
Their de facto immunity could never have lasted indefinitely. While they certainly managed to intimidate members of their gang (named The Firm) and witnesses to their crimes for several years, eventually the murder of Jack 'The Hat' McVitie, whom many members did not feel deserved it, turned opinion against them. When Scotland Yard eventually decided to move in on the Krays – having plenty of evidence, but nothing quite enough to convict for any one crime in particular – they moved all at once, arresting not only them but many of members of The Firm. The reasoning behind this was that if the Krays were both in custody, along with many of their enforcers, then witnesses would be more willing to talk.
In 1969, after the longest murder trial in UK history at the time, Ronnie and Reggie Kray were both sentenced to life imprisonment for the murders of George Cornell and Jack McVitie, and would not be eligible for parole for thirty years. They both remained incarcerated for the rest of their lives, although Ronnie was transferred to Broadmoor secure psychiatric hospital in 1979 owing to his being diagnosed as a paranoid schizophrenic. Reggie Kray died on 17 March 1995, following a heart attack; while Ronnie died of cancer on 1 October 2000, having been released from prison on compassionate grounds some three weeks earlier.
Between their imprisonment and their deaths, however, the Krays' empire continued to function – more as a highly successful brand than as a criminal network. Reggie married twice while in prison and sold the rights to both weddings for several thousand pounds apiece. With the help of friends and family on the outside, the twins ran a business called Krayleigh Enterprises, which sold Kray Twins merchandise. It also allowed small security companies to use their name for a fee, which is how the Krays could claim to be bodyguards to Frank Sinatra when he visited the UK in 1985.
Today, the Kray twins remain the subject of books, TV productions and film. Their existence has been almost mythologised as a British answer to the likes of Al Capone. There are London walking tours, and a plaque still stands in The Blind Beggar memorialising the murder of George Cornell.