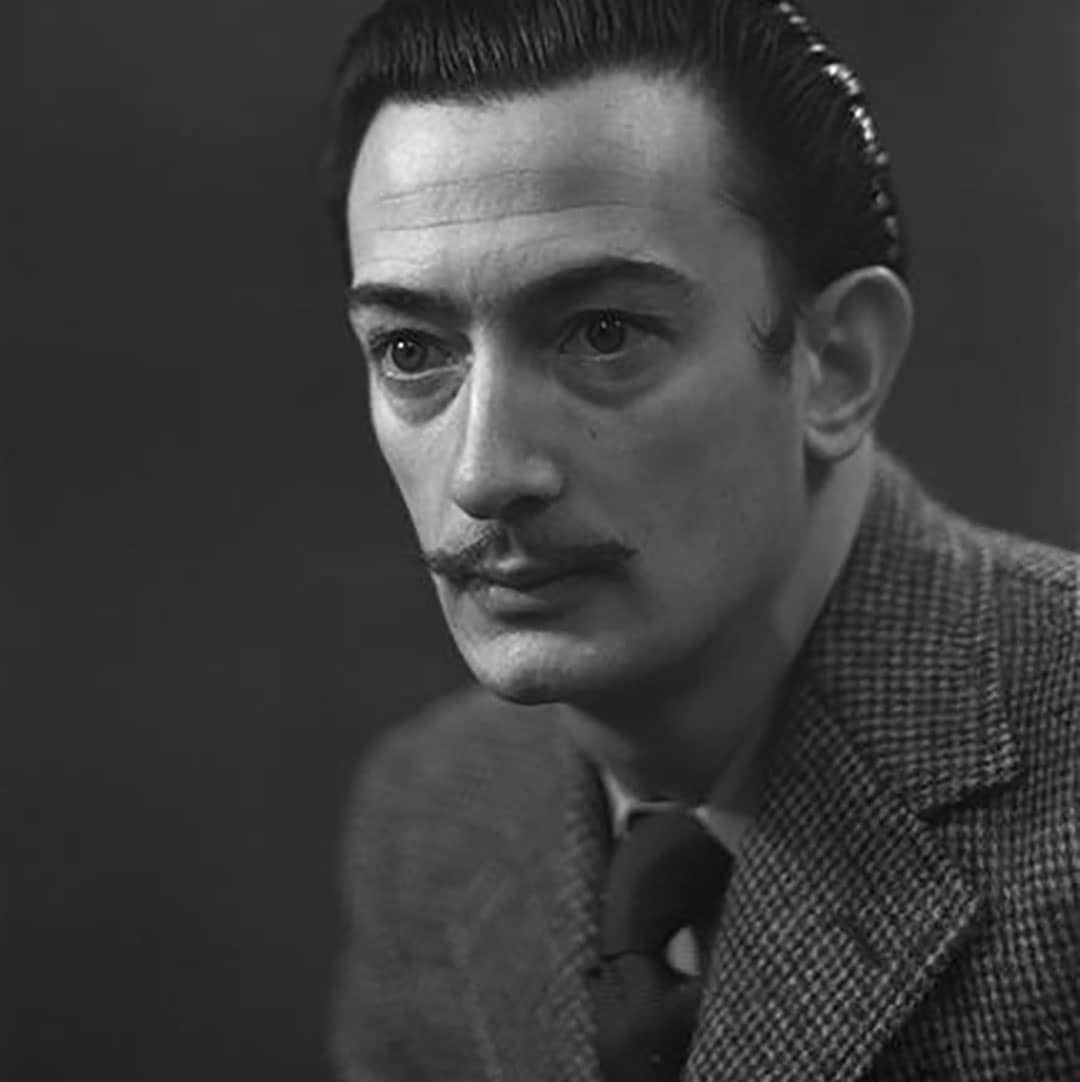 Salvador Dalí (1904-1989) was a Spanish artist associated with surrealism. He was primarily a painter but also worked in graphic arts, fashion design, sculpture, photography, film and theatre, and was an occasional writer.
Dalí was born in the town of Figueres, in Empordà, Catalonia, nine months after the death in infancy of his elder brother, also called Salvador, who became an enduring influence upon his artistic themes, notably including Portrait of My Dead Brother (1963). His father, yet another Salvador, was a lawyer who was a strict disciplinarian. His mother encouraged his artwork and was close to him, but died of cancer when he was just 16.
Young Salvador studied art at the Municipal Drawing School at Figueres before undertaking a formal degree in fine arts at the Real Academia de Bellas Artes de San Fernando in Madrid from 1922 to 1926, although he withdrew shortly before his final examinations.
During his studies in Madrid, he associated with a group of avant-garde artists known as Ultra, and became acquainted with futurism and Dadaism, but turned his own style of painting more to cubism, while also embracing realism and some classicism. He also undertook frequent visits to the Museo Nacional del Prado (Prado Museum) to study the works of the old masters.
Dalí had eleven works featured at the joint exhibition of the Sociedad Ibérica de Artistas in May 1925. A critically well-received solo exhibition of 22 works followed at Galeries Dalmau, Barcelona, in November 1925, with a further exhibition at the same venue of 23 paintings and 7 drawings following from December 1926 to January 1927.
In 1926, on his first of many visits to Paris, he personally met Pablo Picasso, who had received approving tidings of his work from Joan Miró, another Catalan painter. Dalí went on to exhibit frequently in the French capital city.
Salvador became a surrealist painter in 1929 after developing surrealist influences starting in 1927. In 1928, influenced by Freud's fixation upon sexual symbolism, he submitted a painting called Dialogue on the Beach (Unsatisfied Desires) to an exhibition in Barcelona, but it was refused on grounds of being too shocking to be suitable for the public, causing a scandal in the local press.
In 1929, Dalí became romantically involved with Russian immigrant Elena Diakonova, the then-wife of a French surrealist poet, who preferred to be known as Gaia and was ten years his senior. They lived together for over four years before marrying in January 1934. She became his habitual artistic muse, but they had an open relationship and he cultivated a succession of younger muses during his marriage, most notably Nanita Kalaschnikoff from 1955 and fashion model Amanda Lear from 1965.
It seems to me perfectly obvious when my enemies, my friends and the public in general pretend not to understand the meaning of the images that arise arid that I transcribe in my pictures, How can you expect then to understand them when I myself, who am their "maker", understand them as little?
Also in 1929, Salvador fell out with and was disinherited by his father, who disapproved both of his illicit extra-marital affair with Gaia and, more particularly, of his drawing The Sacred Heart of Jesus Christ.
During the 1930s, Dalí's fams spread internationally as he exhibited far and wide. In late 1933, 26 works by Dalí were successfully exhibited in New York. A further exhibition there followed in late 1934, accompanied by a personal visit by the artist, during which he took the opportunity to lecture on surrealism.  In 1936, his first exhibition in London was held, supported by the patronage of British poet Edward James.
Dalí attracted controversy within artistic circles on account of his ambivalence towards right-wing regimes. He refused to denounce fascism in the mid-1930s on the grounds that surrealism should be an apolitical art-form, earning the increasing disapproval of fellow-surrealists. He subsequently became an outspoken opponent of socialism and Marxism and a political supporter of the nationalist regime of Francisco Franco that ruled over Spain from 1936 to 1975. In May 1939 he was consequently expelled from the surrealist groups.
At the outbreak of World War II, Salvador and Gaia were in Paris, but they managed to cross into Portugal in June 1940, and from there they crossed the sea to New York, and settled in the United States for the duration of the war, remaining there until 1948. During these years, Dalí's art enjoyed continuing success in the USA and he also won a number of commercial contracts related to design. His English-language autobiography was published in New York and London in 1942. One of the leading surrealists, André Breton, felt Dalí had sold out to appeal to the American market he now courted, subsequently mockingly nicknaming him Avida Dollars, an anagram of his name.
In 1948, he moved back to Spain, where, against the example of his atheist father, he increasingly embraced Roman Catholicism. He subsequently developed a new style of art that became known as nuclear mysticism, which combined elements of classicism, mysticism and modern science.
By the early 1970s, Dalí and Gaia lived increasingly separate lives, and she periodically retreated alone to a castle in Púbol that he had bought for her in 1968. She died aged 87 in 1982.
During the 1970s, Salvador developed symptoms of Parkinson's Syndrome as well as drug addiction and depression. He became malnourished in the mid-1980s, and suffered burns when a fire broke out in his bedroom in 1984. In the late 1980s, he suffered progressively from heart failure, leading to his death in 1989.
Dalí was honoured by King Juan Carlos of Spain with the title of Marqués de Dalí de Púbol in 1982.
His artistic legacy is conserved through his exhibits at the Dalí Theatre-museum in Figueres, Spain and the Salvador Dalí Museum in St. Petersburg, Florida.
His books include the novel Hidden Faces (1944), his autobiography The Secret Life of Salvador Dalí (1942), 50 Secrets of Magic Craftsmanship (1948), Diary of Genius (1966) and Oui: the Paranoid-Critical Revolution (1966). He further provided illustrations to various other books, including an edition of Shakespeare's Macbeth in 1946 and a collection of the essays of Michel de Montaigne in 1947.