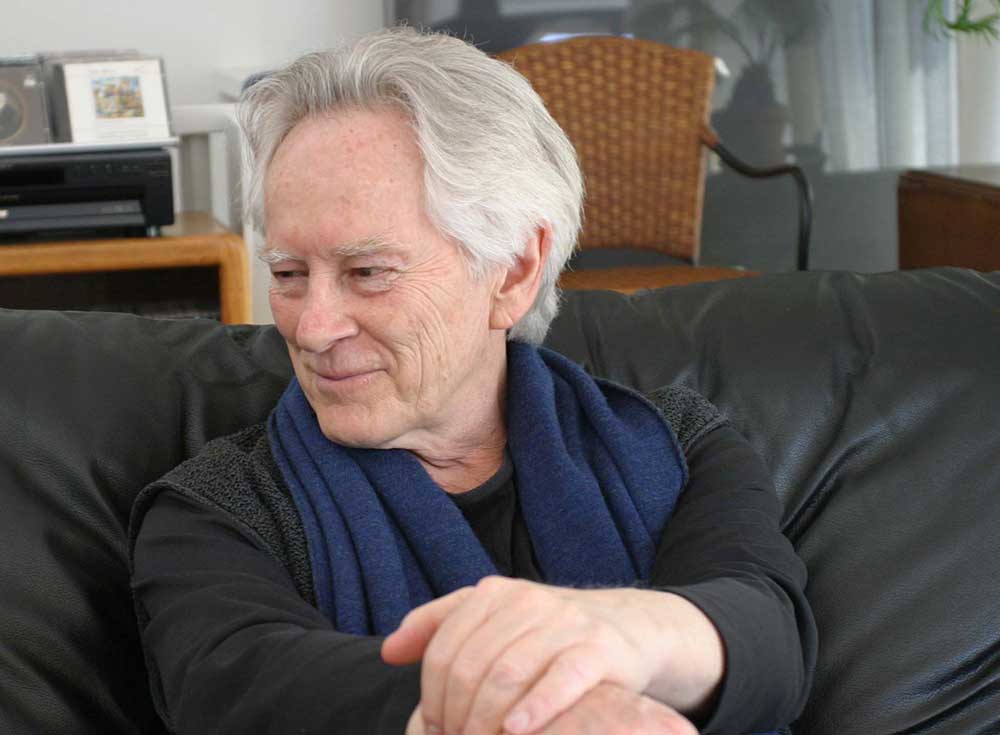 Beat Poet, Playwright, Essayist & San Francisco Counterculture Leader
Michael McClure (1932-2020) was an American poet, playwright, essayist and academic who was a part of the Beat Generation of poets, and played a prominent leadership role in the San Francisco counterculture scene of the 1950s and 1960s.
Of Scotch-Irish ancestry, McClure was born in Marysville, Kansas, but after his parents divorced, he grew up mainly in Seattle, Washington, where his maternal grandmother played a prominent role in his upbringing. He returned to Kansas to attend high school.
After moving to San Francisco to complete his university studies in the early 1950s, McClure initially intended to pursue fine art at the Art Institute, but changed course after meeting poet Robert Duncan at a writing workshop held at San Francisco State University, and began a close association with him that has been described by some as resembling an apprenticeship. He was also influenced by the poet Charles Olson, rector of Black Mountain College, and later also by famed poet Kenneth Rexroth.
By 1955, McClure was himself well-known enough in the city's poetry scene to be one of five poets, alongside Allen Ginsberg, Gary Snyder, Philip Whalen and Philip Lamantia, who were invited to perform a live recital of their own work in an event held at Six Gallery. He thus became integrally associated with the Beat Generation.
In the decade that followed, McClure met many influential figures of the time including actor Dennis Hopper and experimental filmmaker Stan Brakhage. He also explored psychotropic drugs, in common with many of his generation of writers, artists and magicians, and is thought to have been creatively inspired partly under their influence.
Impressionism means taking inspiration directly from nature, trusting your senses rather than what you think you know.
In January 1967, McClure was one of the featured poets giving live recitals at an event called the Human Be-In that was held in San Francisco, where he had already lived for many years. He was also a friend of Jim Morrison of the rock band The Doors, whose reputation for poetic lyrics he helped to promote. McClure incidentally remained in contact with Morrison's keyboard-playing bandmate Ray Manzarek long after Morrison's death, holding with Manzarek as late as the early 2010s a number of joint poetry recitals, some of which were recorded and made into commercially available albums, such as Love Lion (1991).
McClure's writing career spanned more than six decades, during which time he had no fewer than fourteen poetry anthologies published, as well as numerous single poems in artistically presented limited editions. His first anthology, Passage, was published in 1956, and his final one, Mule Kick Blues and Last Poems, appeared posthumously in 2021. His poetry has a strong focus on the natural world, and portrays the animal nature of humans as a part of that. He declared an interest in the biological sciences, and displayed an active concern in environmental issues, exemplified by his personal attendance at the United Nations Environmental Conference held at Stockholm in 1961.
His other notable anthologies and stand-alone poem publications include Peyote Poem (1958), For Artaud (1959), F**k Death (1959), Hymns to St. Geryon and Other Poems (1959), We're in the Middle of a Deep Cloud (1959), We Are Impervious (1960), The New Book / A Book of Torture (1961), Little Odes (1961), Dark Brown (1961), Spontaneous Hymn to Kundalini (1961), Ghost Tantras (1964), Two for Bruce Connor (1964), Thirteen Mad Sonnets (1964), Double Murder! (1964), Poisoned Wheat (1965), Unto Caesar (1965), Mandalas (1966), Love Lion Book (1966), War is Décor in My Cavern Cave (1967), Hail Thee Who Play (1968), The Sermons of Jean Harlow and the Curses of Billy the Kid (1968), Muscled Apple Swift (1968), The Surge (1969), Lion Fight (1969), Plane Pomes (1969), To James B. Rector (1969), Liberation (1969), Star (1970), Cross Section (1971), Wolf Net (1971), 99 Theses (1972), Komos (1972), Trip: For Joanna. Faces on a Greyhound Bus (1972), The Book of Joanna (1973), 91 Words for Joanna (1973), Transfiguration (1973), Solstice Blossom (1973), September Blackberries (1974), Rare Angel (1974), On Organism: a Curriculum of the Soul (1974), Fleas (1974), Flea 100 (1975), Man of Moderation (1975), Jaguar Skies (1975), Love Me For the Fool I Am (1976), Ah Yes (1976), Antechamber and Other Poems (1977), Fragments of Perseus (1978), Fortune: Breaks the Path of Faith (1979), Little Ode (1980), Dots of Creation (1982), Interpretation (1984), Specks (Saltwaters) (1985), Selected Poems of McClure (1986), April Arboretum (1987), Berkeley Song (1988), Rebel Lions (1991), Red Cages (1992), Rain Haiku (1992), What Crevices (1993), Simple Eyes & Other Poems (1994), Three Poems (1995), Rain Mirror: New Poems (1999), Huge Dreams: San Francisco and Beat Poems (1999), Touching the Edge: Dharma Devotions from the Hummingbird Sangha (1999), Plumb Stones / Cartoons of No Heaven (2002), Fifteen Fleas (2003), Mysteriosos and Other Poems (2010), Of Indigo and Saffron: New and Selected Poems (2011), Mephistos and Other Poems (2016), and Persian Pony (2017).
Of these many poetical publications, Poisoned Wheat is notable for having been a protest poem against the Vietnam War, while the works dedicated to a Joanna refer to his first wife, Joanna McClure née Kinnison, whom he had married in 1954. Their marriage led to the birth of his only child, daughter Jane, but eventually ended in divorce, but in 1997 he was married for a second time to Amy Evans, a sculptor, who influenced him in the direction of a focus on Zen Buddhism in his later poetry.
In addition to his poetry, Michael had at least eighteen original plays performed (with the scripts of most of them also eventually being published). His notable plays include The Blossom or Billy the Kid (1964), The Feast (1960), Pillow (1961), The Beard (1965), The Raptors (1969), The Charboiled Chinchilla (1969 – later published as part of an anthology of eleven of his plays called Gargoyle Cartoons in 1971), The Cherub (1970), The Shell (1969), The Brutal Brontosaurus (1970), Polymorphous Pirates (1972), Gorf (1974 – published 1976), General Gorgeous (1976 – published 1982), Minnie Mouse and the Tap-Dancing Buddha (1977), The Grabbing of the Fairy: a Masque (1978), Goethe: Ein Fragment (1978 – published as West Coast Plays 2), Josephine: the Mouse Singer (1978; published in 1980), The Red Snake (1979), Vktms (1985), and 'Beard' Hasn't Grown Any Whiskers (1987). The Blossom, The Feast and Pillow were subsequently compiled into the anthology The Mammals published in 1972.
The Beard attracted particular notoriety on account of a seduction scene acted out within it, with an early live performance in San Francisco leading to charges of 'lewd and disorderly conduct in a public place', and subsequent performances in Los Angeles being repeatedly interrupted by the police arresting the whole of the cast.
For more than a decade, McClure served as playwright-in-residence at the Magic Theatre in San Francisco, where many of his plays were first performed.
McClure further had at least four essay collections and two novels published. His known essay collections comprise Meat Science Essays (1963), Essay on the Media (1971), Scratching the Beat Surface (1982), and Lighting the Corners: On Nature, Art, & the Visionary (1994). With Terri Murray, he also co-authored Moral Panic: Exposing the Religious Right's Agenda on Sexuality (1995). His novels include The Mad Cub (1970) and the psychedelia-infused The Adept (1970).
McClure also presented a number of films and documentaries, including a notable one about the Haight-Ashbury scene of San Francisco in the late 1960s, and was himself the subject of the book Michael and the Lions written by Robert A. Wilson and published by Phoenix Bookshop, New York, in 1980. He was also fictionalised by famed novelist Jack Kerouac as Pat McLear in his 1962 novel Big Sur.
McClure rode a motorcycle and joined the San Francisco chapter of the Hell's Angels motorcycle club. This insider's position privileged him to an audience with the secretary of the Hell's Angels, Frank Reynolds, who told him the story of the club in a series of interviews that McClure then wrote up into the book Freewheelin Frank, which was published in 1967.
Aside from being a poet, playwright and essayist, McClure was also a scholar. He studied at the Municipal University of Wichita, the University of Arizona and San Francisco State College, where he completed his B.A. in 1955. He later became a career academic, serving as Professor of Humanities at California College of Arts and Crafts in Oakland, California after rising up through the ranks, first as assistant professor from 1962 to 1977, and then as associate professor from 1977 onwards. He was still listed as a member of the College's Faculty shortly before his death in the same city in May 2020.
McClure was awarded a Guggenheim fellowship in 1973; grants from the National Endowment for the Arts in 1967 and 1974; the Alfred Jarry Award for his work with the Magic Theatre in 1973; the Obie Award for best play (for Josephine, the Mouse Singer) in 1979, the California Arts Council Berkeley Stage Company award in 1980; the Pushcart Prize for Poetry in 1991, the National Poetry Association's lifetime achievement award in 1993, the Pen West Josephine Miles Award for Simple Eyes in 1994.