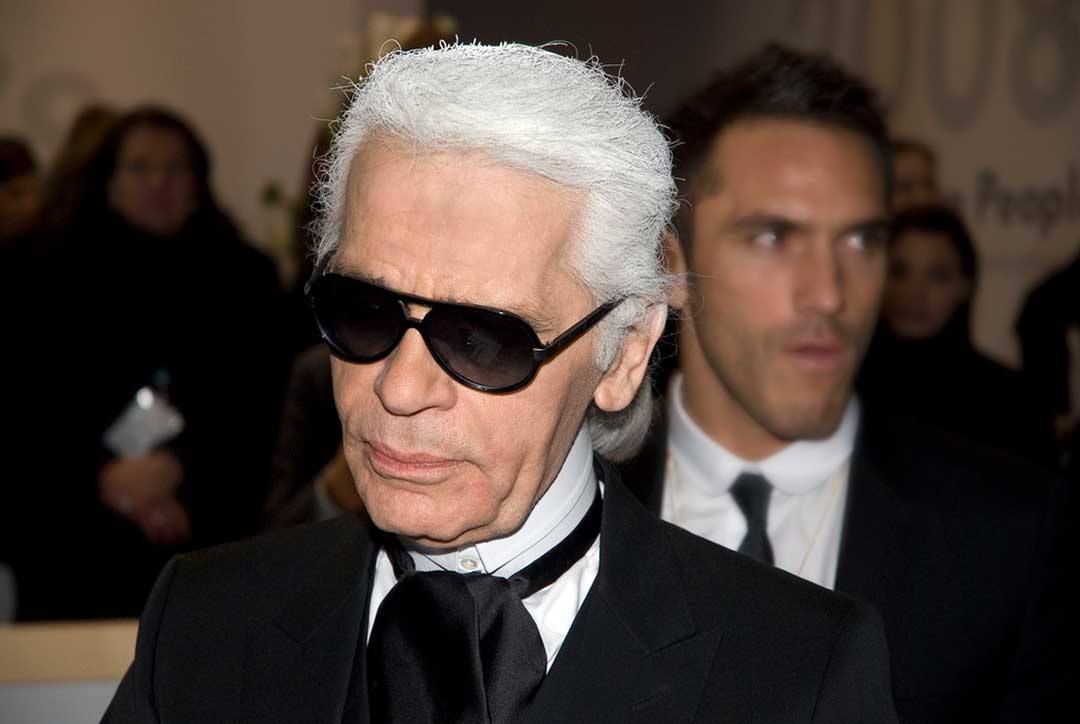 Karl Otto Lagerfeld was a celebrated fashion designer and businessman. He was born in September 1933 in Hamburg, Germany. His mother, Elisabeth, and his father, Otto Lagerfeld, had married three years before this in 1930. Elisabeth was a lingerie saleswoman, and Otto a company owner. Karl had two older siblings: a sister, Martha Christiane, born in 1931, and a half-sister, Theodora Dorothea, from his father's first marriage.
Lagerfeld showed an early interest in creative pursuits and was a regular visitor to the Kunsthalle, Hamburg, believing that he could learn much more by frequenting museums than he could from days spent in the school classroom.
From 1951 to 1989, he had a romantic relationship with Jacques de Bascher, a French aristocrat, model and socialite, although Lagerfeld stated that the relationship never became sexual. In 1989, De Bascher sadly died of AIDS. In the time leading up to his death, Lagerfeld was by his bedside at the hospital.
The other great love of Lagerfeld's life was his cat, Choupette, a red point Birman who kept him company in his final years and was still alive at the time of writing, having turned 11 in 2022. Following Lagerfeld's death, it was rumoured that he had left his fortune to the cat, a rumour that has not been confirmed.
In his personal life, Lagerfeld also had a voracious appetite for book collecting, and claimed to have collected 300,000 books at his home library in Paris, making it one of the largest personal libraries assembled by one collector on record, although he did not publish a catalogue, and the true number of books has not been independently verified. They were modern books rather than antiquarian ones, but covered a vast range of subject matter. In keeping with his credentials as a designer, the books were arranged in an eccentric layout, in space-saving vertical stacks. His library was yet another fashion statement for which he will long be remembered.
Lagerfeld is now known both for his undeniable talents as a fashion designer and for his savvy as an executive in the fashion industry, as he served as a creative director for various iconic fashion houses and even for his own brand. His career began when, in 1955, he entered a fashion design competition sponsored by the International Wool Secretariat. The coat design he had entered won in its category. Following this win, he was hired by Pierre Balmain, for whom he worked for the next three years, serving firstly as his assistant before moving on to become his apprentice.
After this, Lagerfeld moved to Jean Patou to work on haute couture, presenting two collections per year for five years. He later moved to Rome to work for Tiziani, a Texas-born designer by the given name Evan (Buddy) Richards. With a whole wealth of experience now under his belt, it wasn't long after this that Lagerfeld started freelancing for some of the biggest names in the fashion world, notably Chloé and Valentino.
In 1967, not one to shy away from hard work and long hours, Lagerfeld started working with Fendi. The idea was that he would bring their fur line into the modern age, a feat in which he succeeded, and one that led to a relationship that would last the rest of his lifetime.
He continued this fast-moving trajectory through fashions houses with his next appointment at Chloé in 1974 (although he had worked with them since 1964 through his freelance endeavours). From this time, he defined the brand as it is known today, focusing on making clothes designed to liberate the women wearing them, whilst still being fun through the use of flowing dresses with bold prints. The brand reached new heights of renown and success during his first stint there, cementing his name in the fashion world. He later returned to Chloé in 1992, although this time around, he didn't enjoy as long a service, with the role being taken over by Stella McCartney in 1997.
In 1982, he was asked directly by Alain Wertheimer, the chairman of Chanel, to come and join the iconic French house. At this time, Chanel appeared to be a failing business, and many warned Lagerfeld not to take up the position that had been offered top him. However, he saw it as an exciting challenge. Working on both couture and ready-to-wear, he used his magic to revive the brand using inspiration from Coco Chanel herself (the founder of Chanel, who had died in 1971) combined with his own modern view of how the brand could be developed. He simultaneously respected the house history whilst allowing his creativity to take hold, changing what was needed in order for the brand to be modernised, and thus the house was reborn.
Never use the word "cheap". Today everybody can look chic in inexpensive clothes (the rich buy them too). There is good clothing design on every level today. You can be the chicest thing in the world in a T-shirt and jeans — it's up to you.
With extensive experience gained from various fashion houses in the course of his career, Lagerfeld founded his own brand in 1984. This gave him the opportunity to create and explore further fashion ideas under his own name, giving shape to a brand which he established with a vision that it should ooze 'intellectual sexiness'.
Having established himself as a fashion powerhouse, in his later career Lagerfeld explored collaborations through which he could venture into other areas of fashion and art.
For example, he collaborated with Renzo Rosso, of Diesel, to create an extremely limited-edition denim collection that would be sold at the Lagerfeld Galleries and at the Diesel Denim Galleries. As expected, the demand for the five pieces that featured in the collection was high, as were the prices. This didn't stop most of them from selling out, adding further fuel to the unstoppable force that Lagerfeld had become in the fashion world.
Some of his most memorable pieces created for Chanel during the 1980s included skin-tight skirts, shoulder-padded tailoring with militarily-inspired buttoning, and tweed two-pieces, all accessorised with statement pearls. These designs were elegant and sophisticated but maintained a sense of fun that fit perfectly with the mood of the time, revolutionising the house with the iconic styles for which it is still known and loved today.
He also collaborated with Orrefors, a Swedish crystal manufacturer, to create a collection of crystal art.
In 2004, he worked with H&M to create a capsule collection which included pieces that could instantly be recognised as his: high-collared shirts, chokers made from black ribbon, and the iconic Lagerfeld silhouette T-shirts. Lagerfeld hysteria was stirred up, and the collection sold rapidly across the globe. This was H&M's first foray into a designer collaboration, and following their success with Lagerfeld they continued in a similar vein, their most recent collaboration being one with style queen Iris Apfel, which launched in Spring 2022.
Amid his long career highs, there were nonetheless moments of criticism levelled against Lagerfeld. Animal rights activists called him out for continuing to use fur in his collections over the years. In 2018, Chanel became the first luxury fashion house to completely stop using fur and exotic animal skins. He was also accused of being fatphobic due to comments he'd made in 2009 and 2012.
In more recent years at Chanel, it was not only his designs that earned him adoration from the fashion pack but also the way in which the sets for his runway shows were created. They were more than just a runway: they were a production, an event designed to capture the imagination of the audience, to transport them to another place in which they could fully admire the clothes being shown. Lagerfeld is now renowned for his sets and the creativity that he brought to them.
The Spring/Summer show of 2012 saw Lagerfeld commission architect Zaha Hadid to transform the Grand Palais into an underwater world based around a nautical concept. The singer Florence Welch also performed during the show.
Later in 2017, for the Fall/Winter show, the Grand Palais was made into Chanel's very own space station, including a rocket ship as the centrepiece.
The last show Lagerfeld worked on was the Fall/Winter show of 2019, which took place just two weeks after his death, again at the Grand Palais. He had planned for the location to be transformed into one resembling an Alpine village, and his plan came to fruition, with both models and the audience able to experience the wintry landscape. Models who walked this show included Cara Delevingne, who led the pack, actress Penélope Cruz, Binx Walton, and Luna Bijl, a Dutch model who closed the show, and who was known to be one of Lagerfeld's muses. Many walked the show with tears in their eyes. Lagerfeld's shows were a spectacle offering an immersive experience that others will unlikely to be able to recreate in the future.
He made a name for himself as one of the most prominent designers of the era, achieving a renown that will be hard to match.