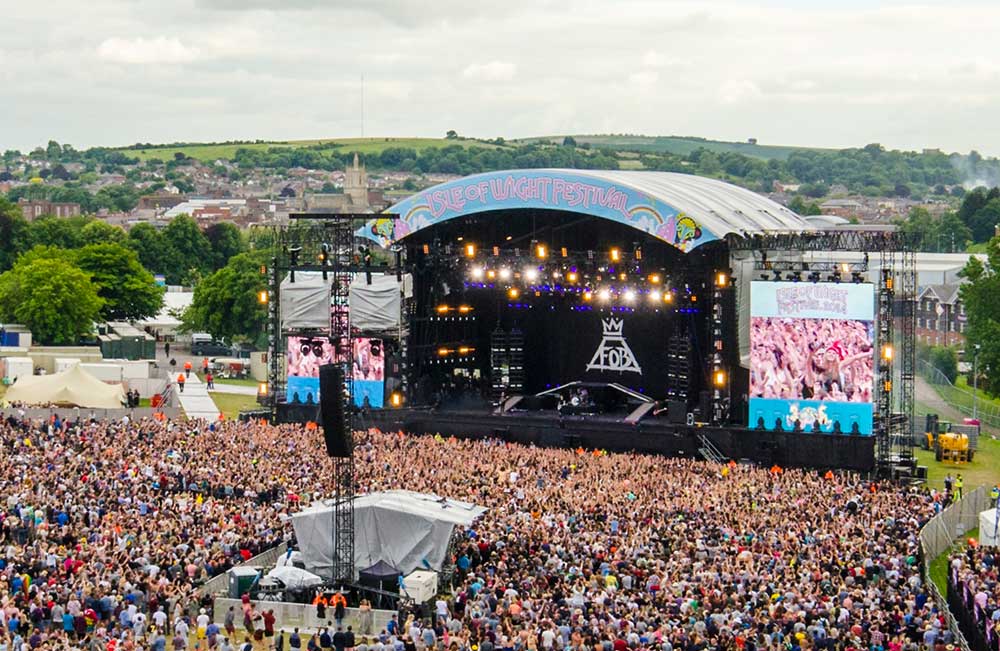 The Isle of Wight Festival was a short-lived annual music festival held on the Isle of Wight off the south coast of England every summer from 1968 to 1970. It has since become legendary as a defining moment in the expression of the popular culture of the late 1960s and early 1970s in the UK. It played a key part in solidifying this period as one that wouldn't be quickly forgotten, and has become an iconic piece of modern history across the world.
The festival in its original form was a commercial venture organised by three brothers, Ron, Ray and Bill Foulk, although the final event of 1970 was held at a site overlooked by a hill called Desolation Hill, where many turned up to listen at a distance for free.
The three festivals, which grew in size from one year to the next, were held at different venues within the island. Each of the events was performed at by a variety of famous and lesser-known bands.
The original Isle of Wight Festival was held near the inland village of Godshill, and attracted an attendance estimated at 10,000 to 15,000. It was put on by the Foulk brothers to raise money for the construction of a municipal swimming pool that the Isle of Wight Council had declined to fund.
A local farmer called Jimmy Flux of Ford Farm, who supported the swimming pool cause, offered the brothers the use of his field called Hell Field for the event for a nominal rental of just £30. The funds raised by the event were granted to an organisation called the Isle of Wight Indoor Swimming Pool Association.
Facilities were primitive, with no running water or toilets, making the festival toilets of today look like a luxury. Two road haulage trailers were joined together to form a makeshift stage upon which the booked artists could stand to perform.
Among the musical artists who performed for the 1968 festival were:
The Crazy World of Arthur Brown (responsible for the No. 1 hit Fire that same year)
Fairport Convention (a critically acclaimed folk band better known for its albums than its singles, though they would enjoy one Top 30 UK hit in 1969)
Jefferson Airplane (a band famous in the United States, where they scored an enduringly popular Top 5 hit with Somebody to Love in 1967, although they never had any chart hits in the UK)
The Move (famed for their No. 1 hit Blackberry Way in 1968, among six other UK Top 10 hits)
Plastic Penny (makers of a Top 10 UK hit Everything I Am that same year)
Tyrannosaurus Rex (the original name of the band better known in later years as T. Rex; they enjoyed two UK Top 40 hits as early as 1968).
It has been recorded that Arthur Brown theatrically set his head on fire while performing his signature tune, as was his habit, but he used a specially designed helmet to avoid serious injury.
The second annual Isle of Wight Festival was held at Wootton, a village to the west of the north-eastern coastal town of Ryde. It proved to be a much larger event than the first, with 150,000 attendees.
The 1969 event featured sets by the following famous names, alongside the returning Plastic Penny:
The Band (responsible for the 1968 Top 30 hit The Weight and the eventual 1970 Top 20 hit Rag Mama Rag)
Bonzo Dog Doo-Dah Band (a one-hit wonder that had a No. 5 hit in the winter of 1968 to 1969 called I'm the Urban Spaceman)
Edgar Broughton Band (British psychedelic rock band responsible for two UK Top 40 hits from 1970 to 1971)
Joe Cocker (responsible for the No. 1 hit With a Little Help From My Friends in 1968 and a further Top 10 hit in 1969)
Bob Dylan (an American folk singer / songwriter who enjoyed ten UK Top 30 hits between 1965 and 1969 and has since become world-famous)
Family (British rock band responsible for four UK Top 30 hits, including one Top 5, between 1969 and 1972)
Free (a British rock band playing in an American blues style that scored five UK Top 20 hits between 1970 and 1973, the most successful of which, All Right Now, reached No. 2)
The Moody Blues (a British rock band that enjoyed 9 UK Top 40 hits between 1964 and 1983, including the No. 1 Go Now in 1965)
The Nice (who recorded a Top 30 hit in 1968 called America)
Pentangle (critically acclaimed British folk band better known for their albums, although they did manage two Top 50 singles in 1969 to 1970)
The Who (an eminently successful British rock band of the 1960s and 1970s, notching up 23 distinct UK Top 40 hits, including 13 Top tens, between 1965 and 1982)
Dylan's presence at this second annual festival is said to have been the star attraction and significantly accounted for the expanded attendance. It was blessed by good weather. However, organiser Ray Foulk has noted in recent interviews that the venue was ill-prepared for the size of audience, and suffered from inadequate catering and long queues for the toilets.
The third and final Isle of Wight Festival was held at at Afton Down, near Freshwater at the western end of the island, and witnessed an estimated attendance of an incredible 600,000, making it the most highly attended by far, surpassing even the figures achieved by the Woodstock Festival in the United States the previous year.
Before the 1970 festival took place, the island's Member of Parliament, Mark Woodnutt, representing the Conservative Party, had complained about the plans to hold it in the House of Commons, and it is said that pressure groups and councils successfully pressed the landowners of various target sites to refuse to let out their land for the planned festival, before the East Afton site was finally made available in August with just weeks to go before the projected date of the event.
Once the site had been secured, the stage was built, 20 turnstiles were installed on the perimeter fence, and at least 500 toilets were placed at the disposal of visitors.
For the 1970 festival, the celebrated artists performing on stage included, alongside the returning Family, Free, The Moody Blues, Pentangle and The Who, and among lesser-known bands, the following impressive cast:
Joan Baez (folk singer and erstwhile partner of Dylan; she enjoyed five UK Top 40 hits between 1965 and 1971, including two Top tens)
Chicago (American soft rock band that scored six UK Top 20 hits over a long chart career spanning 1970 to 1985, including the 1976 No. 1 If You Leave Me Now)
Leonard Cohen (an albums artist with a cult following; he would eventually score his sole UK Top 40 hit, Hallelujah, in 2008)
Miles Davis (a celebrated American jazz trumpeter best known for his albums; although he released many singles in the US between 1946 and 1975, none of them charted even there)
Donovan (a Scottish male pop singer who enjoyed 7 UK Top 10 hits between 1965 and 1968, of which the most successful, Sunshine Superman, reached No. 2 in 1966)
The Doors (a popular American rock band that enjoyed much more limited chart success in the UK, with just two of their singles reaching the UK Top 40 in frontman Jim Morrison's lifetime, as compared with eight in the USA, and none getting to the UK Top 10 until Light My Fire was reissued long after his death in 1991, extending their career total of UK Top 40 hits to three)
Emerson, Lake and Palmer (a critically highly rated British rock band responsible for the 1977 No. 2 hit Fanfare for the Common Man, although it was their only chart hit)
Jimi Hendrix Experience (a British rock band formed around now-legendary American guitarist Jimi Hendrix in 1966; between 1966 and 1970, they enjoyed six UK Top 20 hits, of which the most successful, Voodoo Chile, reached No. 1 in 1970)
Jethro Tull (a British rock band that scored six UK Top 30 hits between 1969 and 1976)
Kris Kristofferson (a well-regarded American country singer, although one who did not score any UK singles chart hits)
Ralph McTell (British singer-songwriter responsible for the 1974 No. 2 hit Streets of London)
Melanie (American singer / songwriter who enjoyed four UK Top 40 hits between 1970 and 1974 and remains best known for her No. 4 hit Brand New Key)
Joni Mitchell (a celebrated Canadian folk singer-songwriter best known in the UK for her sole Top 40 hit there, Big Yellow Taxi, which reached the Top 20 in the Spring of 1970)
Procol Harum (British rock band responsible for the 1967 No. 1 hit A Whiter Shade of Pale and three other UK Top 30 hits between then and 1975)
Sly and the Family Stone (American funk act responsible for five UK Top 40 hits between 1968 and 1972)
Supertramp (a British pop / rock band that notched up five UK Top 30 hits between 1975 and 1979, including two Top 10s)
Ten Years After (a British rock band that became a one-hit wonder in 1970 with the No. 10 hit Love Like a Man)
With such a wealth of enduringly famous acts lined up for the 1970 festival, it is perhaps little wonder that it attracted such crowds as it did.
Unfortunately, some of the onlookers camping out on Desolation Hill broke through the perimeter fence to gain free entry, and the wall to the inner arena was dismantled by spectators after a master of ceremonies suddenly announced, without the authorisation of the organisers, that the festival was free. Drug use was widespread, and over 100 arrests for possession of controlled substances were made by police. Tabloid newspapers further featured photographs of disrobed spectators.
Opposition to the hippie spirit of many of the festival-goers among the Isle of Wight's predominantly conservative residents led to new restrictive planning laws being ushered in the following year, effectively preventing it from running into a fourth year. The 1970 festival of all festivals had effectively ended the annual event as a whole and left it with no future for the time being, but we are sure that the festival-goers' memories of the final gathering were vivid enough to stay with them for years to come.
After a gap of more than 30 years, a new rock festival was held on the Isle of Wight in the summer of 2002; and from the following year, it adopted the same name as the original Isle of Wight Festival, and has been run under this name annually ever since, with the exception of 2020, when COVID-related rules forced its cancellation.